America Is Ignoring Another Natural Disaster Near the Gulf
Southern Louisiana is drowning again. No one seems to care.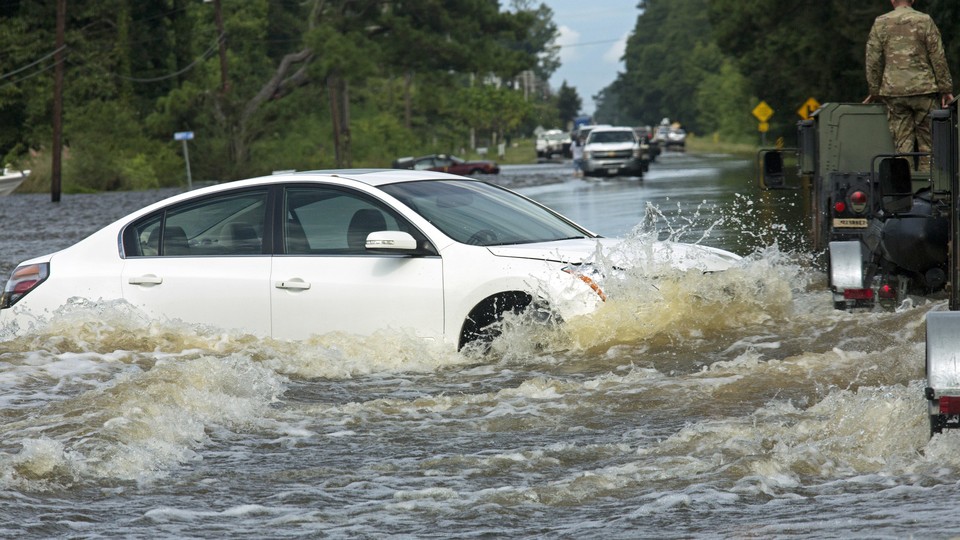 Wide stretches of southern Louisiana are once again flooded with more than two feet of water. Downpours have again damaged or ruined tens of thousands of homes, driving thousands into shelters and leaving many people homeless and some dead. State leaders have declared the situation "historic" and "unprecedented," and the federal government has, yet again, declared a major disaster in the region.
The images coming from Baton Rouge and its surrounding low-lying areas, of submerged homes and streets turned into rivers, inevitably call to mind the tragic aftermath of Hurricane Katrina.
Only this time, most people might not have heard about it.
The Louisiana floods, which the American Red Cross on Wednesday labeled "the worst natural disaster to strike the United States since Superstorm Sandy," have not dominated cable news nor the front pages of newspapers. President Obama, other than signing a disaster declaration, hasn't bothered to interrupt his Martha's Vineyard vacation of golf and fund-raisers to address the suffering residents of the Gulf. Hillary Clinton has mentioned the floods only in a single tweet, and Donald Trump has said nothing about them at all.
Leaders in Louisiana have noticed that the nation isn't paying attention to its struggles, and they have a few theories as to why.
For one, Governor John Bel Edwards told reporters on Tuesday, this storm didn't come with a name. "When you have a storm that is unnamed—it wasn't a tropical storm, it wasn't a hurricane—a lot of times people underestimate the impact that it would have," Edwards, a Democrat, said during a storm briefing. "But this is historic, it's unprecedented, and we are seeing unprecedented flood levels as the waters move south." Edwards and his family were forced to leave the governor's mansion in Baton Rouge after water flooded the basement and the electricity had to be shut off.
Appearing alongside the governor, FEMA Administrator Craig Fugate emphasized that the federal government was treating the floods as a "headline disaster" even if the national media was not. "You had the Olympics, you've got the election, and if you looked at the national news, you're probably only on the third or fourth page," Fugate noted. "FEMA understands this is a very large disaster impacting tens of thousands of people."
A slow-moving, hybrid low-pressure system dumped between 24 and 31 inches of rain—some 6.9 trillion gallons of water—on parts of southern Louisiana over the course of 48 hours before moving into Texas. More than 40,000 homes have suffered damage, Edwards said, and authorities rescued more than 30,000 people and 1,000 pets trying to escape the rising waters. More than 8,000 Louisiana residents were in shelters as of Tuesday afternoon, and the official death toll from the floods stood at 11.
The displacements and damage remain far less than the devastation wrought by Katrina in 2005, but because the flooding occurred inland from New Orleans around Baton Rouge, officials are worried that tens of thousands of homes were not protected by flood insurance. "This is a 500 to 1,000-year event," said Representative Garret Graves, a life-long Baton Rouge resident whose district was heavily effected by the flooding. "Financially, you've got some people who are absolutely deep in the red."
Graves, a Republican, said people were caught "scrambling and flat-footed" because of a lack of communication from authorities in the days before the storm. "Overall there was a lack of preparation and really anticipation in this case that was inappropriate," Graves told me by phone on Wednesday. "I think we could have mitigated some of the loss, in fact a good bit of the loss, had there been communication about the threat of the flood."
As an example, the congressman said that when he went with search-and-rescue teams, he noticed that most people had kept their cars in their driveways. "Had people just been given more notice on this, they could have brought those cars to higher ground," Graves said. "We were rescuing people in boats, and people were grabbing what they can in a plastic grocery sack and running out of the house or wading through the house."
Fugate briefed Obama by phone on Wednesday, but the president hasn't commented directly on the floods, and his silence along with the images of him golfing on vacation drew the ire of conservatives on Twitter. In addition to Fugate and other FEMA officials, Homeland Security Secretary Jeh Johnson planned to travel to Baton Rouge on Wednesday.
Yet the frustration in Louisiana seemed to focus less on the response from the federal government than on the lack of attention from the national media. "Such complaints aren't trivial," wrote Mike Scott on the website of The Times-Picayune in a column headlined, "National Media Fiddle as Louisiana Drowns."
As Louisiana well knows, the loosening of the recovery purse strings is directly commensurate to the number of people who are made aware of the scope of the devastation. In this case, where national news coverage has been scarce, locals have every reason to worry that recovery funds will be just as scarce.
Money is a huge concern in a state that has been confronting an unprecedented budget crisis and a deficit of nearly $2 billion. Edwards sought to assure the public on Tuesday that the fiscal woes would have no bearing on the state's emergency response, but he said Louisiana would "rely on the federal government to the maximum extent possible." Graves said he already spoken with fellow lawmakers and Republican congressional leaders about the need for a separate recovery package, even though Fugate said FEMA would have enough disaster funds to cover short-term costs.
Another worry is just how extraordinary—or simply ordinary—this flood will prove to be. Fugate noted that FEMA still had staff on the ground in Louisiana from the last period of flooding in the spring, and experts say the recent spate of floods across the South may be a harbinger of climate change. Graves, a conservative, said he had been talking with like-minded Republican colleagues about the need to make "investments in resiliency" by spending millions of dollars to upgrade Louisiana's infrastructure, in the hopes that the government could save billions in recovery costs after increasingly frequent disasters.
For the moment, however, officials are focused on saving as many people and homes as they can—whether or not Americans outside Louisiana are paying attention. "I want everyone to understand," Edwards insisted on Tuesday, "that nobody has been forgotten."