How Abortion Divides Hillary Clinton and Tim Kaine
The Democratic presidential nominee and her running mate have different views on federal funding for the procedure. What does that mean for the campaign?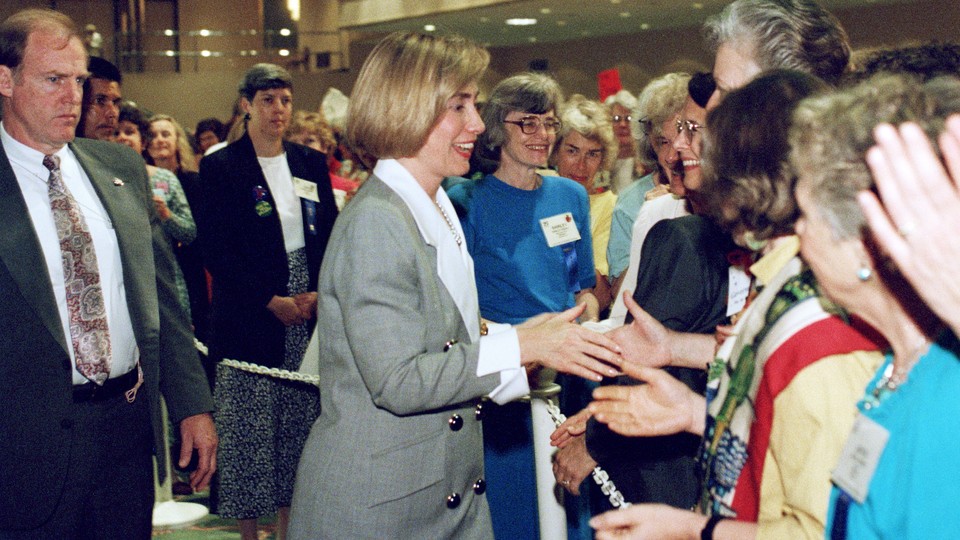 The Hyde Amendment is one of those issues that seems to cleanly divide Republican and Democratic leaders. The 1976 provision, which has been consistently attached to bills funding the Department of Health and Human Services for 40 years, limits federal funding for abortions. Since 1994, Medicaid has only covered the procedure in cases of rape, incest, or a health threat to a woman's life. For social conservatives who oppose abortion, this ban on funding is an important feature of federal health policy.
In contrast, the 2016 Democratic Party Platform includes a call to repeal Hyde—the first time the party has taken such a stance, according to a campaign representative. Hillary Clinton has made her opposition to the Amendment clear on the campaign trail. Yet on Friday, her running mate, Tim Kaine, said on CNN that he supports the Hyde Amendment. Although pro-choice groups have praised the Clinton campaign for its full support of abortion and contraception access, the two politicians at the top of the ticket seem to be in conflict.
The Kaine team maintained that the senator has not changed his views—he's always supported Hyde. "He has also made it clear that he is fully committed to Hillary Clinton's policy agenda, which he understands includes repeal of Hyde," said Karen Finney, the communications director for Kaine, in an emailed statement. "He shares the concern that low-income women and women of color too often face barriers to health care, and for this reason he has been a strong supporter of Planned Parenthood and other programs and services that ensure the full range of reproductive health-care services for all women."
Although Kaine has taken a different position on Hyde than Clinton, both politicians have had to reconcile their own moral views on abortion with public policy. Clinton is a Methodist who has taken conflicting positions on the procedure throughout her time in public life. As First Lady, for example, she characterized abortion as "wrong," all the while trying to pass a health-care-reform bill that was intended, however obliquely, to mandate insurance coverage for procedure.
Kaine, on the other hand, is a Catholic who has said he personally opposes abortion. When he was campaigning for governor in 2005, he touted his "faith-based opposition to abortion," encouraging adoption as an alternative, "abstinence-focused" sex ed, and enforcement of Virginia's abortion restrictions. While he has changed course on abortion policies since getting elected to the U.S. Senate in 2012, his support for Hyde is evidence that he still feels morally conflicted about the procedure—so much that he is maintaining his opposition to the policies of the woman he is supposed to be cheerleading.
From a purely political perspective, Kaine's stance seems like the worst possible strategy. It has angered Clinton's progressive supporters—including groups from NARAL, which has expressed "disappointment" in Kaine's position, to Planned Parenthood, which said it "strongly disagrees" with Kaine on Hyde. And Kaine—whose selection as VP was almost certainly designed to attract more moderate voters to the Democratic ticket—seems unlikely to win over social conservatives with his personal support, and public capitulation, on Hyde.  
From the perspective of voters, though, Kaine's position may not matter much for the election: A minority of voters consider abortion a "critical issue." The backlash against Kaine, which has been swift, fierce, and unyielding, is a mostly a test case for why abortion politics remain polarized, divided at the national level in a way that's non-representative of the nuanced views of the electorate. There seems to be little room in the Democratic Party for moral opposition to abortion, and little tolerance among social conservatives for politicians who wish to find compromises on abortion policy.