A Tough Reelection Battle Unfolds in Kansas
Three-term Republican Representative Tim Huelskamp is in a tight race against newcomer Roger Marshall.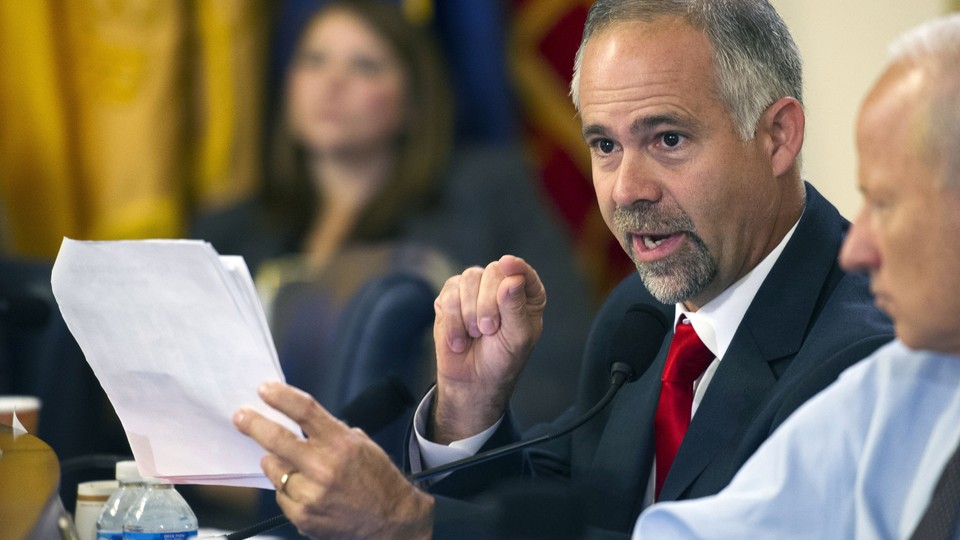 NEWS BRIEF In Kansas, a tight race is underway between an incumbent and a political newcomer.
Three-term Republican Representative Tim Huelskamp faces a tight race against Roger Marshall, an obstetrician. Last month, a Public Opinion Strategies survey found Huelskamp with a slight lead, 42 percent to Marshall's 41 percent in the state's 1st Congressional District among Republican primary voters. The results were in sharp contrast to those found in early April, when Marshall trailed behind Huelskamp by a whopping 39 percentage points.
This isn't Huelskamp's first time facing a tough reelection campaign. Roll Call notes that he only narrowly won in 2014. Frustrations with Huelskamp were clear then and they continue to be evident today. The Kansas Farm Bureau refrained from supporting Huelskamp this year, as they did two years ago. Instead, they're backing Marshall. Meanwhile, the Livestock Association and the National Sorghum Producers, both of which didn't support anyone in 2014, are supporting Marshall this time around.
Huelskamp has been at odds with agriculture groups before. He was removed from the Budget and Agriculture committees in 2012 when John Boehner was speaker of the House. Hueslkamp, a member of the House Freedom Caucus, also faced pushback for his opposition to a farm bill. Politico has more on the political fight:
The showdown has flipped the script on GOP warring in recent election cycles. Often it's been an establishment-friendly incumbent scrambling to fend off a primary election challenger from the right. This time, it's one of the most uncompromising conservatives in the House—a man who instigated John Boehner's ouster as speaker and has bucked GOP leaders time and again on major votes—ironically being attacked as a D.C. insider and fighting for his political life.
Huelskamp is of course not without his supporters, among them Americans for Prosperity and Club for Growth Action. But this year, primaries have resulted in the loss of incumbents, and Huelskamp has certainly been on the line before. He has a reputation as a troublemaker in the chamber. Still, Huelskamp appears undeterred, telling Politico, "At the end of the day, I'm a fifth-generation farmer," before adding that, for voters, "That beats an OB/GYN."
Polls in the state will open from 7 a.m. to 7 p.m. local time. Kansas Secretary of State Kris Kobach projects an uptick in voter turnout, noting that "there are more contested primaries this year than in the last two election cycles." Meanwhile, voters are also heading to the polls for primaries in Michigan, Missouri, and Washington.