How Farmers and Big Business Took Out a Tea Party Congressman
Representative Tim Huelskamp's loss shows that the business lobby is successfully fighting back against GOP conservatives.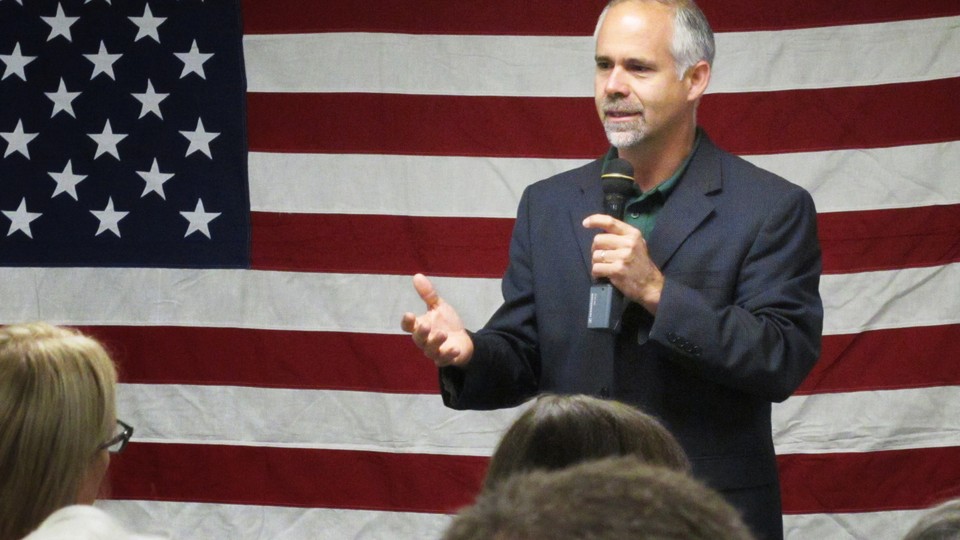 A year ago, in the innocent days before Donald Trump had wholly taken over American politics, the Republican establishment had other things on its mind: those pesky Tea Party congressmen who were preventing anything from getting done in the House of Representatives.
The business lobby, led by the U.S. Chamber of Commerce, had poured its energies—and hundreds of millions of dollars—into electing Republican majorities to the House and Senate, only to see those majorities stymied by their uncompromising right wing. The conservative faction, which began as the Tea Party and last year rebranded itself the Freedom Caucus, stood in the way of such business-friendly legislation as the farm bill, the Export-Import Bank, and immigration reform—not to mention the basic task of keeping the government open. And fear of a right-wing primary challenge kept many more moderate lawmakers from voting for such bills.
Last year, the establishment decided to take its revenge. The Chamber announced it would take the unprecedented step of targeting sitting Republicans in primaries. The idea was to make an example of some of the renegade conservatives, and their ideological allies at right-wing pressure groups like the Heritage Foundation, who the establishment believed had made governing impossible.
On Tuesday, Kansas Representative Tim Huelskamp became the first victim of this revenge of the Republican establishment, losing his primary to a physician and political newcomer named Roger Marshall. Huelskamp, a Freedom Caucus firebrand who has been a thorn in the side of House leadership throughout his three terms in Congress, was targeted by the Chamber, the Farm Bureau, and an array of other agricultural interests; he was backed by Heritage, the Club for Growth, and Ted Cruz. Former House Speaker John Boehner kicked Huelskamp off the House Agriculture Committee to punish him for his votes against leadership, but the move merely made Huelskamp more of a hero to the right, and he helped engineer Boehner's ouster last September.
The Chamber's political strategist, Scott Reed, exulted in victory as the results came in Tuesday night, saying he hoped other hardline conservatives would take Huelskamp's loss as a rebuke. "I think it is fair to say this is a wake up call for folks," Reed told me. "Governing was on the ballot in Kansas, and the voters spoke with a loud voice." An agribusiness lobbyist added: "Boehner definitely raised his glass tonight"; this turned out to be literally true. John Feehery, a lobbyist and former House leadership staffer, told me in an email: "Huelskamp is an ideologue who has refused to represent the interests of his constituents.  He deserved to lose."
Huelskamp represented Kansas's "Big First," a massive rural district previously represented by Bob Dole that contains more farmers than any other congressional district in the country. But farming interests were dismayed when, in 2012, Tea Partiers like Huelskamp turned against the farm bill, the decades-old bipartisan tradition of combining food stamps and agriculture subsidies. To ideological conservatives, the hundreds of billions of dollars of agriculture spending represented wasteful corporate welfare. But farmers in rural America—one of the GOP's most reliable voting blocs—rely on the farm bill for their livelihood.
The farm bill debate, which I wrote about in 2014, was a perfect encapsulation of the Tea Party-establishment divide in the GOP. Should the party embrace the pure, libertarian-tinged ideological conservatism of Heritage and other D.C. think tanks? Or does it represent the interests of its traditional constituents, from Big Business to (largely older and white) rural residents? Are Republicans about stopping government spending—or spending government money on their favored recipients?
Huelskamp's loss shows that, largely under the radar this year, the Republican establishment is enjoying something of a comeback against its Tea Party antagonists. The only incumbent GOP congressman to lose a primary not brought about by redistricting in 2016 is a conservative taken down by business interests—a stark reversal from the narrative of the last few cycles, in which establishment Republicans have been repeatedly felled by insurgent challengers. Across the country this year, incumbent and establishment-oriented Republicans have won congressional and Senate primaries, and Tea Party-style conservatives have lost.
We now return you to the Republican chaos already in progress, the one that features Trump's neverending war against the congressional leadership, Ted Cruz, and everyone else in the old Republican Party. Huelskamp was a Trump skeptic who worried about the GOP nominee's ideological bona fides; he was also no friend of House Speaker Paul Ryan, who declined to back him in his primary. Some analysts have argued that Trump's nomination represents the logical conclusion of the Tea Party's takeover of the GOP. But Huelskamp's ouster suggests, as I have argued, that Trump is instead a disruption of the previous party conflict. And it shows that Trump, for all his antiestablishment fury, would, if elected, have an increasingly pro-establishment Congress at his back.