A Conservative Push for Paid Family Leave
Breaking with Republican orthodoxy, a right-leaning think tank has proposed new federal benefits for the working poor when they take time off to care for a newborn or manage an illness.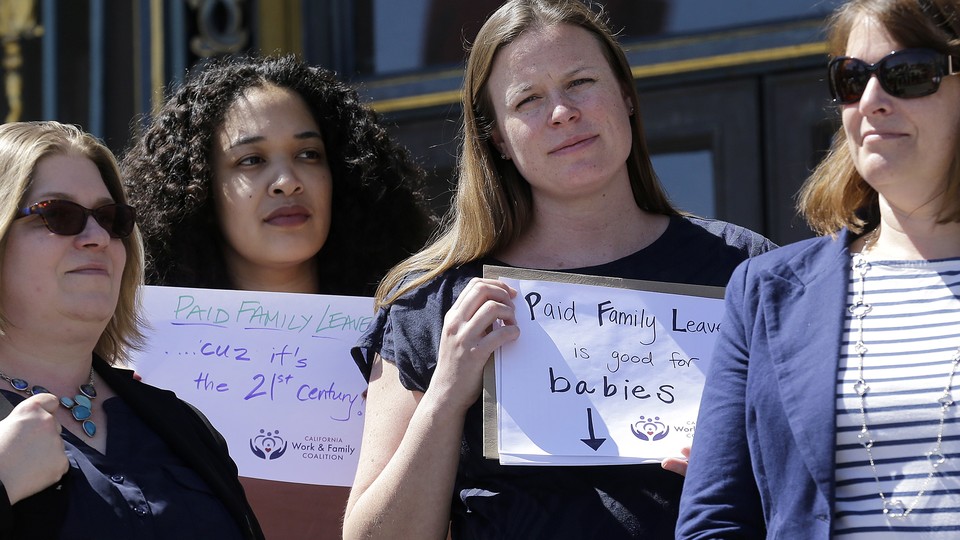 As Democratic calls for universal paid family-leave benefits have grown louder in recent years, Republican politicians and lawmakers have slowly joined in with modest proposals of their own. Donald Trump is proposing a tax deduction for child care, while GOP-backed bills in Congress would provide tax credits to employers who offer paid leave or allow employees to accrue time off instead of income for working overtime.
But now a Republican-backed research group is going significantly beyond those plans and suggesting the kind of solution conservatives have rejected for years: a new entitlement program for the working poor.
The proposal from the American Action Forum, set for release on Monday, would establish a paid-leave benefit providing up to $3,500 over 12 weeks to workers with an annual income below $28,000. The structure of the benefit is modeled on the Earned Income Tax Credit, the 40-year-old program that supplements the paychecks of low-income Americans on a sliding scale and which has drawn support from both Republicans and Democrats.
"There has been a trend in the last few years where more conservatives have been interested in trying to find solutions to expand family leave," said Ben Gitis, who wrote the paper for the American Action Forum. "What's missing from these solutions is something that's really targeted for low-income people, and that's why we thought of this idea."
Gitis is pitching the plan as a less expensive, more limited alternative to the Family Act—the main Democratic proposal in Congress sponsored by Senator Kirsten Gillibrand of New York and Representative Rosa DeLauro of Connecticut. That bill would provide universal paid-leave benefits, allowing people to collect up to $4,000 or two-thirds of their monthly income for 12 weeks to cover time off for the birth or adoption of a child, a qualifying medical condition, or a situation in which an immediate family member is suffering from a serious illness. The program would be set up like Social Security, in which employers and employees each pay taxes into a government fund. Hillary Clinton has proposed a plan with similar benefits, but she would pay for it by raising taxes on corporations and the wealthy rather than setting up a system in which taxes would go up across the board. Clinton has repeatedly pledged not to raise taxes for the middle class or working families, making it difficult for her to support a proposal like the Family Act that calls for those groups to pay more.
Gitis estimates that the AAF proposal, which he has dubbed the Earned Income Leave Benefit, would cost between $1.5 billion and $18 billion per year, depending on how many people collected. That is much less than the Family Act, which he said would cost at least $85.9 billion a year. (Supporters of the Democratic proposal say his estimates are exaggerated, although the Congressional Budget Office has yet to perform a cost projection.)
The AAF plan is far from complete, and it has not been taken up by any Republican campaign or lawmakers on Capitol Hill. Gitis hasn't suggested how to pay for it or even whether it should be administered as a tax credit or by a check from the government, as with Social Security or unemployment insurance.
Yet after years in which conservatives have steadfastly called for shrinking government and reining in entitlement spending, the proposal from a right-leaning group for a new government program is a significant moment in the debate over paid family leave. Founded by former Senator Norm Coleman of Minnesota and the conservative mega-donor Fred Malek, the American Action Forum is led by Doug Holtz-Eakin, who served as an economic policy adviser to President George W. Bush and Senator John McCain's campaign in 2008.
"I think it's quite remarkable," said Sarah Jane Glynn, the director of women's economy policy at the left-leaning Center for American Progress. "That's really fascinating and a positive step."
The proposal is sure to be divisive on the right. And if Clinton wins the presidency, Democrats could use it as political ammunition—just as they were fond of reminding Republicans that it was the conservative Heritage Foundation which proposed an individual health-insurance mandate two decades before conservatives railed against its inclusion in Obamacare. That plan was floated as an alternative to much more expansive and expensive program the Clintons were pushing in the '90s. The AAF is offering its proposal in a similar spirit: It's an option that would compete with the proposals of the Clinton campaign and congressional Democrats.
Gitis acknowledged that he could face criticism for the benefit's resemblance to an entitlement program. "That is a genuine concern that conservatives would have," he told me, while emphasizing that the plan was much less costly than the Family Act. "If we're looking for something that is beneficial specifically for low-income Americans who are least likely to have access to paid family leave through the private sector and most likely to need something like that because they won't have sufficient funds saved up themselves, this is one solution."
The plan drew swift rebuke from another conservative group, the Club for Growth. "This is social engineering through the tax code," said Andy Roth, the Club's vice president for government affairs. "The federal government should not be involved. Instead, it should be left up to the states. If paid family leave is worth having, then the states that offer it should experience an influx of new people who are attracted to 'employee-friendly' programs. This kind of 'voting with your feet' is healthy, and it will foster competition among the states that will likely lead to the best policy possible."
Jason Pye, a spokesman for FreedomWorks, said it was "a bad idea to create a new program or tax credit" given the federal budget deficit, which is back on the rise. "We have to get a handle on spending growth before we start talking about new and costly programs," Pye said in response to the AAF paper.
The highest-ranking Republican in Congress, Representative Cathy McMorris-Rodgers of Washington state, didn't criticize the plan but wouldn't endorse it, either. McMorris-Rodgers is chairwoman of the House Republican conference and has the distinction of being the first woman to give birth three times while serving in Congress. "We need to come together on a solution that will support working families so they can provide for their family and grow in their careers," she said in a statement. "Proposals like AAF's open the door to new conversations, and I appreciate their work to put this issue at the forefront of our national conversation about the future of the workforce and economy."
Gitis contrasted his proposal with bills proposed by congressional Republicans that would either allow people to collect leave time instead of overtime pay or offer companies a tax credit if they provided at least two weeks of paid leave to employees. In 2015, just 12 percent of private-sector workers had access to paid leave, according to the Bureau of Labor Statistics. "While these proposals would certainly be more cost efficient than the Family Act," Gitis wrote of the GOP bills, "there is no convincing evidence that they would effectively expand access to paid family leave for low-income workers." On Monday, Trump said in an economic speech in Detroit that he would propose allowing families to deduct the average cost of child care from their taxes. But as economists pointed out, the people who would benefit the most would be those who make the most money, because they spend more on child care and would therefore get a bigger tax deduction.
Gitis leveled the same criticism at the Democrats' Family Act, arguing that the contributions from employees and employers would not cover the program's full cost and more taxpayer-funded benefits would go to wealthier people than to the poor. He noted that a single mother working full-time and earning the minimum wage would collect a larger check during maternity leave under the Earned Income Leave Benefit than under the Family Act. While Glynn praised AAF for offering a plan that expanded the social safety net, she said the proposal was far too narrow and that the upper income cut-off of $28,000 a year was "an extraordinarily low threshold."
"That's actually not going to cover a lot of people," she said.
Although both proposals seek an expansion of paid family leave, they are fundamentally different in scope. The Earned Income Leave Benefit, Glynn said, is closer to a safety-net program along the lines of welfare, while the Family Act is a social-insurance program available, like Social Security, to everyone. "It comes down to whether this is an entitlement program or a benefit for all workers," she said.
That's a divide Gitis would not dispute. He's proposing a plan to provide money only to the neediest workers. But at a time when few conservatives support any federal benefits for paid family leave, that's a significant shift indeed.