'A Fundamental Decency': The Difference Between Rob Ford and Donald Trump
Editor's Note:
This article previously appeared in a different format as part of The Atlantic's Notes section, retired in 2021.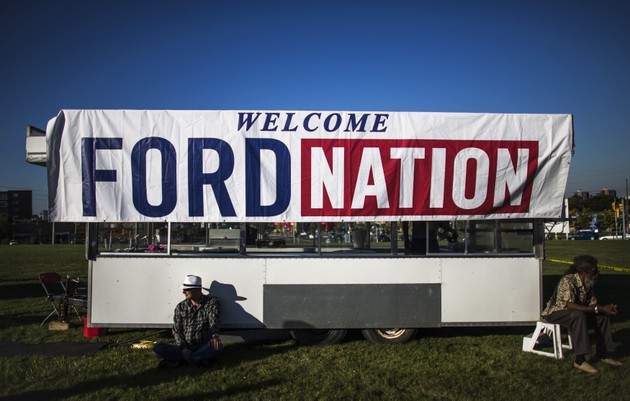 Many people have noted the campaign-style similarities between Donald Trump and Rob Ford, the late mayor of Toronto. John Spragge, who lives in Toronto, says that the Capt. Khan episode points out an important difference:
I am the Canadian systems analyst who sometimes writes you from Toronto. Earlier in this campaign, I compared Donald Trump to the late Toronto mayor Rob Ford.

I still believe Mr. Ford drew much of his support from people who feel alienated and left out, and I believe getting elected mayor had dire personal consequences for Mr. Ford, just as I believe attaining the presidency might have serious consequences for Mr. Trump. However, over the past week I have come to see important distinctions between Mr. Ford and Mr. Trump; I think Mr. Ford's greater skill at retail politics speaks to a fundamental decency. As I put it in a web log post [JF emphasis added]:

When I asked myself how Rob Ford would have responded to Khizr Khan's speech, it occurred to me: Rob Ford would have called the Khans. He would have talked to them. Rob always called people who disagreed with him. He would have listened the he Khans. He would have expressed sympathy with their sacrifice. He would probably not have changed any of his positions, but he would have given the Khans the courtesy of a hearing.

All Rob Ford's most vehement opponents, which some times included me, acknowledged his ability as a retail politician. He listened to people, and whether he agreed with us or not he gave the impression he cared what we thought. I think he genuinely did; I think he had a real desire to help and connect with people, and unlike Donald Trump, he did not respond to opposition with the fury of wounded vanity.

Rob Ford was diagnosed with cancer during the last election and has since died. Since the emergence of Mr. Trump, many Toronto residents have seen the parallels between the social forces that gave rise to his candidacy and Mr. Trump's. I think we owe it to his memory to acknowledge that nothing in his record suggests he would have treated the Khans the way Trump did.
***
Thanks to the very large number of people who have written in with responses to yesterday's item, about why Republican "leaders" are standing with Donald Trump and for how long they'll do so. An assortment of those is coming up when I can get to it, along with the next sixteen zillion Time Capsule entries.