Four Reasons Curt Schilling Might Not Want to Run for Office
The retired Red Sox ace is making noises about challenging Senator Elizabeth Warren in 2018. Let's take a look at the oppo file.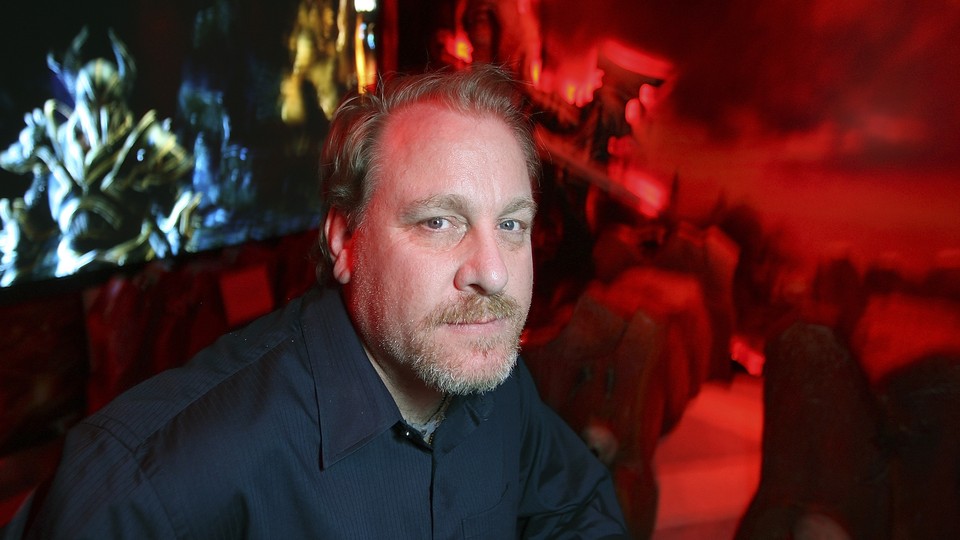 Like many Americans, Curt Schilling has struggled during the Obama years.
The former Red Sox ace retired in spring of 2009, shortly after Barack Obama's first inauguration. In 2012, his video-game company defaulted on millions of dollars in government backed loans and went belly-up. In 2016, he was fired from his job as an analyst at ESPN after posting anti-transgender memes to his Facebook page. So now Schilling is casting around for his next gig, and one possibility is politics. In particular, he told a talk-radio station in Boston he'd like to run against Senator Elizabeth Warren in 2018.
"I would like to be one of the people responsible for getting Elizabeth Warren out of politics," Schilling said. "She's a nightmare. The left's holding her up as the second coming of Hillary Clinton, Lord knows we don't need the first."
Schilling had said just a week ago that he wanted to run for office. In his radio interview, he said he would run in Massachusetts when he did so, but also said he'd get his family's approval.
Schilling's dislike for Warren is not a huge surprise. He has backed Republican causes for years, and has endorsed Donald Trump. He's even flirted with running for office before, including to fill the seat vacated by Senator Ted Kennedy's death in 2009. In that case, he passed, and Republican Scott Brown scored an upset win over Democrat Martha Coakley, who had dismissed Schilling as "another Yankee fan." You might think Schilling would reserve his vitriol for Coakley after that slight, but then again, Coakley lost to Brown, while Warren came in three years later and bounced him from office.
Still, taking on Warren might be an unwise decision for Schilling, for several reasons. In the spirit of disclosure, I am a biased member of the media. No, not the liberal media—I'm an Orioles fan, so I am both still bitter about that trade and despise the Red Sox. In any case, here's some free political advice about why Schilling is less likely to succeed on the Hill than on the hill.
Can a Republican win in Massachusetts? Sure—Scott Brown did it. He also enjoyed an unusual confluence of events: a complacent Democratic Party; a notably weak and gaffe-prone campaigner in Coakley; a special election that came at the height of backlash to the Obama agenda. Despite the fervent beliefs of some progressives that Elizabeth Warren would have walked away with the presidency this year, she's an unproven campaigner, and she actually ran behind Obama in 2012. But Brown was an incumbent, and Warren has likely improved on the stump. Brown was also able to position himself as a moderate, but Schilling shows no interest in that, meaning he'd have a tough row to hoe in the bluest state in the nation. It's tough to win statewide office opposing gay marriage in the first state to legalize it.
A long history of inflammatory social-media posts
Schilling has recently become somewhat more conciliatory about gay people in sports. But in April, ESPN fired him for postings about HB2, the North Carolina bill that regulated, among other things, what bathrooms transgender people could use in state facilities. "A man is a man no matter what they call themselves. I don't care what they are, who they sleep with, men's room was designed for the penis, women's not so much," Schilling wrote on Facebook. "Now you need laws telling us differently? Pathetic." He also shared a meme that critics described as transphobic and most observers would describe as incoherent and in poor taste at best.
He had previously been suspended by ESPN for a series of Islamophobic posts. One meme he shared featured a picture of Hitler saluting, captioned, "It's said only 5-10% of Muslims are extremists. In 1940, only 7% of Germans were Nazis. How'd that go?" (In addition to being factually incorrect, this is a questionable basis for policy.)
The good news is that because he's already a public figure, the worst of Schilling's posts have already been unearthed and mocked mercilessly by sports bloggers, so there can't be many pending revelations. The bad news is …. the worst of Schilling's posts have already been unearthed and mocked mercilessly by sports bloggers.
The collection of Nazi memorabilia
Speaking of Nazis and things it's unwise to post on social media, have you seen Schilling's extensive collection of Nazi and SS memorabilia? Schilling said in 2015 that it was "not a Nazi collection. It's a collection of World War II stuff." Nevertheless, several dozen images in a gallery he posted on Facebook included swastikas. As World War II artifacts goes, this is closer to Rich Iott than it is to a trophy your great-grandfather brought home with him from the Bulge. No one is saying Schilling is a fascist; it's just weird. Who wants that much Nazi stuff around?
The video-game studio debacle
Let's say, for the sake of argument, that Schilling was not outside the mainstream of Massachusetts (or even American) politics, had no history of offensive remarks, and didn't collect Nazi memorabilia. There would still be the sordid story of 38 Studios. That's the video-game company he founded after leaving baseball, named for his uniform number. He spoke of creating a billion-dollar company. That's not how it worked out. Boston Magazine's Jason Schwartz writes:
Before going under, it defaulted on the $75 million guaranteed loan that the state of Rhode Island had used in 2010 to lure it to Providence. As the money ran out, the company encouraged its 379 employees to continue coming into work, even though it knew it could not pay them. Staffers realized they'd been stiffed only when they noticed the money missing from their bank accounts. A pregnant woman had to find out from her doctor that her healthcare benefits had been cut off.

Add it all up, including interest, and already-cash-strapped Rhode Island could be out as much as $110 million on the loans. As Schilling sits beside the softball diamond, his company, with nearly $151 million in debt and just $22 million in assets, is being liquidated through Chapter 7 bankruptcy.
After the precipitous collapse, Schilling tried to blame Rhode Island's governor, Lincoln Chafee—who you may or more likely may not recall as a Democratic candidate for president this year—for torpedoing the company. (Chafee also accused Schilling of faking the infamous bloody sock he wore in the 2004 World Series.) Former employees, however, were quick to pin the blame on Schilling himself.
* * *
In sum, it's not a record that screams electability. Schilling is at least self-aware. "I'm loud, I talk too much, I think I know more than I do, those and a billion other issues I know I have," he admitted in 2014. And if there are any lessons to be learned from 2014, one is that a history of offensive remarks, corporate bankruptcies, and owning Nazi memorabilia isn't necessarily disqualifying.