Congress Falls Short on Zika
Public-health officials are strategizing how to combat the virus with no new money on the horizon—and Congress away for the summer.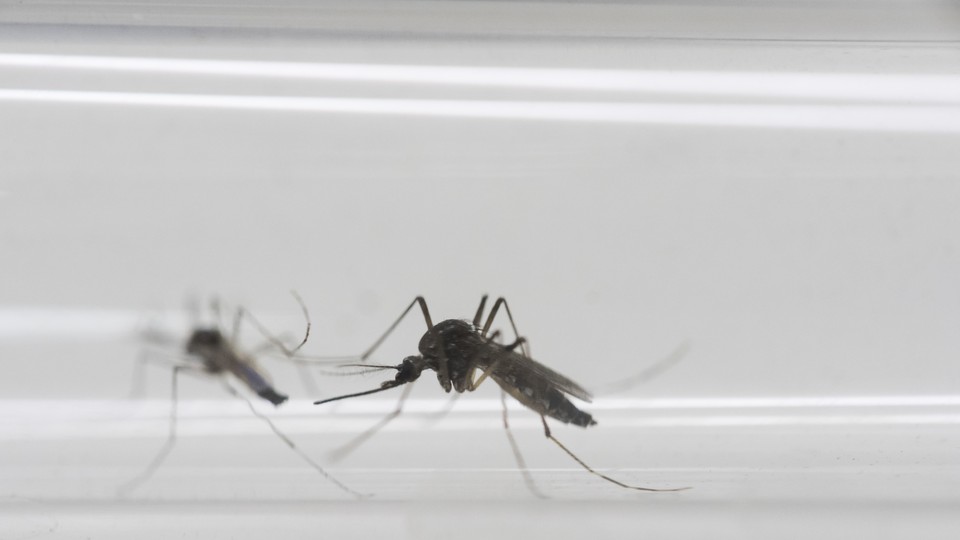 Zika is here. But Congress is gone.
Lawmakers adjourned this week for a seven-week summer recess without passing additional money to fight the Zika virus. Now, federal public-health officials are weighing how to stop the spread of infections with no new money coming down the pipeline—and with further budget battles near-guaranteed in the fall. "We will do the best we can to protect Americans," said Tom Frieden, the Centers for Disease Control and Prevention director. But "there are projects that will not happen because the funding isn't available."
The Obama administration first sent Congress a funding request for Zika in February, for about $1.9 billion. The virus emerged last year in Brazil, and quickly spread throughout the Americas. Because it was new to the Western Hemisphere, health officials in the United States and elsewhere weren't prepared for it. The World Health Organization deemed it an international emergency, and the Obama administration began planning its response: creating a vaccine, improving diagnostic tools, and organizing rapid-response teams to deal with any potential "clusters" in the United States, among many other steps. In the months that followed, researchers established a causal link between the virus and the birth defect microcephaly, where childrens' brains develop abnormally, and are now close to saying definitively that the virus also causes the immune disorder Guillain-Barré. They also learned the virus can be transmitted sexually.
But as public-health officials made some progress, Congress didn't. When months passed without viable legislation in the works, the White House repurposed money in Ebola coffers to tide them over, at House Republicans' urging. Each bit of subsequent legislation also failed.
In an interview just as Congress prepared to leave town, Frieden identified some efforts in his agency's "extraordinarily complex response" that could be on the chopping block. One is improving diagnostic tests for the virus, so that scientists can detect infections that happened more than three months prior, and can distinguish between current Zika infections and old dengue viral infections. (The Zika and dengue viruses are related.) Another is improving mosquito control, by tailoring approaches to specific communities and coming up with new tools. Researchers need new classes of insecticides, he said, and need to test new products to see if they work in the field. Asked if all those projects will be halted, Frieden said: "We will do what we can do, and we'll discuss with other parts of the federal government whether there are any options with moving forward in the interim."
Anthony Fauci, the director of the National Institute of Allergy and Infectious Diseases, is worried about moving forward on a vaccine, as the number of cases continues to grow. The CDC reports there are more than 1,300 travel-related Zika cases in the continental United States, and more than 2,900 cases in U.S. territories, most of which were acquired locally. Local transmission first happens when a mosquito in Florida, for example, picks up the virus from a person who's recently traveled to an infected region and spreads it to someone else. Perhaps most alarmingly, more than 600 pregnant women are known to have the virus in the United States. "We're soon going to be into the peak of the mosquito season," Fauci said, and when the continental United States "inevitably" gets its first locally transmitted case, "then people are really going to start panicking."
Fauci diverted money from research into other diseases—like malaria and tuberculosis—to fund Zika investigations earlier this spring, and NIAID is now using money the Obama administration reprogrammed from Ebola to finance its work through the summer. But when it comes to taking his agency's vaccine to the next testing step, "we're going to run out of money for that."
Those trials are supposed to start in early 2017, but as he explains: "You have to start spending money somewhere around the end of August, the beginning of September to prepare the [trial] sites to be able to conduct the trials in a smooth transitional fashion." He said his agency will need to negotiate with the Department of Health and Human Services to find out if any money can be diverted. "We're going to have to take away from good programs in other areas to keep this going," Fauci said, "which is a terrible situation to be in."
Public-health officials will continue their strategizing as temperatures rise. As for Congress? They aren't back in town until early September. It's possible Zika talks could continue over the summer—Fauci told me he'd continue lobbying members while they're away—but lawmakers this past week looked more divided on Zika than ever. In the latest iteration of the funding fight, members sparred over a $1.1 billion package negotiated in conference meetings between House and Senate Republicans. Senate Democrats blocked it for the second time Thursday; it had already passed the House in June. They oppose multiple provisions in the deal, not least of which are the spending cuts used to pay for it and provisions that block money from Planned Parenthood affiliates.
Meanwhile, Republicans have insisted repeatedly that the administration doesn't have to wait on Congress to find money for Zika. In a letter Thursday to the president, lawmakers noted that most of the repurposed Ebola money hasn't been spent. They called for the administration to "aggressively use funds already available to mount a strong defense against the virus," and to reprogram other funds through HHS and the State Department, too. (An HHS representative told Politico it takes time to get funds distributed,  and said the notion that money is "sitting unused is misleading.")
Both parties have accused the other of politicizing a public-health crisis. "Republicans have unfortunately chosen to put their ideological battles against Planned Parenthood and women's health providers ahead of the health needs of women and children nationwide," Washington Senator Patty Murray said in a statement Thursday. She helped craft a $1.1 billion bipartisan compromise on Zika that passed the Senate but went no further. Tom Cole, the Oklahoma congressman who leads the House subcommittee that handles health-agency funding, told me its Democratic ideology that's holding back Zika funds.
"I have a perfectly clear conscience as to what we've done in this," Cole said. He added: "I think Democrats are trying to exploit a tragic situation for political purposes. And I think they are so ideological hung-up on things like, 'This has to be emergency spending' or 'I'm sorry, we can't accept any pro-life [provisions]'" that it's gummed up the process. House Republicans have insisted on offsetting much of the costs.
Fauci, for one, is concerned about what happens in the fall when Congress comes back. "One of the things … that we're all afraid of" is Congress abandoning its ongoing appropriations process and using a continuing resolution to fund the government, which Politico reports "will almost certainly be necessary … to stave off a shutdown" once the fiscal year ends in September. Legislators are already considering whether it should last through the end of 2016 or into 2017. A CR "almost certainly is not going to have any provision for Zika," Fauci said. Cole, a chief player in the Zika debate, confirmed there would be no specific "line item" for Zika in a "normal" continuing resolution. Which means aside from federal agencies reassigning funds for Zika, as Cole suggests—and with the likelihood of passing emergency funding slim—no additional money from Congress would come through.
There could be a bright spot in all this discord, however. Frieden was gratified to hear about recent discussions regarding creating a rapid-response reserve fund for infectious diseases, which public-health officials could use in future emergencies without waiting on new appropriations from Congress. It wouldn't "eliminate the need for additional funding for unexpected problems," but could "allow the U.S. to get a running start when a problem like Zika emerges." That fund "clearly ... would have been enormously helpful here."