The 19-Year-Old Republican Heading to Cleveland
Drake University student, Westhenry Ioerger, is heading to the party's national convention to participate as an alternate delegate—though he had hoped to see Ted Cruz as the nominee.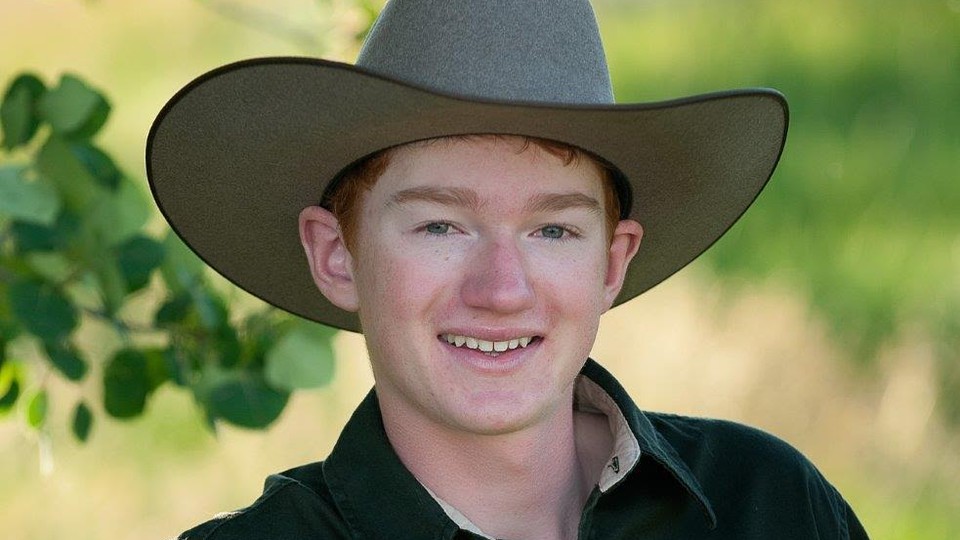 More than 2,400 delegates will head to the 2016 Republican National Convention in Cleveland, which begins July 18, some high-profile names, some not so much. And in the midst of it all is Westhenry Ioerger, a 19-year-old Drake University student.
Ioerger will be one of the youngest attendees at the national gathering. He is participating in the convention as an alternate delegate, meaning that if a delegate is absent from the floor, Ioerger has to step in their place. Leading up to the event, the Iowa native has clocked roughly 80 hours a week working on his family's farm to pay his way to the convention—and his excitement hasn't wavered.
Ioerger's affinity for politics started when he saw his cousin run for public office. "That was my first wake up call," he told me. "Politics is more close to home than the presidential election that you see on TV." Ioerger, a registered Republican, also cites a personal connection to Barry Goldwater, one of his top inspirations (besides Ronald Reagan): His uncle volunteered for the campaign.
Shortly before starting college, Ioerger attended a Religious Liberty Rally; that's where where he first heard presidential candidate Ted Cruz speak—and he liked what he heard. So when Ioerger arrived at Drake in Des Moines, Iowa—home of the first-in-the-nation contest—he was thrilled to be at the epicenter of national politics. Ioerger began interning for Cruz's campaign in the lead-up to the state's caucus night in February. "[I] made phone calls, and helped volunteers learn how to make phone calls, and ran errands for the staffers, and [did] the nit-gritty jobs that had to be done," he said. "I really enjoyed that and met a lot of people through that experience."
Between August 2015 and Iowa's caucus night on February 1, Ioerger attended roughly 20 rallies, a majority of which were Cruz rallies, and he met every presidential candidate except John Kasich. The night of the Iowa caucuses, Ioerger delivered an impromptu speech at his precinct. "I had one of (Cruz's) pocket Constitutions that he used at his campaign," he said. "I wrote my speech on the back of that and talked about how I thought he would uphold the Constitution."
Ioerger's internship with the Cruz campaign ended shortly after the Iowa caucuses, but the Drake University freshman still hoped to have a role in the election. That's when a friend approached Ioerger about running to be a county delegate from his precinct in Des Moines. So he did. Ioerger was elected to be a delegate at the district convention and later attended the state convention. Now he's off to the big show. Of course, Ioerger had hoped to see Cruz give a victory speech at the Republican National Convention. "The best candidate doesn't always win," he said, after the senator from Texas exited the race.
Ioerger is hesitant to back Donald Trump but conceded that he would support the nominee at the party's convention. In fact, young adults largely share an unfavorable view of Trump, according to a GenForward poll. The survey found that adults between the ages of 18 and 30 "may not end up voting or casting a ballot for either major party candidate for president." That won't be Ioerger, though he has been tracking the fight to unbind delegates playing out in Virginia. A federal judge there blocked part of a state law that compels delegates to stick with a pledged candidate—instead of their consciences. Ioerger said he does intend to support the Republican nominee, but: "I think it's important to know about the rules you're under in any situation, really."