The Diverse Left and White Working-Class Right
Does the Democratic Party—open to all immigrants, races, genders, and sexual orientations—have enough room for less educated white voters?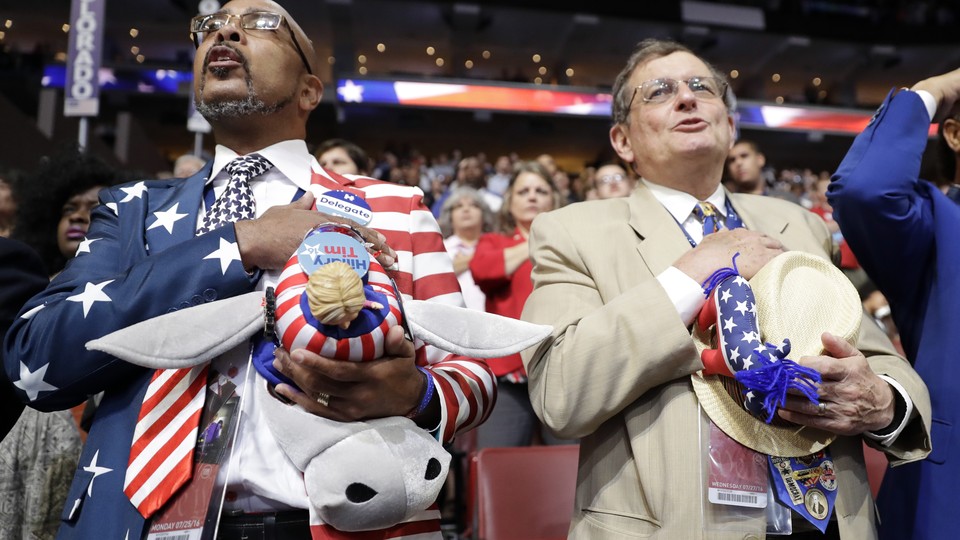 The evocative sound of barriers falling was the signal note during the Democratic National Convention's first two nights.
First Lady Michelle Obama's riveting Monday-night speech condensed the centuries of racial pain and progress bound up in her husband's two victories into a single indelible phrase: "I wake up every morning in a house that was built by slaves." One night later, Hillary Clinton shattered another ceiling when she became the first major-party female presidential nominee.
The delegates have displayed understandable pride in these twin social milestones. But there is also an undercurrent of concern that something old is being lost in this celebration of the new. The fear among some is that this polychromatic Democratic Party, open to all races, both genders, all sexual orientations, welcoming to immigrants, and championing diversity, may not have preserved enough room for the working-class white voters who anchored the party from Andrew Jackson through Lyndon Johnson.
Those voters haven't been the party's center for years: except for Bill Clinton in 1996, no Democrat has won more than 40 percent of white voters without a college education since 1980, according to media exit polls. On a national basis, Democrats have largely replaced them with increased support from Millennials, minorities, and college-educated whites—while running just enough above their national numbers among working-class whites in the key Midwestern battlegrounds to retain the advantage in those pivotal states.
Even so, many in the party are incredulous that so many blue-collar whites are flocking to Donald Trump, a candidate Democrats view as uniquely divisive and unqualified. The post-Republican National Convention polls released on Monday poked directly at that anxiety. Trump held big leads among non-college whites in the surveys released by both CBS (23 percentage points) and CNN/ORC (fully 39 percentage points). The CNN poll had Trump attracting not only 69 percent of non-college white men but 64 percent of white women without college degrees—and recording most of his convention gains among the latter.
Both surveys showed Clinton holding preponderant leads among minority voters and running much better than Democrats usually do among college-educated whites. Those strengths could allow her to survive a Trump majority among working-class whites. But not any majority: If Trump's advantage among blue-collar whites grows too large, Clinton would still struggle to overcome it with other voters.
Many Democrats are also uncomfortable with the thought of becoming a party that largely concedes the white working-class to rely on white voters mostly above the median income, and non-white voters mostly below it. (If nothing else, that's not a plausible strategy for controlling Congress, even if it works at the presidential level.) Reduced reliance on working-class whites since the 1990s has freed Democrats to pursue a more consistently liberal cultural agenda. But anyone watching this convention's first nights might easily view social inclusion, not economic opportunity, as the party's core priority. "One of the challenges for Democrats is talking about diversity, talking about gender in a way that doesn't put people on the defensive, [and] make them feel like they are being … accused of being bigoted," says Democratic pollster Margie Omero.
The convention has exposed the inconvenient truth that Democrats no longer have many voices that intrinsically resonate in white working-class communities. Monday night's opening speeches were often eloquent and compelling. But at one point, Cory Booker (Stanford, Yale Law School) gave way to Michelle Obama (Princeton, Harvard Law School), who was followed by former Harvard Law School Professor Elizabeth Warren. Each overcame significant barriers and showed great tenacity to scale those heights; but all were winners in the information-age meritocracy.
"That's a great observation and it's definitely a challenge," Michael Podhorzer, political director of the AFL-CIO, told me Tuesday. "We would argue that most of the political class comes from the same background whether it is Democrats or Republicans and that all politicians lack a kind of authenticity with working-class voters. Obviously, last night, the Clinton campaign was appealing to other voters."
The convention's final two nights will underscore its upscale tilt. They will feature one couple (the Clintons) who met at Yale Law School, and another couple (the Kaines) who met at Harvard Law School. The big exception was Vice President Joe Biden, who deftly balanced the party's blue-collar roots and modern diversity in his rousing speech Wednesday night.
During the convention I asked the mayor of a big city with a large white ethnic population what it would take to move blue-collar voters away from Trump. He rattled off an indictment of Trump as a phony whose business record undermined his claims of championing working families. "How do you vote for a guy who's against everything you stand for?" he growled at me. "Being a racist isn't enough."
But when I asked the mayor what national Democratic leaders could credibly deliver that message, he shrugged. Maybe Biden or vice-presidential nominee Tim Kaine. Possibly Bill Clinton. "I can't think of anybody else on a national scale," he said.
Through its Working America program, the AFL-CIO is deploying volunteers to make precisely that case against Trump to both union and nonunion working-class households in five key states: Ohio, Pennsylvania, Wisconsin, Nevada, and Florida. Clinton telegraphed her intent to woo white working-class votes when she announced that her first post-convention event would reprise the bus tour across Pennsylvania and Ohio that her husband took after his 1992 convention.
The distance between the Democratic Party and much of working-class white America is even wider now than it was then. With enough support from the Democrats' diverse new coalition, Hillary Clinton can still win despite that erosion. But what's clear this week is that, for many Democrats, even that victory would carry a definite sense of loss.