The Democrat That Republicans Really Fear Most
Delegates in Cleveland answer a nightmare question: Would they take four more years of Barack Obama over a Hillary Clinton presidency?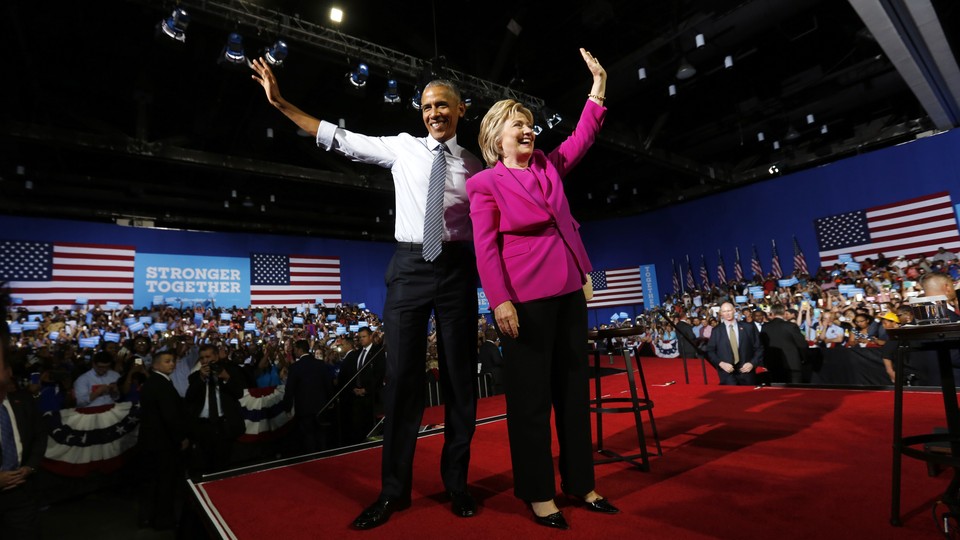 CLEVELAND—It was a question no Republican here wanted to contemplate.
The query alone elicited winces, scoffs, and more than a couple threats of suicide. "I would choose to shoot myself," one delegate from Texas replied. "You want cancer or a heart attack?" cracked another from North Carolina.
Hillary Clinton and Barack Obama have each been objects of near histrionic derision from Republicans for years (decades in Clinton's case), but never more so than during the four days of the GOP's national convention. Republicans onstage at Quicken Loans Arena and in the dozens of accompanying events have accused President Obama of literally destroying the country in his eight years in the White House. Speakers and delegates subjected Clinton to even harsher rhetoric, charging her with complicity in death and mayhem and then repeatedly chanting, "Lock her up!" from the convention floor.
But what if Republicans were forced to pick between them? What if the choice on the ballot this fall were not Clinton or Donald Trump but a Clinton presidency or four more years of Obama? Which would they choose?
My informal, completely unscientific survey of more than two dozen delegates and guests in Cleveland found that Republicans were just as divided over this lesser-of-two-evils scenario as they were in their yearlong party primary. About half said they would reluctantly stick with Obama because while they vehemently disagreed with his policies, they viewed him as more honest than Clinton, a Democrat they considered not only liberal but corrupt and criminal. "He's upfront," said Judy Ward, a state representative from Pennsylvania. "He's liberal, but you know that." On the other hand, she called Clinton  "frightening" and said she would "do whatever it took to get elected."
Sam Taylor, an Arkansas Republican, gave the edge to Obama because, he said, the president was "more likable" than Clinton. "I think Hillary is as close as it comes to being the anti-Christ," Taylor told me. "She doesn't stand for anything. She epitomizes what is wrong with our culture today."
"I don't trust her," he added. "I would trust Obama more."
The president has enjoyed a renaissance in public approval this year as voters choose between two candidates who, polls show, are historically unpopular major-party nominees. Republicans still overwhelmingly disapprove of Obama's performance as president, but they now seem to like him a bit more than Clinton. In a June CNN/ORC poll, just 6 percent of Republicans reported having a favorable opinion of Clinton, while 11 percent thought well of Obama. (Bill Clinton did better than both of them, drawing support from nearly one in five Republicans.) The Obama-Clinton results are a reverse of the dynamic early in the president's first term, when Clinton drew stronger ratings as secretary of state.
"I'd choose four more years of Obama," said David Duncan, the Texas delegate who initially answered my query by quipping that he'd shoot himself. "As much as I disagree with him, at least he's—as far as I can tell—more honest than her."
Yet for all of the Republicans who said they'd prefer Obama, nearly as many went with Clinton. "He's more stridently left wing than she is," said Michael Goldman, another Texan. "She is probably more corrupt, but I fear his politics of racial division and national weakness."
With nearly two decades of distance, several Republicans recalled the first Clinton presidency more fondly and suggested that, like her husband, Hillary Clinton would be more of a dealmaker than Obama has been. "I don't think Hillary would pull apart the country like he did," Steve Coon of Ohio told me. Another Ohioan, Alan Harold, said the likelihood that Clinton would be paired with at least one Republican-controlled chamber of Congress would constrain her more than when Obama came into office with Democratic majorities in both the House and Senate. "If she's elected, she's not going to be able to get much done," Harold said. "She'll cut a deal with whoever she wants to cut a deal with."
Samuel Ducote, however, surveyed the legislative landscape and arrived at a different conclusion. He said he feared Clinton more than Obama because he viewed her as a more effective leader. "She can get things done, but the wrong things done," the Louisiana delegate told me. While Obama has struggled to add to his domestic legacy with the Republican-controlled Congress, he said, "She'd be able to move things faster in the wrong direction."
A large chunk of Republicans surveyed simply couldn't pick between a pair of Democrats they despise with equal fervor. "That's the same side of a coin," Wes Brumit of Texas said. "That's an impossible choice." And in the electoral sense, Brumit is correct: Republicans won't actually have to choose between Obama and Clinton. And in a year of so much angst for the GOP, escaping that nightmare hypothetical was cause for a little relief.