When Obama Gains, Clinton Scores
The results of the latest Heartland Monitor Poll demonstrate how much assessments of an outgoing president shape the race to succeed him.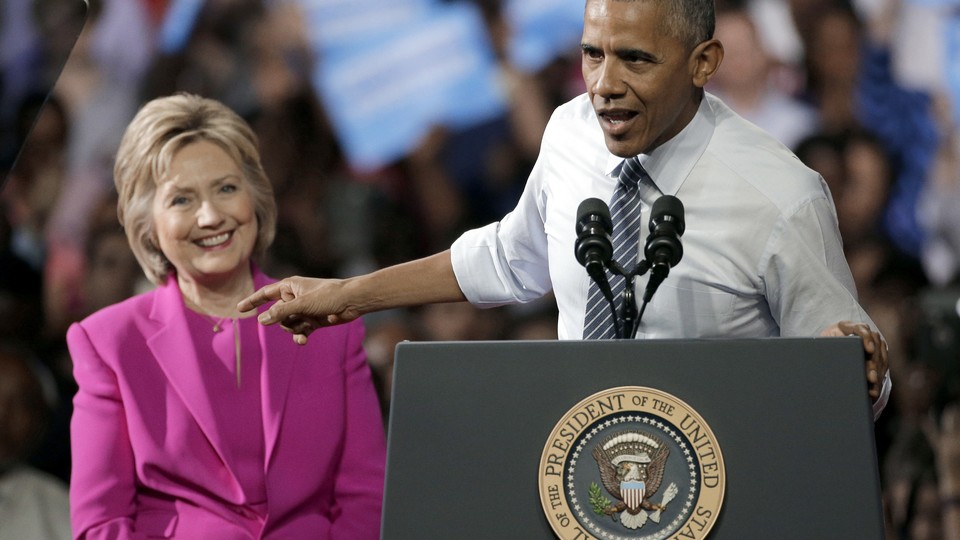 President Obama is finishing his second term on a rising tide—and lifting Hillary Clinton in the process, according to the latest Allstate/Atlantic Media Heartland Monitor Poll.
In the survey, 51 percent of Americans said they approved of Obama's job performance, while 43 percent disapproved. That was the first time in Obama's second term the Heartland Poll has found majority support for the president's performance.
Obama's gains are directly benefiting Clinton. The survey found that among adults who approve of the president's performance, Clinton leads Donald Trump by 77 percent to 7 percent. By contrast, Trump crushes Clinton by near-mirror-image 71 percent to 7 percent among those who disapprove of Obama. Overall, Clinton led Trump by 44 percent to 36 percent among registered voters, the survey found.
The results underscore how much assessments of an outgoing president shape the race to succeed him. In the 1988 race, just over four-fifths of voters who approved of Ronald Reagan voted for George H.W. Bush, while 88 percent of those who disapproved of Reagan backed Democrat Michael Dukakis, exit polls found. Similarly, in 2000, just under four-fifths of those who approved of Bill Clinton's performance backed Al Gore, while an identical 88 percent of those who disapproved supported Republican George W. Bush. With Bush facing a much more negative public verdict in 2008, nearly nine-tenths of the relatively small group that approved of his performance backed John McCain, while Obama carried exactly two-thirds of those who gave him negative marks, exit polls found.
The survey marks the 26th in a series conducted by Allstate and Atlantic Media since 2009 exploring how average Americans are adapting to the changing economy. The Atlantic this week is reporting results from the latest poll, which was conducted from June 19 to 24, and primarily examined the public's attitudes toward fundamental trends shaping American life, as well as their views about which institutions should respond to those challenges.
Obama's gains in the latest Heartland Poll were broadly based. More independents said they approved (49 percent) than disapproved (42 percent) of his performance. That was the first time he reached positive territory among that group in a Heartland Monitor since immediately after his reelection in November 2012.
Seventy percent of all nonwhite voters said they approved of his performance—his best showing with them since June 2013. Among whites, his approval rating ticked up to 43 percent (with 52 percent disapproving), his best rating in the poll since November 2012.
Obama's standing remains anemic with non-college whites, the group that has been most drawn to Trump. Just 36 percent of them approved of the president's performance in the new poll, while 57 percent disapproved: No more than about one-third of working-class whites have given Obama positive marks in any Heartland Poll during his second term.
But among college-educated whites, Obama's approval surged into positive territory, with 49 percent approving and 47 percent disapproving. That marked the first time since May 2011—and only the third time since the poll's inception in April 2009—that more college-educated whites approved than disapproved of Obama's performance.
With college-educated white women, Obama's approval rating spiked to 53 percent—tied for his second-highest showing with that group in the survey's history. His positive marks reached 45 percent among college-educated white men (with 53 percent disapproving). That's his best performance among that group in the poll's history. For comparison, exit polls found that, in 2012, Obama won just 38 percent of college-educated white men.
Obama's improved standing, then, may be especially helping Clinton with white-collar white voters. No Democratic presidential nominee in the history of modern polling has carried most of the college-educated whites. But the Heartland survey, like many other recent national polls, shows Clinton leading Trump among them.
Obama's rise is even more striking because on most other questions, the survey found Americans are still wary about the economy and the country's overall direction—with one important exception.
Just 22 percent of those surveyed, for instance, said the country was heading in the right direction, while 66 percent described it as off on the wrong track. That essentially matches the 23 percent "right track" results in November 2013 and September 2015 as the nadir for Obama's second term.
An even more anemic 13 percent said they approved of Congress's performance, while 80 percent disapproved.
Just 21 percent rated the national economy as excellent or good, while 77 percent described it as fair or poor. While better than assessments early in Obama's second term, those numbers have changed hardly at all over the past year, despite the steady growth in employment.
This modest assessment of the economy varies little between men and women, whites and nonwhites, or across generational lines—though college-educated whites are somewhat more optimistic, or at least less gloomy, than most other groups. While the share of non-college whites who describe the economy as poor is slightly more than three times as large as those who call it excellent or good, among college whites the two groups are almost exactly even in size.
Similarly, Americans are not expecting a big improvement in the national economy: Just 22 percent said they thought it would trend up over the next year, about the same (25 percent) that thought it would deteriorate. The largest group, nearly two-fifths, thought it would stay the same.
The big exception to this lackluster assessment: Fully 49 percent of Americans now describe their personal financial situation as excellent or good. That equals the 49 percent who call their personal situation only fair or poor. Dating back to 2009, that's the first time in the Heartland Poll's history that positive responses on that question have equaled negative ones.
While only 44 percent of minorities and 42 percent of non-college whites say their personal finances are excellent or good, 62 percent of college-educated whites rate their finances that positively. Still, the improvement from the most recent Heartland Poll in January (when 45 percent gave their finances good grades) was driven largely by somewhat brightening perceptions among both non-college white men and minorities.
This budding optimism has limits. Just 39 percent of those polled expect their personal finances to improve over the current year, while 46 percent expect no change. While just 9 percent expect to lose ground, the latest poll reinforces the sense of limited expectations with which many Americans now approach the economy. With but one exception, since September 2013 the share of Americans projecting their finances to improve over the next year has varied only between 38 and 44 percent in Heartland surveys.
Americans do not give Obama's agenda much credit for their improving personal situation. Only 25 percent of those polled said the Obama administration's actions would "increase opportunity for people like you to get ahead," while 29 percent said it would decrease their opportunities, and 39 percent said it would have no impact. Those numbers have shown remarkable stability in recent surveys. Still, meager as they are, they represent an improvement from earlier in Obama's second term, when nearly half of all Americans consistently said in Heartland polls that his choices had diminished opportunity for people like them.
While college-educated whites are now generally upbeat about their personal finances, and both working-class white men and minorities are expressing more positive views, one group stands out as especially uneasy: working-class white women, sometimes called "waitress moms." In the new survey, just 36 percent of them describe their finances as excellent or good, virtually unchanged from January; more than one in five pick "poor," the worst option, to assess their condition, far more than in any other group of whites. Only three in 10 of them expect their finances to improve over the next year, only one in six say Obama's agenda is increasing their opportunities, and fewer than one in 10 say the country is on the right track. These women loom as a critical target for Trump, particularly in the Rust Belt states that offer his most plausible path to an Electoral College majority: In each of the key metal-bending battlegrounds (including Ohio, Iowa, Michigan, Wisconsin, and Pennsylvania) white women without a degree cast more of the vote in 2012 than blue-collar white men.
---
—Atlantic assistant editor Leah Askarinam contributed.
The latest Allstate/Atlantic Media Heartland Monitor Poll is the 26th in a series examining how Americans are experiencing the changing economy. This poll examines the public's attitudes toward fundamental trends reshaping American culture and the economy, and their views about which institutions are best positioned to respond to them. It surveyed 1,000 adults by landline and cell phones from June 19 to June 24, and has a margin of error of plus or minus 3.1 percentage points. The survey was supervised by Ed Reilly and Megan McNally of FTI Consulting's strategic communications practice.