Scott Walker Is Backing Donald Trump
"He" is better than "her," the Wisconsin governor says.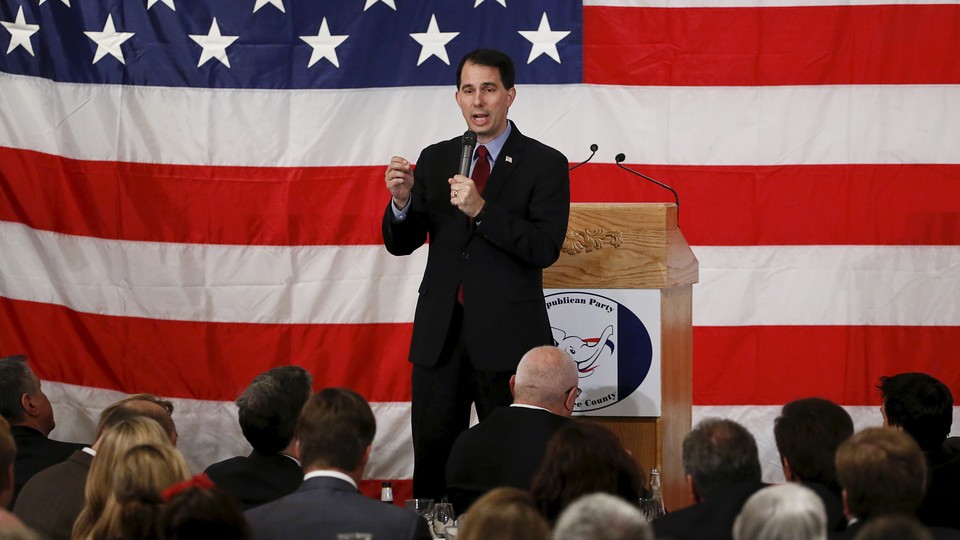 NEWS BRIEF Wisconsin Governor Scott Walker just gave the clearest sign yet that he's supporting Donald Trump as his party's candidate for president. But that's not to say he's excited about it:
Last August, I said I'd support the GOP nominee. It's now clear who the RNC delegates will vote to nominate. And he is better than she is.

— Scott Walker (@ScottWalker) July 6, 2016
Walker had recently signaled he'd be backing Trump. In an interview Tuesday with an ABC affiliate in Wisconsin, Walker said he'd be speaking at the Republican National Convention, which starts in less than two weeks. Walker didn't offer a formal endorsement or give details about what he planned to say. But he explained that not voting for Trump translates to a "de facto" vote for Hillary Clinton, the "her" he doesn't mention by name in his tweet. Talking Points Memo has more on Walker's thinking:
From the delegates I've talked to here in Wisconsin, as well as those across the country, as much as there have been legitimate issues raised and concerns—the bottom line is most delegates are headed down the path that I am, which is that it's a clear contrast," he said. "It's either gonna be Hillary Clinton or it's gonna be Donald Trump and we have to decide who we want it to be.
The omission of Trump's name in the Wednesday tweet is glaring, and it reflects Walker's general attitude toward the presumptive Republican nominee. When Walker dropped out of the presidential race in September—having entered it as a GOP rising star—he specifically called for a "positive, conservative alternative" to Trump. He had previously endorsed Senator Ted Cruz in a much more enthusiastic way, waiting until just before the Wisconsin primary for "maximum impact" and pledging that a Cruz win in Wisconsin would grease the wheels for his eventual nomination. Cruz won Wisconsin, but dropped out a little over a month later.
As recently as June, and even with no other candidates in the race, Walker refused to commit to Trump, lamenting the "poor choices" available to voters in 2016. "He's not yet the nominee," Walker said. "Officially, that won't happen until the middle of July, and so for me that's kind of the time frame." Walker had vaguely suggested that he would hold out until Trump "renounces what he says, at least in regards to this judge," referring to Trump's comments on a Mexican-American judge presiding over a Trump University legal case. Trump did no such thing, and Walker has resigned himself to support Trump anyway.