Trump's Sunday School
The Republican presidential nominee might not recognize the church where he grew up, which is now led and attended almost entirely by immigrants.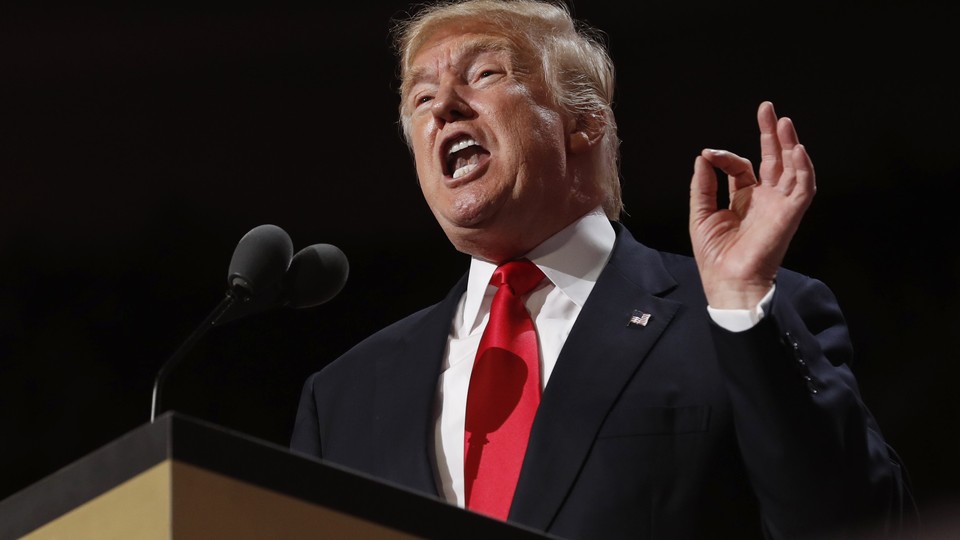 NEW YORK—First Presbyterian Church doesn't fit in on its block. The white, New England-style clapboard building is an anachronism tucked among the chain stores, Bangladeshi food stands, and halal grocers of Jamaica, Queens. On a Sunday morning, people from a dozen or more countries might show up for the 10 a.m. service; women in geles and bright, African-print dresses sit in the pews alongside ladies in floppy church hats. On a bulletin board in the recc hall next door, the congregation has posted a display about its 354-year history. Amid the news clippings and sketch drawings, one artifact sticks out: a letter from Donald Trump.
As far as Patrick O'Connor, the pastor, knows, the Republican presidential nominee has never tried to visit the church where he grew up—or, at least, not in several decades. But when the congregation was raising money in 2012, its most famous alumnus sent over a check for $10,000. "I attended Sunday school at the church for a number of years," Trump wrote. "Going to church was an important part of our family life and the memories for me are still vivid—of a vibrant congregation and a lot of activities."
For much of the time when the Trumps were members, black families could attend, but not join—the church didn't start integrating until the late 1950s and early '60s. As families left the neighborhood and moved out to the suburbs, participation dropped. Membership had dipped below 100 people around the time Donald Trump moved to Manhattan following his stints in military and business school.
But the congregation came back, led by a pastor named Raymond Swartzback, who explicitly focused on reaching out to the new, comparatively poorer immigrant communities of Jamaica. Unlike other churches that are part of Presbyterian Church USA, which is roughly 90 percent white, First Church became an almost exclusively black and brown congregation—a big change from its days as the religious home of mostly white, middle- and upper-middle-class Baby Boom families. O'Connor himself is from Jamaica—the island, not the neighborhood. Many of his congregants hail from Guyana, Trinidad, and other Latin American and Caribbean nations.
More than policies or legislative records, the 2016 presidential election has often seemed like a referendum on who counts as American. Many hear the proposal to Make America Great Again as a coded call to return economic, political, and cultural power to white, long-time American citizens. First Church is a testament to the way that strategy can backfire—and why the America Donald Trump wishes to recreate may no longer exist, if it ever did.
* * *
Trump's faith has been a topic of debate during his presidential campaign: Does he actually attend church? Does he actually read the Bible? Is he actually saved? Despite the promise in Article VI of the Constitution that "no religious test shall ever be required" of candidates for national political office, Republicans in particular must perennially prove their Christian bona fides to voters—even someone like Trump, who has defied party norms in every other way.
The church Trump now claims to attend says he's not an active member. But in many ways, the church he left tells the story of the country Trump is trying to run. First Church says it's the oldest continuously operating Presbyterian congregation in the country, the kind of historical status religious groups often clamor to claim.
Christina Ferro, 96, is the oldest member of First Presbyterian Church, and one of the only people around who still remembers the Trumps. She and her daughter, Holly Hladun, are also among the few white people who attend. Although things have changed a lot, "it's always been good," Ferro said. She has kept coming because it's the church where she got married, she said, and where her kids were baptized—and unlike many other white folks in Queens, she stayed, living in places from Richmond Hill to Flushing.
"He was one of the boys I just never went anywhere near, because he scared the crap out of me."
Ferro joined the church as a young woman in 1945, one year before little Donald was born. At the time, that area in Queens was dominated by Western European immigrants—including people like Trump's mother, Mary, who came to the United States from Scotland in 1929. Ferro taught young kids in Sunday School, but says she never had the middle Trump boy; her now-dead husband, Jim, taught Donald when he was a teen, according to her daughter, Holly Hladun.
"He was one of the boys I just never went anywhere near, because he scared the crap out of me," said Hladun, who is a few years younger than Trump. "There was just something about him."
According to Ferro, the Trumps sat up in the balcony on the righthand side of the sanctuary; many families at First Church, as in other congregations, have a particular section where they like to sit. Standing in the sanctuary in 2016, it's not hard to imagine a room filled with respectable-looking white people in the 1950s: the mid-century stained-glass windows; the white pews sitting on thick, red velvet carpeting; the carved marble plaques flanking either side of the pulpit, commemorating past leaders of the congregation all the way back to 1663.
But there are also marks of the congregation's changed identity. At the back of the congregation, paired paintings depict Jesus, who is black, carrying a woman through the streets. The bathroom's signs are in Spanish and English. As one longtime parishioner said, the building's lovely early American look is as important to the congregation now as it likely was 50 years ago, when the Trumps were around, or just over 200 years ago, when it was built. "We need a beautiful church in a community where a lot of migrants and immigrants [are]."
First Church's congregation of immigrants may be saving it from the fate of other churches in Presbyterian Church USA, a mainline group that has been declining for years. Between 2011 and 2014, the number of churches in the denomination shrank by more than 600. Members are getting older, and few young people are joining; as of 2014, nearly 70 percent were over age 50, according to Pew Research Center.
First Church has thrived not because it kept its 17th-century Dutch identity, but because it has adapted.
Although First Church has also struggled to attract young people, said Dora Griszell, a member of 10 years and longtime attendee, the two Sunday morning services are fairly well attended, and the church is very active in the community. In December, it will break ground on an affordable-housing project in a parking lot down the street: Using subsidies from the city, it will lead the construction of 174 mixed-used, affordable-housing units, which will also incorporate community spaces and a health clinic.
This is partly necessary because Queens is getting more expensive. In contrast to the 1970s, when the city demolished the elevated train out to Jamaica and a number of stores left the neighborhood, New York has been investing in development in the area. Real-estate gurus predict Jamaica will be the next hot neighborhood for New Yorkers fleeing high rents in other parts of the city.
As the neighborhood has changed, First Church has found itself in a fascinating position: Many of its members, once newcomers or the children of newcomers to America, are now the area's old-timers. Some congregants have been around for decades; even those who have moved out to the Bronx or other far-flung places often come back for services.
But the congregation has repeatedly embraced immigrants and new arrivals—even those who are not members. There's a large Muslim community in the area, and O'Connor stresses the importance of welcoming them. While the church doesn't have the resources to offer a Spanish-language service for the growing number of Latinos in the neighborhood, he said, it lends out its sanctuary to a largely Nicaraguan, Guatemalan, and Honduran Seventh Day Church of God congregation. First Church has thrived not because it has remained true to its 17th-century Dutch roots, but because it has adapted. Its members, many of whom came to America in adulthood, or whose parents did so, have turned behind them and opened their church doors for others to follow.
* * *
It's hard to think of a scene that's more American than an immigrant church on the Sunday before the 4th of July. Earlier this month, First Church held a special service in honor of American independence, complete with an opening prayer of thanks for the United States and a group rendition of "America the Beautiful." At least one member wore a festive American flag T-shirt. Parishioners said in interviews that the congregation isn't too political in orientation, but at the very least, it's patriotic.
Perhaps it was a divine joke, but the Bible passage slated for that Sunday—just two weeks before Donald Trump would officially become the Republican Party's nominee for president—was II Kings 5, about Naaman, a leader in ancient Syria who was also a leper.
The story goes like this: An Israelite servant—an immigrant girl, as O'Connor pointed out during his sermon—tells Naaman that a man in Samaria could cure his disease, so he sets out to find the prophet Elisha in Israel. When he gets to Elisha's house, the prophet does not come out to greet him; instead, he sends a messenger ordering Naaman to wash himself in the river Jordan seven times, and he will be cured. Naaman is offended: He thought Elisha would come and stand before him and call on the Lord. And besides, the rivers of Damascus are better than all the waters of Israel, he thinks.
"Naaman had to learn that if he was truly great, greatness involves humility."
As an allegory of narcissistic American political leaders, the parable is fairly on the nose. "Important people want to be treated important," O'Connor boomed during his sermon. "I always worry whenever anybody who chooses to lead us … says, 'I cannot remember anything that I need to be sorry for.'" The comment seemed to be a thinly veiled reference to Donald Trump, who has said publicly that there's nothing for which he needs to ask God's forgiveness. "Those who seek to lead us ought to have the realization that leadership in America, leadership in the world, is about being a servant to the people," O'Connor said.
In the Bible story, it is only when Naaman's servants urge him to reconsider that he decides to follow the prophet's easy request. As soon as he bathes in the river, his flesh becomes like new. "Naaman had to learn that if he was truly great, greatness involves humility," O'Connor said.
If Trump wanted to come back to First Church, the congregation would welcome him, O'Connor said. "I had a great time in Jamaica, and it was a good place to grow up," the billionaire wrote in his 2012 letter to the church. "I'll always remember it fondly and most importantly, will always remember my first church, First Presbyterian, with love and affection."
Today, Trump likely wouldn't recognize his childhood congregation. Jamaica has changed. Maybe that's a good thing, though. If it hadn't, its historic church halls would probably be empty—just an artifact on 164th Street, a museum to the nation's mythical past.