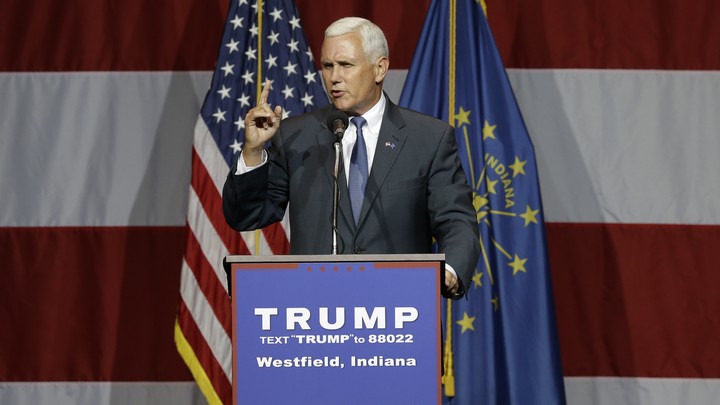 Donald Trump has selected Indiana Governor Mike Pence as his running mate and vice-presidential candidate.
Trump, the presumptive Republican nominee, made the announcement on Twitter at 10:50 a.m. on Friday:
I am pleased to announce that I have chosen Governor Mike Pence as my Vice Presidential running mate. News conference tomorrow at 11:00 A.M.

— Donald J. Trump (@realDonaldTrump) July 15, 2016
That caps a bizarre 24 hours in the veepstakes. Late Thursday morning, several news organizations began reporting that Trump had chosen Pence. But then some equally reliable reports emerged claiming that Trump had not yet made his final selection, nor informed Pence. Then, in the wake of the attack in Nice, France, Thursday night, Trump announced he was postponing his announcement, which had been scheduled for 11 a.m. Friday. Campaign manager Paul Manafort said the candidate had "emotionally reacted" to the violence. Whatever happened, Trump changed his mind quickly, opting to put the news out in a tweet.
Trump's hand may have been somewhat forced by the calendar: The deadline for candidates to withdraw from the Indiana governor's race is noon Friday, so Pence needed to have a final decision by then.
Pence is the most conservative choice of the rumored vice-presidential picks Trump considered—both in terms of his own ideology, and in terms of the political calculus behind selecting him. FiveThirtyEight's Harry Enten calculated that he is the most right-wing running-mate selection in many years, and is more conservative than either Newt Gingrich or Chris Christie, who were thought to be leading runners up. But he is also a more cautious choice, a governor with a relatively staid profile and lower-key style than either Gingrich or Christie.
Pence spent six terms in the U.S. House, where he gained a reputation as a sober, conservative legislator. In 2012, he was elected Indiana governor. Prior to seeking elected office, he worked as an attorney, talk-radio host, and president of a conservative think tank. Pence represents more of a "party man" than either Trump, who was a registered Democrat as recently as 2009, or Gingrich and Christie, who have on occasion bucked party leaders and orthodoxy.
Pence could also help to shore up Trump's support among social conservatives, who have at times warily eyed the twice-divorced candidate. But Pence did irk some religious conservatives with his handling of a 2015 religious-freedom law in the Hoosier State. The governor signed the law, but after intense pressure, especially from business located or operating in Indiana, he reversed course. Pence is comparatively little known at the national level, and his style as a vice-presidential candidate—and how he complements Trump—still remain mostly to be seen. Pouring a little salt in Chris Christie's wounds for being passed over, they will campaign together in Bedminster, New Jersey, on Saturday, before the Republican National Convention next week in Cleveland.
Who Pence's Democratic counterpart is still up in the air. Hillary Clinton has been reported to be vetting several candidates, and she appeared on the stump on Thursday with Senator Tim Kaine of Virginia, a betting favorite. She has offered no timeline for her selection.
Here's a quick rundown of the people Trump was said to be considered for the job.
---
Newt Gingrich
Who is he? The speaker of the House from 1995 to 1999, Gingrich ran unsuccessfully for president in 2012.
The scuttlebutt: Gingrich is perhaps the leading contender in Beltway buzz. Though he didn't endorse Trump during the primary, he repeatedly defended him from his critics. More recently, he wrote a fawning essay titled "What they never understood about Donald Trump" in The Washington Times. Ed Rollins, who runs a pro-Trump super PAC and previously worked for Gingrich, told National Review, "I think Newt is lobbying to be the vice president, and I think their people are paying a lot of attention to him," adding, somewhat dubiously, "It'd be a ticket with six former wives, kind of like a Henry VIII thing. They certainly understand women." (It's sometimes hard to tell what side Rollins is on.) The Washington Post tabs him as the front-runner, though Gingrich said on June 26 that he is not being vetted at this point.
Pros: With his long career on the Hill and in Republican circles, Gingrich would check the politics box for Trump. As an intellectual—self-styled, at least—he might offer some counterweight to impressions of Trump as a lightweight. Gingrich, unlike Roosevelt, would apparently rather be vice president than a professor of history.
Cons: While less prone than Trump to racist outbursts, Gingrich has been known to say wacky things. He has plenty of his own critics in GOP circles, and he's got his own personal baggage—two divorces and three marriages to match Trump's. As an aging white man, it's unclear whether he could expand the Trump coalition. He brings little foreign-policy cred.
---
Ben Carson
Who is he? The famed retired neurosurgeon was one of the many GOP candidates Trump vanquished this year.
The scuttlebutt: Wait, isn't he leading the VP search? That's hardly an impediment—just ask Dick Cheney, who led George W. Bush's running mate search and selected himself. Carson has generally said he's not interested, and his name has fallen out of circulation.
Pros: Carson is personally likable and well-liked, and he could appeal to social conservatives.
Cons: Didn't you see the GOP primary? Where Trump is untutored and sometimes scary on policy, Carson is even less tutored, and often shaky. Given his lack if politics and policy experience, he'd do little to shore up Trump's credentials with people who view Trump as dangerously naive about policy.
---
Chris Christie
Who is he? The governor of New Jersey, Christie was the first major establishment Republican to endorse Trump.
The scuttlebutt: Surely there must be some reason why Christie has been willing to endure endless mockery for standing, staring vacantly, behind Trump at campaign events. Could it be the promise of a VP slot? CNN reports that Christie is being vetted for the job as of June 30. The Washington Post suggests he's a top contender, maybe behind Newt Gingrich.
Pros: Christie would bring comparative gravitas to the ticket. He's a two-term governor and former U.S. attorney, a dynamic campaigner, and he seems to get along well with Trump. He's already been appointed to run Trump's transition team.
Cons: Just what the ticket needs: Another angry dude from the Northeast with high unfavorables. Christie infuriated many fellow Republicans by backing Trump, but now that many of them are coming around, perhaps that's not a big deal.
---
Bob Corker
Who is he? A Tennessee Republican, he was first elected to the Senate in 2007.
The scuttlebutt: Corker is out of the running, telling The Washington Post on July 6 that he was withdrawing himself from consideration.
Pros: Corker is a businessman like Trump, and he's a known as a dealmaker. He'd bring some Southern balance to the ticket, and he is the chair of the Senate Foreign Relations Committee and a member of the banking committee—and both foreign policy and economic policy are areas where Trump has shown he needs some help. Corker signaled his openness to Trump ahead of many of his colleagues.
Cons: The flip side of being a dealmaker is that it can irk hardliners within one's own party. He's also a bit low-key for Trump—though maybe that would be a good thing.
---
Mike Pence
Who is he? A former U.S. representative, the current Indiana governor is a strong social conservative.
The scuttlebutt: Since meeting with Trump over the July 4 weekend, Pence has surged into the top tier of speculation, and by some accounts is the leading candidate righ tnow.
Pros: Pence is a strong social conservative and a longtime Republican officeholder—two areas where Trump is weak. He's also close to the Koch brothers.
Cons: Once mentioned as a presidential contender in his own right, Pence has looked a little like damaged good since Indiana's snafu over a religious-freedom law. (A law was passed but largely emptied out by amendments after backlash.) Pence is also barred by state law from running for reelection and vice president at the same time, so he'd have to choose.
---
Sarah Palin
Who is she? The former governor of Alaska endorsed Trump in January. She was John McCain's running mate in 2008.
The scuttlebutt: Palin is a high-profile endorser and has been an ambitious politician in the past. When Trump was asked about the prospect of running with her in January, he said: "I don't think she'd want to do it … she's been through that."
Pros: Trump is weak with women and still stands to convince very conservative voters that he is a true conservative. Palin might help him on both counts.
Cons: Are you younger than eight? (If so, go outside and play!) If not, did you sleep through the 2008 election? We've seen how this goes.
---
John Kasich
Who is he? The governor of Ohio, Kasich was the last remaining Republican to leave the race.
The scuttlebutt: Kasich's critics in the party accused him of staying in the race to hurt Cruz, and thus improve his chances at the VP slot. Trump has sent mixed messages, saying that he'd be "interested in vetting John" but also suggesting he was an unlikely choice.
Pros: Kasich has deep political experience, as both a congressman and a two-term governor. And he cuts a more sober figure than Trump.
Cons: Kasich says he does not support Trump: "I'm not making any final decision yet, but at this point, I just can't do it."
---
Marco Rubio
Who is he? The outgoing senator from Florida also ran against Trump.
The scuttlebutt: Some of Rubio's delegates to the convention are pushing him as a running mate. Trump says it "could happen," though other reports claim he's out of the running. Also Rubio has said, "I'm not going to be anybody's vice president."
Pros: All the things that Rubio was supposed to bring to the presidential race, he could still bring: youth. Charisma. Hispanic roots and foreign-policy experience, both of which Trump badly needs.
Cons: Rubio hit Trump hard during the race, and he seems to be pretty burnt out on campaigning and politics in general. On May 9, he posted on Facebook, "He will be best served by a running mate and by surrogates who fully embrace his campaign. As such, I have never sought, will not seek and do not want to be considered for Vice President."
---
Rick Perry
Who is he? The former governor of Texas ran for president unsuccessfully in 2012 and 2016.
The scuttlebutt: On May 5, Perry told CNN, "I believe in the process, and the process has said Donald Trump will be our nominee and I'm going to support him and help him and do what I can …. He is one of the most talented people who has ever run for the president I have ever seen." On the veep question, he said, "I am going to be open to any way I can help. I am not going to say no."
Pros: Perry doesn't exactly have a reputation as a policy whiz, though he tried to reverse that in his second go at the presidency. He's a steady, experienced Republican, and his Texas bravado might pair well with Trump's New York braggadocio.
Cons: "He offers a barking carnival act that can be best described as Trumpism: a toxic mix of demagoguery, mean-spiritedness and nonsense that will lead the Republican Party to perdition if pursued. Let no one be mistaken—Donald Trump's candidacy is a cancer on conservatism, and it must be clearly diagnosed, excised, and discarded." —Perry on July 22, 2015
---
Ted Cruz
Who is he? Trump's final serious rival for the nomination, he's a senator from Texas.
The scuttlebutt: Trump said on May 4 that he'd consider Cruz.
Pros: Trump says he wants to unify the party, and since the final split was ultimately between Cruz and Trump, what better way to bring together two factions than in a classic fusion ticket? Cruz would bring his very conservative bonafides to the ticket.
Cons: Many leading Republicans hate Cruz as much or more than they do Trump. Also, while the two men got along well early in the campaign, Cruz unloaded on Trump—understandably—after Trump suggested Cruz's father was involved in the JFK assassination, calling him a "pathological liar," "utterly amoral," a "narcissist," and "serial philanderer."
---
Rick Scott
Who is he? Florida's governor, Scott is a former health-care executive.
The scuttlebutt: Scott endorsed Trump on March 15. He's suggested he's not interested in the gig. "I like my job. I worked hard to get this job. I'm going to stay in this job," he told CNN. He repeated the same thing on June 3.
Pros: He's a two-term governor, and Florida is an important swing state
Cons: Scott is deeply unpopular in his own state, and he carries lots of baggage—particularly a $1.7 billion fine for Medicare fraud levied on the company he ran.
---
Rob Portman
Who is he? Portman is a senator from Ohio.
The scuttlebutt: Trump's campaign has leaked his name as an early favorite. A spokesman said Portman is not interested: "Rob is not interested in anything but continuing to serve Ohio in the U.S. Senate."
Pros: Portman is well-liked and has a reputation for seriousness. He might help Trump in the crucial swing state of Ohio and across the Midwest. Barry Bennett, a longtime Portman aide, is now a top aide to Trump.
Cons: Portman is in the middle of a heated Senate campaign. He'd probably be unable to run for president and run for Senate effectively without risking handing the seat to Democrat Ted Strickland.
---
Nikki Haley
Who is she? Haley is the governor of South Carolina.
The scuttlebutt: Trump's campaign has named her as a top early pick, but Trump himself said, "No, not Nikki Haley, no Nikki Haley no, she wasn't under consideration." She herself said, "My plate is full and I am not interested in serving as vice president."
Pros: Not only is Haley a veteran governor, but as a woman, a Southerner, and a daughter of immigrants, Haley would plug lots of holes for Trump. She won positive national press by backing the push to take down the Confederate flag from the capitol grounds in Columbia.
Cons: Haley and Trump tangled ahead of the South Carolina primary, which Haley ultimately deploying the ultimate, vicious Southern insult on Trump: "Bless your heart."
---
Susana Martinez
Who is she? The governor of New Mexico, Martinez is a perennial long-list candidate for the vice presidency.
The scuttlebutt: She's another one of the early favorites leaked by the Trump campaign. "The governor has said repeatedly over the years that she isn't interested in serving as Vice President," her spokesman replied. "She appreciates that such attention puts New Mexico in the spotlight, but she is fully committed to serving the people of our state." But after Martinez skipped a Trump rally in New Mexico on May 24, the two appear to be beefing.
Pros: In addition to her experience as governor, Martinez is a woman and a Hispanic, both constituencies with which Trump is very weak.
Cons: Martinez has been harshly critical of Trump. She also brings some personal baggage.
---
Brian Sandoval
Who is he? Sandoval is the governor of Nevada, a moderate Republican and another perennial VP possibility.
The scuttlebutt: Remember when this guy was floated as an Obama Supreme Court nominee? Good times. Sandoval's name seems to mostly be in the mix because it always is. He endorsed Trump on May 5.
Pros: Sandoval is an experienced politician and a popular Hispanic elected official. He could potentially help Trump with Hispanics and in the West.
Cons: Sandoval has sometimes been seen as too moderate for a national GOP ticket. He also says he doesn't plan to attend the convention.
---
Joe Scarborough
Who is he? The co-host of MSNBC's Morning Joe, Scarborough previously served as a congressman from Florida.
The scuttlebutt: Scarborough has been one of Trump's biggest cheerleaders in the mainstream media. When Hugh Hewitt asked him if in January he'd serve as Trump's VP, Scarborough couldn't bring himself to say no. He's clearly thirsty to get back into politics—he even flirted with running for president in 2016.
Pros: Scarborough has media savvy and has had a great rapport with Trump. He's not a professional politician these days, but he's got the resume.
Cons: Precisely which GOP voters would line up to back a Beltway-dwelling, moderate Republican MSNBC host? Meanwhile, Scarborough has complained that Trump was genuine rather than simply pandering in his fearmongering on Muslims, and Trump fired back at him.
---
Mary Fallin
Who is she? Fallin is the second-term governor of Oklahoma.
The scuttlebutt: Trump backer of Andre Bauer of South Carolina floated her name in April; Trump responded that it was "great" advice. She says she is "100 percent behind him" and said in a statement, "I have not had any direct contact with Mr. Trump, but I would be very honored if I were to receive a call saying I need you to help make America great again."
Pros: Fallin is an experienced governor and a woman. Former Arizona Governor Jan Brewer has reportedly recommended her.
Cons: She's not much of a proven quantity or familiar face at a national level.
---
Jan Brewer
Who is she? Brewer was governor of Arizona from 2009 to 2015.
The scuttlebutt: Brewer has reportedly recommended Mary Fallin of Oklahoma for the veep job. Asked about that, Trump told Greta Van Susteren, "Well, also Jan. Jan Brewer has been fantastic. She has been so fantastic. You know I won so big, her territory, and we won so big. And she is a fabulous woman."
Pros: Brewer is a woman and a conservative, and her hardline views on immigration dovetail well with Trump's. Arizona is one of the typically Republican states that Democrats believe could be up for grabs with Trump running, and she'd help shore that up.
Cons: Brewer is unproven at a national level, and some of her performance in Arizona is unpromising. She famously made an unsupported claim about "headless bodies" being found in the desert, and her disastrous opening statement in a 2010 gubernatorial debate recalled nothing so much as another vice-presidential candidate—Admiral James Stockdale.
---
Jon Huntsman Jr.
Who is he? A moderate Republican, Huntsman was governor of Utah and then ambassador to China under Barack Obama before resigning to run, unsuccessfully, for the GOP presidential nomination in 2012.
The scuttlebutt: The head of a conservative Utah think tank (so, beware homecooking) argues that Huntsman would make a great pick for Trump. He was certainly an early adopter among establishment Republicans, having signaled his openness to Trump in late February.
Pros: Huntsman would give Trump some diplomatic gravitas, moderate appeal, and government experience. Trump is also deeply unpopular in Utah, normally a deep-red state.
Cons: Have you heard the way Trump talks about China? It's a world away from Huntsman's friendlier approach. The extent of Huntsman's real popular appeal and political skill remains unproven, too.
---
Richard Burr
Who is he? A two-term senator from North Carolina, he chairs the Senate Intelligence Committee.
The scuttlebutt: Talk-radio host Hugh Hewitt says Burr is under consideration: "I was tipped yesterday by sources close to Team Trump that Richard Burr was on their short list." Burr denied any knowledge that he was being considered. "Every name that's been floated up to this point is speculation," he said. "I don't think any of it—to my knowledge—has any credible nexus with the campaign." He did not rule out serving, however, saying, "It's not something that I'm even remotely concerned about."
Pros: Burr is a veteran lawmaker and his intelligence experience might soothe Republicans wary of Trump's lack of experience.
Cons: Burr doesn't have a very high profile. He's also locked in a tight reelection race, and according to state law would have to withdraw from the Senate race in order to run for vice president, which could in turn threaten to help Democrats pick up a seat.
---
Joni Ernst
Who is she? A first-term senator and former lieutenant colonel in the National Guard, she became a conservative darling during her 2014 Senate campaign.
The scuttlebutt: Ernst met with Trump over the July 4 weekend, and The New York Times reports she is in the process of vetting as a running mate. She has reportedly already been given a prime speaking slot at the convention. But Ernst us signaling she is not interested, giving a strong but less-than-Shermanesque interview to Politico.
Pros: Ernst would be an asset to the Trump campaign in many ways. She's younger, she's female, she has unquestioned conservative bona fides, and she's well-regarded by Republicans.
Cons: Ernst isn't especially experienced in Washington, having only hit the national scene in 2014. She also might not be able to deliver her home state to Trump—polls there so far show him trailing by between 2 and 13 points.
---
Michael Flynn
Who is he? A retired lieutenant general and former head of the Defense Intelligence Agency, he's been advising the Trump campaign.
The scuttlebutt: Trump has made noises about choosing a retired military officer to round out his ticket, and Flynn—who has been an adviser, and shares his anti-Muslim views—would be a logical choice. However, The Washington Post's Robert Costa reports his star (or three stars?) are already fading.
Pros: Flynn is a general who would give Trump defense cred, and they're simpatico on Islam.
Cons: Flynn is an unproven political quantity, and his initial steps haven't been impressive. He's a lifelong Democrat, and on ABC's This Week, he voiced support for same-sex marriage and the right to abortion (though he tried to walk back the latter). He might even be too radical on Islam for Trump.
---
Stanley McChrystal
Who is he? A retired Army general, McChrystal lost his post in charge of U.S. forces in Afghanistan after a Rolling Stone story quoted him trashing Vice President Joe Biden and other officials.
The scuttlebutt: ABC reports that as Trump considers choosing a retired military officer as his running mate, McChrystal has been added to his list. However, McChrystal says he hasn't heard from the Trump campaign and would decline any offer.
Pros: McChrystal is widely respected, despite his sacking, and he'd give Trump serious defense cred.
Cons: McChrystal is a political blank slate, with no experience in elected office and little indication of his political views. He's shown little or no interest in running for office.
We want to hear what you think about this article. Submit a letter to the editor or write to letters@theatlantic.com.