Trump Time Capsule #65: 'I'd Like to Hear His Wife Say Something'
Editor's Note:
This article previously appeared in a different format as part of The Atlantic's Notes section, retired in 2021.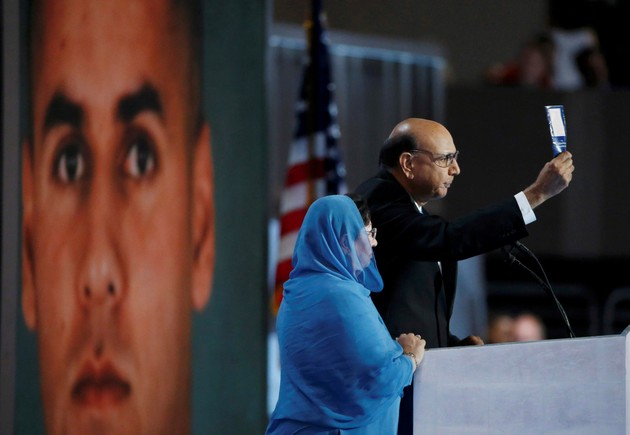 The most personally moving, and most fundamentally patriotic, moment of the Democratic National Convention was the appearance by the bereaved parents of Army Captain Humayun Khan, and the statement about the meaning of their son's life and death, and about the Constitution, by Mr. Khizr Khan.
After Khizr Khan spoke, politicians and commentators on most networks said they were moved, humbled, inspired, choked up. (Commentators on Fox did not say these things, because their coverage cut away from the Khans for Brit Hume and Megyn Kelly, plus a Benghazi ad.)
Donald Trump's response to the speech and Khans' story was this, according to Maureen Dowd in the NYT:
"I'd like to hear his wife say something."
Dowd's quote doesn't render Trump's tone, but it's become clear since then that he was implying that, as a Muslim woman, Ms. Khan was not allowed to speak.
The truth is that she was overwhelmed by grief.  If you'd like to hear "his wife" say something, you can do so starting at time 5:15 of the clip below. Lawrence O'Donnell asks Ms. Ghazala Khan about her final talk with her son, before his death while protecting his troops and numerous civilians. She begins, "He called me on Mother's Day." Then watch for the next minute. Or watch it all. (There is some pre-roll ad in this clip.)
If you go back and start at time 2:30, you will hear Ms. Khan saying that her son felt a responsibility to "take care of my soldiers, because they depend on me." She told him, "I begged my son, don't be a hero. Please come back as my son. He came back as  … [after a sob] a hero." The last word is delivered with a tone of bottomless tragedy.
***
Why do I mention this? I am not imagining that even an episode as heartless as this will necessarily change any committed Trump supporters' minds. Although the accumulation of Trump's offenses should increasingly shame the "respectable" Republicans standing up for him. Paul Ryan and Mitch McConnell, this starts with you.
But it is important to document the starkness of the two conceptions of America that are on clear view, 100 days before this man could become president. The America of the Khan family, and that of Donald Trump.
"Until this moment, I think I never really gauged your cruelty." Joseph Welch, 1954.
***
Update: According to ABC, Trump has told George Stephanopoulos this about the Khans:
"If you look at his wife, she was standing there. She had nothing to say. She probably, maybe she wasn't allowed to have anything to say. You tell me."
Until this moment, I think I never really gauged his cruelty.