Trump Time Capsule #56: Russian Quids and Quos
Editor's Note:
This article previously appeared in a different format as part of The Atlantic's Notes section, retired in 2021.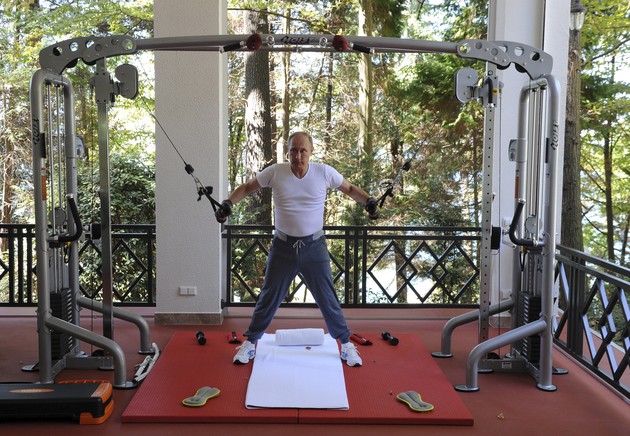 Suspicions about foreign interference in U.S. politics have arisen before. In 1980, the Ayatollah's Iranian government may have delayed the release of American hostages as a way of punishing Jimmy Carter in his race against Ronald Reagan. If you'd like a whole new field of inquiry, you can start digging into evidence on whether Richard Nixon's campaign intentionally sabotaged the U.S.-Vietnam peace talks in 1968, thus prolonging the war and hurting (among others) Hubert Humphrey.
And of course the U.S. has both openly and covertly played a role in other countries' politics for a very long time.
But (as is true so often this year) I don't recall anything comparable to the current, open discussion about whether Vladimir Putin's Russian government might be actively intervening to hurt Democrats and help elect Donald Trump. Josh Marshall of TPM makes this case today:
Trump seems really, really focused on a series of issues of great concern to Putin: the level of US involvement in Ukraine, the robustness of our security commitment to the Baltic NATO member states, the continued existence of the EU, the continued existence of NATO.

For me, the notorious New York Times interview was a key thing. It showed a presidential candidate not only threatening to blow up a highly successful security framework which has served the United States, Europe and actually the world extremely well over almost 70 years. He showed the kind of swaggering, confusion and uncertainty generating talk which is probably the most likely path to a true super power confrontation in Eastern Europe which probably wouldn't lead to a nuclear exchange ... but, well, might.

Whenever we are looking for undue influence or malign alliances, we are always trying to unearth the quid quo pro. Quids are a dime a dozen. You seldom find the quos. With Trump and Russia we're overflowing with quos and as Trump might say the best quos. We definitely do not know if they're connected. But what Trump is giving is exactly what Putin would want for his help. This is really indisputable.
We don't know what this really means or what it adds up to. For looking-back-on-2016 purposes, I'm adding it to the record of what was known, believed, and said about Donald Trump as he continued his rise.
***
Update This item in Yahoo News by Michael Isikoff broadens the story, with (apparent) details of a Russian hack of a Democratic researcher's personal email account. The researcher was looking into the Ukrainian-politics background of Trump's campaign manager Paul Manafort, while using an account separate from the DNC servers.