'I Alone Can Fix It'
Breaking with two centuries of political tradition, Donald Trump didn't ask Americans to place their trust in each other or in God, but rather, in Trump.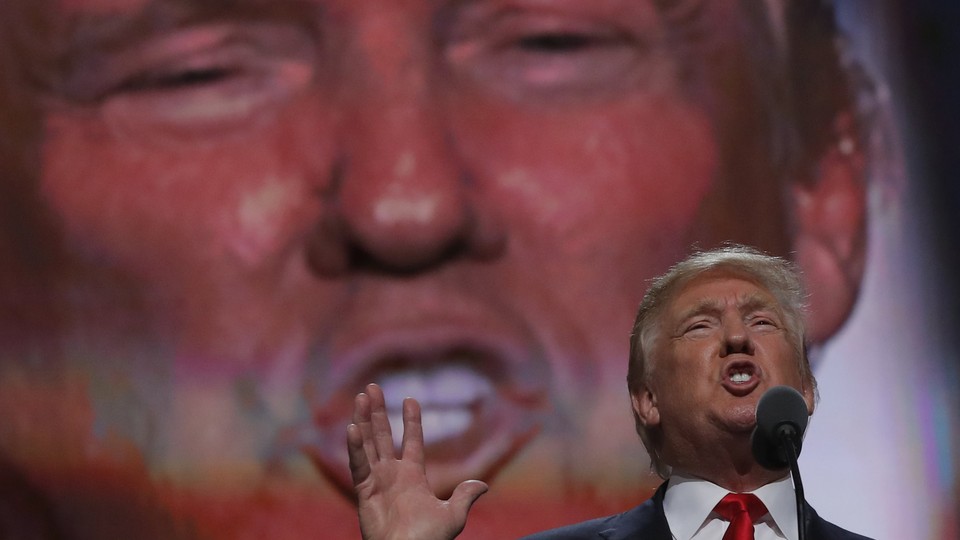 Has any American political leader claimed so directly to embody the nation, to speak for it, to be its sole hope for redemption?
In 1968, Richard Nixon spoke of a nation torn apart by crime at home, and by wars abroad. But, he promised, better days were ahead. "Without God's help and your help, we will surely fail; but with God's help and your help, we shall surely succeed."
In 1980, Ronald Reagan painted a similarly dark picture of a troubled nation, and offered a similar message of redemption. But his acceptance speech called on Americans to work together to solve their problems. "I ask you not simply to 'Trust me,'" Reagan said, "but to trust your values—our values—and to hold me responsible for living up to them."
In 2000, George W. Bush called a troubled nation to renewal, and ended with a note of humility. "I know the presidency is an office that turns pride into prayer," he said, "But I am eager to start on the work ahead."
In 2016, Donald J. Trump mounted the stage, and told America that the nation is in crisis. That attacks on police and terrorism threaten the American way of life. That the United States suffers from domestic disaster, and international humiliation. That it is full of shuttered factories and crushed communities. That it is beset by "poverty and violence at home" and "war and destruction abroad."
And he offered them a solution.
I am your voice, said Trump. I alone can fix it. I will restore law and order. He did not appeal to prayer, or to God. He did not ask Americans to measure him against their values, or to hold him responsible for living up to them. He did not ask for their help. He asked them to place their faith in him.
When Trump said, "I am your voice," the delegates on the convention floor roared their approval.
He broke with two centuries of American political tradition, in which candidates for office—and above all, for the nation's highest office—acknowledge their fallibility and limitations, asking for the help of their fellow Americans, and of God, to accomplish what they cannot do on their own.
But when Trump said, "I am your voice," the delegates on the convention floor roared their approval. When he said, "I alone can fix it," they shouted their approbation. The crowd peppered his speech with chants of "USA!" and "Lock her up!" and "Build the wall!" and "Trump!" It booed on cue, and cheered when prompted. It seemed, in fact, to chafe—eager to turn a made-for-TV speech into an interactive rally, and frustrated by Trump's determination to stay on script. Not every delegate cheered; some sat stiffly in their seats. But there was no question that the great bulk of the delegates on the floor were united behind Trump—and ready to trust him.
The most striking aspect of his speech wasn't his delivery, even though his tone often strayed over the line, from emphatic to strident. It wasn't the specific policies he outlined, long fixtures of his stump speech. It was the extraordinary spectacle of a man standing on a podium, elevated above the surrounding crowd, telling the millions of Americans who were watching that he, alone, could solve their problems.
And the crowd cheered.