Donald Trump's Weird and Wild Post-RNC Speech
The morning after he accepted the Republican nomination with a serious, long speech, Trump dredged up old feuds, praised the National Enquirer, and had his fun.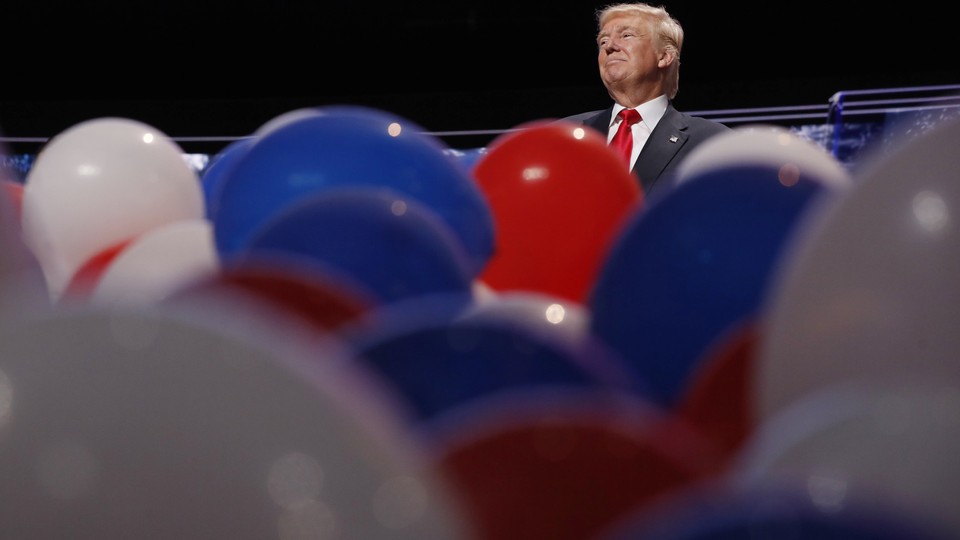 For more than 70 minutes last night, Donald Trump spoke from the rostrum at the Republican National Convention, sticking close to his notes and staying on task.
Friday morning, he had his fun. Marking the end of the four-day convention, Trump gave a freewheeling, free-associative press conference in Cleveland. He brought up old feuds with Senator Ted Cruz and Governor John Kasich. He defended the credibility of the National Enquirer. He heaped praise on the campaign manager he fired in June. It was a weird and wacky return to the usual Trump M.O.
"If I don't win, we're going to have to blame Mike," Trump joked, with running mate Mike Pence standing next to him, looking a little uncomfortable. That set the tone as a clearly ebullient candidate, buoyed by the convention, decided to let it all hang out.
The centerpiece of the speech was an extended riff at Cruz's expense, settling scores for the Texas senator's refusal to endorse Trump in a speech Wednesday night, which ended with him being booed off the stage.
"Honestly, he may have ruined his political career. I feel so badly. I feel so badly," Trump said, somewhat less-than-ingenuously. "And you know, he'll come and endorse over the next little … I don't want his endorsement. Just, Ted, stay home, relax, enjoy yourself."
He then proceeded to dredge up the time he retweeted an unflattering picture of Cruz's wife Heidi, as well as the time he suggested that Cruz's father Rafael was involved in the John F. Kennedy assassination. He was just repeating what he'd read in a very reliable publication, the National Enquirer, Trump insisted Friday: "This was a magazine that, frankly, in many respects, should be very respected. They got O.J. They got Edwards." Trump threatened to start a super PAC to oppose Cruz if the Texas senator ran for president, asking Pence whether that was legally permitted.
Trump bragged about how much social-media attention his convention had gotten. He boasted about his appearances on the cover of Time. He pulled up staffers on stage to congratulate them. He praised Corey Lewandowski, who was pushed out in an internal battle in June. "Corey Lewandowski was great, I have to tell you," he said. "And he's been very loyal, and he's been on CNN and he's been fighting for me."
He closed the speech out with one more shot at his rivals.
"One thing I wanted to leave you with: Supreme Court justices," he said. "No matter how much you like or dislike, no matter what your feelings, whether you are the governor of Ohio, a senator from Texas, or any of the other people that I beat so easily and so badly, you have no choice, you have to go for Trump."
Why step on Thursday's acceptance speech? Why isn't Trump making nice with other Republicans, especially in key states like Ohio? (The campaign was forced to cancel a planned Friday rally in Akron due to disorganization and security issues.) Wasn't the point of the RNC to bring about party unity? But Trump is calling for a sort of unity, at the barrel of a gun: You have no choice. In that respect, the speech wasn't so different from the messianic address he'd given the night before.