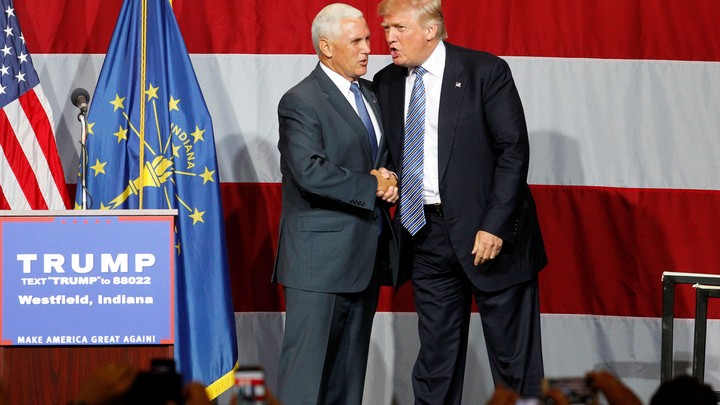 NEWS BRIEF  The trajectory of Mike Pence's political career depends on the decision-making capabilities of a most unpredictable decision maker, Donald Trump, who's considering Pence as his potential running mate. So at a rally Tuesday, the Indiana governor tried to push Trump further in his favor, by offering full-throated support to the presumptive Republican nominee and freely attacking the Democrats who oppose him.
"After seven and a half years of the failed policies of Barack Obama, that have weakened America's place in the world and stifled our nation's economy, we're ready for a change," Pence said at the Westfield, Indiana, event. "We're ready to put a fighter, a builder, and a patriot in the Oval Office of the United States of America. We're ready for Donald Trump to be our next president."
For Pence, there's urgency to Trump's decision. Sure, next week's Republican National Convention is looming, but Pence, who's in a tough reelection fight, must determine by midday Friday whether he's going to continue his gubernatorial campaign. He can perhaps take comfort in recent reports that he's at the top of Trump's short list—though with Trump at the helm of the selection process, it could be too soon for predictions. For his part, Trump didn't offer any clues into his current thinking when he spoke on Tuesday. He referenced Pence at the top of his remarks. "How's your governor doing by the way—good? I think so." And at the end of the rally, Trump told voters that when he's in the White House, they will call Pence to lament just how much America is "winning." Though he said he didn't know "whether he's going to be your governor or your vice president" when they'd be calling. "Who the hell knows."
Pence hasn't always been the most enthusiastic supporter of Trump—unlike fellow vice-presidential hopefuls Chris Christie, who introduced Trump Monday at a rally in Virginia and who has been with him on the trail for months, and Newt Gingrich, who has been advising the presumptive Republican nominee. Gingrich threatened to distract attention from Pence Tuesday when Fox News announced it had "mutually agreed to suspend its contributor agreement" with him amid public speculation over the vice-presidential selection process. For some, it seemed a signal that Gingrich was the chosen one.
Ahead of the Indiana primary in May, which Trump won, Pence supported Senator Ted Cruz. (Though, as I reported then, he seemed careful not to alienate Trump as he announced his Cruz endorsement, praising Trump's focus on jobs.) Soon after Cruz dropped out, Pence said he'd support Trump, but he didn't mount a particularly public effort to promote the presumptive Republican nominee. By this Tuesday, though, Pence was sounding more passionate about Trump than usual: "I think he is someone who has connected with everyday Americans like no one since Ronald Reagan," he told reporters. "I think he has spoken into the frustration and the longings of the American people as no one since the 40th president, and I think you're going to continue to see him do that."
Pence's reelection fight can probably be blamed, in part, for his prior reserve: He doesn't have the luxury to leave his state frequently like Christie does (since in many ways Christie's state has already left him), and more vocal support of Trump could have compromised Pence's chances with Indiana's anti-Trump voters. Of course, he and Trump are also very different people, and their personalities and ideological differences could explain why mild-mannered Pence hasn't always been in Trump's corner. But now that Pence has officially thrown off his Hoosier caution to support Trump more resoundingly, those differences could be assets in the general-election race. As the Associated Press recently reported:
Where the brash billionaire is impulsive, Pence is cool-headed. Where Trump makes conservatives suspicious, Pence has credibility. And where Trump struggles to draw evangelical Christians, Pence is well-regarded by them.

A favorite quote highlights how Pence might smooth some of the sharp corners of the Trump campaign and its supporters.

"I'm a conservative," Pence has often said. "But I'm not angry about it."
RealClear Politics also notes that Pence's "résumé boasts of deep Washington experience and connections"—he once served in the GOP House leadership—"which Trump has expressly sought in his running mate." Pence specifically mentioned his service in Congress Tuesday while making a joke about Bernie Sanders: "the nicest socialist I ever served with in Washington."
Though Pence is typically a measured speaker, his brief audition speech featured pointed attacks on presumptive Democratic nominee Hillary Clinton. Briefly echoing FBI Director James Comey's critical comments regarding the investigation into her email, Pence said, "It would be 'extremely careless' to elect Hillary as the next president of the United States." It was a display that seemed designed to show Trump he can play the attack dog. His criticisms appeared especially shrewd in light of an interview Trump gave Tuesday on his way to a pre-rally fundraiser with Pence. He told The Wall Street Journal he still needed to assess Pence's pugnacity—and, in Trump's words, find a vice president who's a "fighter skilled in hand-to-hand combat."
We want to hear what you think about this article. Submit a letter to the editor or write to letters@theatlantic.com.