Why Is Indiana the Center of the Political Universe?
Former House Speaker Newt Gingrich and Alabama Senator Jeff Sessions are meeting with Donald Trump and his family Wednesday in the home state of their veepstakes rival.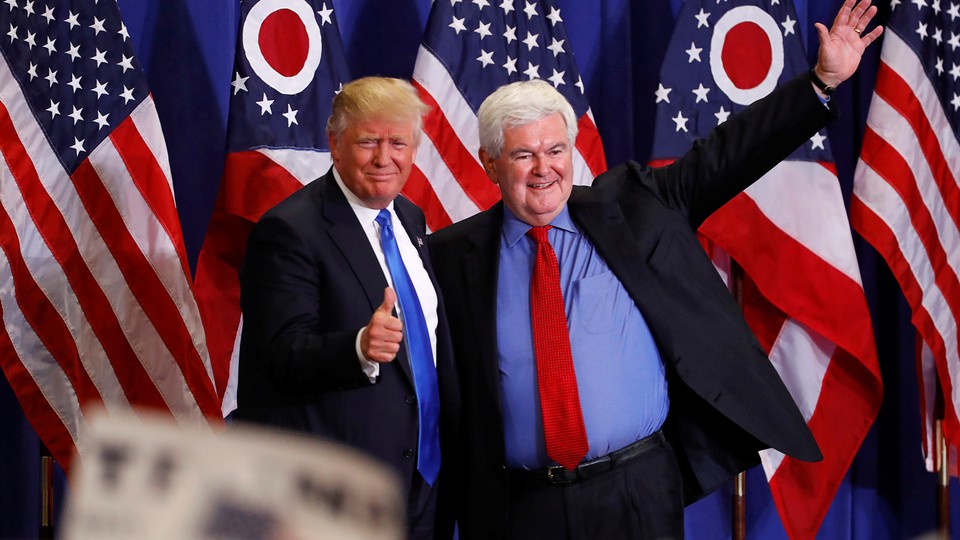 NEWS BRIEF  This could be awkward: Donald Trump has invited some of his top contenders for the vice-presidential slot to Indiana, the home state of one of their competitors, Governor Mike Pence. It's not clear whether these sessions with Trump are meant to let the losers down easy—Pence is allegedly Trump's No. 1 candidate—or to serve as a final test in the veep selection process, as CNN reports.
Trump is planning to announce his running mate by week's end, and on Wednesday, former House Speaker Newt Gingrich and Alabama Senator Jeff Sessions traveled to Indiana to talk with him. New Jersey Governor Chris Christie met with Trump's adult children, who act as advisers to the presumptive nominee, on Tuesday, and reportedly chatted with Trump by phone on Wednesday. Trump's kids and other advisers were also slated to meet with Gingrich, and presumably will sit down with Sessions.
NEW: Sources: Newt Gingrich traveling to Indiana to meet with Trump and family; follows Trump family meeting with Gov. Pence - @KellyO

— NBC Nightly News (@NBCNightlyNews) July 13, 2016
The plot thickens...AL Sen Jeff Sessions, on Trump veep list, just boarded flight to Indiana - @SunlenSerfaty reports

— Deirdre Walsh (@deirdrewalshcnn) July 13, 2016
By midday, the Gingrich talk had already begun:
The meetings continue - Sources tell @ABC Trump and the family in a meeting with Gingrich now - Sessions on his way to Indiana for similar

— John Santucci (@JTSantucci) July 13, 2016
Perhaps the most significant meeting of the week happened Wednesday morning, when Trump, his children, and the campaign's chairman, Paul Manafort, sat down with Pence and his wife at their home. The governor introduced Trump at a rally in Westfield, Indiana, Tuesday night. Beforehand, Trump told The Wall Street Journal he had hoped to further examine their personal chemistry and Pence's ability to play attack dog. Pence's audition at the rally followed similar recent performances from Christie and Gingrich. The Washington Post has more on Wednesday's summit:
Trump and his family visited the Indianapolis home of Indiana Gov. Mike Pence for a private meeting Wednesday morning and dined with Pence on Tuesday night, just hours after Pence had a well-received audition for the role at a raucous Trump campaign rally. The morning meeting was confirmed by a Trump aide and documented by television crews that were staked out on Pence's sidewalk as the real estate mogul's motorcade arrived. …

As Trump visited with Pence, other prospects remained unsure of where they stood. Gingrich, who is seen as a finalist, was not aware of the Pence meeting until he saw news reports, according to a person close to Gingrich who spoke on the condition of anonymity. The person said that as of Wednesday morning, Trump had not called the former speaker about any decision having been made.
And Gingrich may have arranged his meeting himself, making his and Sessions' travel to the state all the more intriguing. Sessions told a reporter Wednesday that "we'll have a visit, I think."
Still, these meetings may be happening in Indiana only by chance—and not as some cruel tease to the candidates who aren't Governor Pence. According to The New York Times, Trump and Pence were supposed to fly to New York after Tuesday night's rally, but remained in Indiana when Trump's plane had a mechanical issue.