Trump's Loyalty Problem
Many conservatives changed their minds about the Republican several times during the primary. What will this mean for November?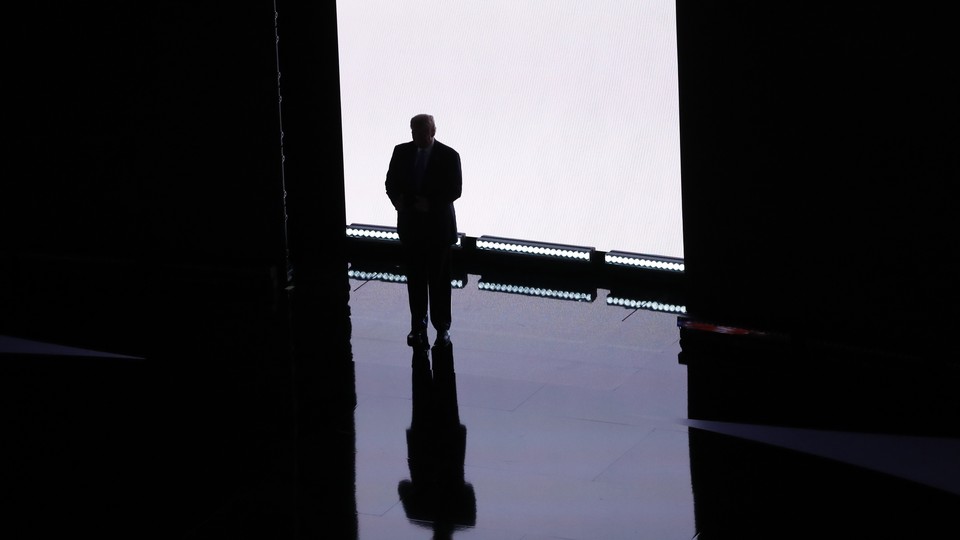 For Republicans, this is usually when the love hormone kicks in. Oxytocin should be thick in the air at the Quicken Loans Arena in Cleveland; that's largely the point of a political convention's pageantry, designed to generate enthusiasm, loyalty, and, yes, love for the party's chosen nominee.
This time, though, the nominee is Donald Trump. The New York billionaire's candidacy is a reminder that oxytocin can also provoke fear and anxiety. Amid the speeches and snubs of the Republican National Convention, two recent studies suggest Trump was not the first pick for many—and that his victory has renewed doubts within the GOP that the party is moving in the right direction.
One, from Pew Research, shows that nearly two-thirds of GOP voters changed their minds at least once during the primaries. A quarter did so twice. Another, from Morning Consult, suggests that fewer than a third of Republicans say Donald Trump best represents their party's values compared to a slate of notable conservative figures. The same survey indicates Republicans are split on whether the party is moving forward or backward. You could see that tension in the stony faces of the some of the GOP delegates Monday night, directed to stand still and smile for the convention's group photograph. Some shouted for a rule change instead.
Around 90 percent of Republicans now say they'll vote for Trump. But that block of support is not solid. Over the past year, Pew's researchers surveyed more than 2,000 Republican-leaning voters, tracking their preferences for president. (They've coded an awesome flowchart showing how candidate support shifted.) Way back in March 2015, only 1 percent said Trump was their first pick. But he quickly picked up a loyal following. By August, he had won over 27 percent of the GOP electorate, pulling primarily from undecided voters, people backing relatively unknown candidates, and Scott Walker supporters. (Walker dropped out in September.)
Throughout the primaries, Trump maintained a loyal base: 23 percent of conservative voters have said Trump is their guy in every survey since December. No other candidate won such a big block of support, and that number never wavered.
But an even bigger block of voters consistently opposed Trump's candidacy. In April 2016—during the second-to-last survey of the contested primary season, a month before Trump clinched the nomination—44 percent of conservatives had still never supported New York billionaire. And even some of his own voters switched teams, peeling off to support Kasich or Cruz or calling themselves undecided.
"Some of this is that Republican voter preferences are fluid," said Jocelyn Kiley, the associate director of research at Pew. "It's not that they turned away from Trump. But it may be that they liked two candidates roughly equally, so in one month they named one candidate, and then another the next month."
This instability could continue into the general election. Trump's die-hard supporters—the quarter of conservative voters who have unflinchingly supported him since December—are nearly 100 percent positive they'll vote for him in November. But among the other faction—folks who only supported Trump once everyone else dropped out—only half are "certain" they'll vote for him over Hillary Clinton or another candidate, Pew found. The fluidity of many Republican voters throughout the primary, for Trump one month, against him the next, doesn't bode well for party unity.
Those voters may very well be among the 46 percent of Republicans who say their party has "pretty seriously gotten off on the wrong track," according to the Morning Consult poll. A third of conservatives say the party is "stale," pitted against another third who say it is "fresh." The report suggests a generational divide:
Perhaps those who remember earlier Republican eras are biased for bygone days. Healthy majorities of self-identified Republicans who are at least 45 years old say the party of Ronald Reagan and Dwight Eisenhower is now on the wrong track, while only about one-third of younger Republican voters think the party is going astray.

Notably, less than one-third of Republican voters 55 to 64 years old (27 percent) said the GOP is on the right track. That figure was twice as high for GOP voters between the ages of 30 and 44 (54 percent) who believe Republicans are going in the right direction.
Trump has turned on the mojo, appearing onstage Monday in dramatic silhouette, keyed to Queen's "We Are the Champions." But while he has the support of most Republicans, it's tougher to say he has their loyalty. In many states, he carried the vote without securing a majority: His small slice of the pie happened to be bigger than everyone else's. It's a perfectly fine way to win a primary. But it can make for an awkward convention.