Donald Trump's Much-Improved Fundraising Haul
His campaign announced that it raised $51 million in June, significantly more money than it made in May.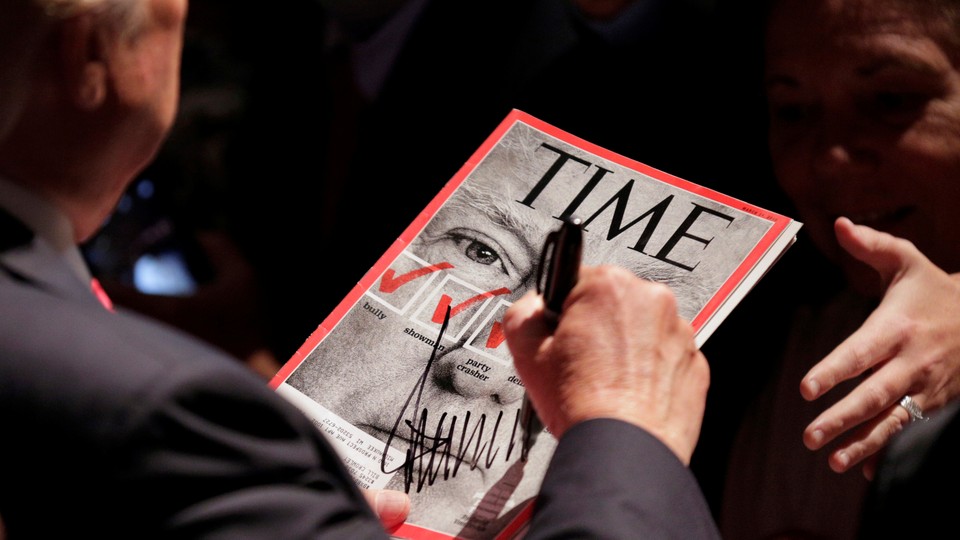 NEWS BRIEF A lot can change in a month.
Donald Trump's weak fundraising in May—just $3.1 million, with $1.3 million cash on hand—surprised political observers and worried Republicans. Trump had shown little interest in raising money, in contrast to his fellow candidates on the 2016 trail who seemed to solicit donations at every turn. His May efforts resulted in a sum "weak for a congressional campaign, let alone a run at the White House," as NBC News put it. By contrast, Hillary Clinton raised $27 million in May.
But in June, he turned things around. The Trump team announced Wednesday that, along with the Republican National Committee, it raised $51 million: $26 million through fundraising emails, and $25 million through events with the RNC. Trump also contributed close to $4 million himself. The Washington Post notes in its report that the "hefty haul" will soothe GOP concerns over his paltry numbers:
[The news] suggests that Trump has the ability to quickly inject large sums of money into his campaign coffers by tapping into the fervor of his supporters.

Much of the campaign's money appears to have come in during the final 10 days of the month, when Trump's operation began aggressively soliciting money online for the first time. The Trump campaign announced Wednesday that more than 400,000 supporters made donations in June, with more than $3 million coming in just one day. That indicates that the billionaire will be able to post far larger totals in the coming months if he continues to actively urge his backers to give.
In its self-congratulatory news release on the totals, the Trump campaign claimed they "show the enthusiastic movement the campaign has created." It reported 400,000 supporters donated in response to email solicitations.
For a while, though, that movement wasn't translating to money raised. Trump, who'd styled himself as a self-funder to great effect with voters this year, didn't start holding fundraising events until late May, the Post notes. And he didn't send out a fundraising email to supporters until June, well after becoming the presumptive Republican nominee. More details about the campaign's figures will be revealed when it files its formal report to the Federal Election Commission in late July.
Trump's fundraising may be much improved, but he will have to sustain these figures in the months ahead to keep his fellow Republicans calm. After all, Hillary Clinton and her party still made more than him in June—about $20 million more.