The Triumph of the Chaos Candidate
Donald Trump took the freak show of American politics and made it the main event. But now he says he wants to be the candidate of calm.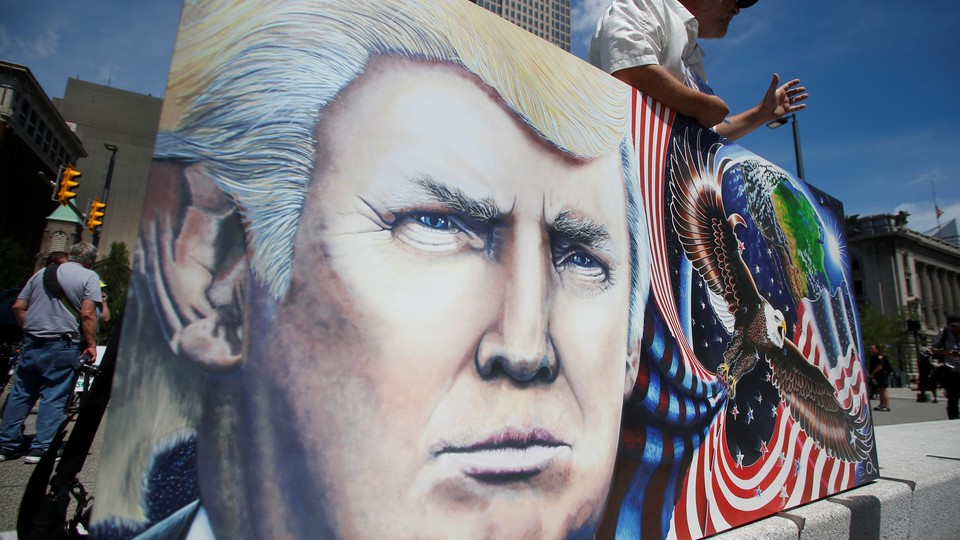 CLEVELAND—And so it came to pass, in the year 2016, on a sunny day in America's heartland, in a hall smelling of sweat and popcorn and filled with a seething, roaring crowd, that Donald Trump—builder, shocker, demagogue, smasher of certainties, destroyer of the Republican Party, winner—accepted his party's nomination, with a vow to restore order.
"Americans watching this address tonight have seen the recent images of violence in our streets and the chaos in our communities," Trump proclaimed, his hand slicing the air, his pompadour gleaming with the reflection of hundreds of lights. "I have a message for all of you: The crime and violence that today afflicts our nation will soon—and I mean very soon—come to an end," he added.
Yet Trump had just finished presiding over a convention that was anything but orderly. Many party stalwarts, including four of the five living former Republican presidents or nominees, refused to attend. Trump's campaign released the speaker lineup at the last minute, then lied about who was on it. It picked a public fight with the popular sitting Republican governor of the swing state hosting the convention, who boycotted the proceedings.
A restive faction of delegates created a spectacle of dissent before being crushed on the floor. The potential first lady's speech turned out to be partially plagiarized. The lights and television monitors in the hall periodically failed. More than 700 delegates voted against the nominee, the most in four decades. The candidate interrupted his own testimonials with televised interviews, gave a hair-raising description of his foreign-policy ideas, and, most shockingly, was rebuked from the convention stage itself by a primary opponent who conspicuously declined to endorse him, was booed off the stage, and subsequently still refused to fall in line.
Modern political conventions are intended to be slick shows of partisan boosterism—weeklong infomercials in which differences are papered over and everyone smiles for the cameras. This was something quite different, something rarely seen in the age of lockstep partisanship and spin: a ramshackle, thrown-together, halfhearted spectacle, one that brutally exposed the flimsiness of a campaign that has always been little more than a man, his plane, and his Twitter account. Behind the scenes, it was a constant scramble: One convention staffer described spending the week trying to plan around a disengaged campaign, only to have the campaign repeatedly blow up the plans at the last minute. "If he can't run a convention," the staffer said, "how is he going to run a country?"
And so, if America is in chaos, Trump seems more a symptom than a remedy. As he and his party now veer unsteadily toward November, to an election he could still quite plausibly win, the convention and the circus surrounding it proved that there will be no rhyme or reason to this madcap process. If this election is to be fought over chaos versus order, the convention did not make a convincing case for Trump as the candidate of control.
Trump has been the chaos candidate, as Jeb Bush once described him, from the beginning—from the day 13 months ago when he descended the famous escalator at Trump Tower, chucked his script, and embarked on the first of the angry rants that would become his signature. As he prepared to speak here on Thursday, a New York delegate in the front row clutched a sign reading, "Trump Is America's Great Ball of Fire!" It was meant as a compliment.
The mood in the arena was often glum. At one point, I ran into Eric O'Keefe, a Wisconsin conservative activist who helped lead a group of delegates' quixotic last-minute attempt to steal the nomination from Trump. "I feel like I'm at the wake of a once-great political party," he said. A conservative consultant, seeing Trump officially crowned the delegates' choice, pronounced grimly, "Well, the suicide pact is complete."
Yet there could be no avoiding it: Trump won and the haters lost. Just after the delegates voted to make him the nominee, I encountered a jubilant Corey Lewandowski, Trump's fired-campaign-manager-turned-television-commentator, who was leading the New Hampshire delegation (and who had used the convention chaos to try to cast doubt on his replacement in the post). "It's amazing, right?" he exulted. "You never would have predicted it!"
Lewandowski predicted that Trump would win far and wide by upending the partisan patterns of old and competing in states that have been unfriendly to Republicans for decades. "Donald Trump is a disruptive force to the system," he said. "That's why they're scared to death. And I love it!"
Every American political convention is surrounded by a freak show. This week, the streets of Cleveland were crowded with vendors and activists and weird hangers-on: the guy in the Hillary mask with the TRUMP VS TRAMP poster, the sellers of Trump socks, the person in a polar bear costume, the pro-Trump buskers, the sellers of a vast and diverse selection of pro- and anti-Trump merchandise. It was not clear in what category the T-shirt reading "TRUMP VS EVERYBODY 2016" belonged. The crowd of weirdos jostled with the delegates and lobbyists and donors and journalists through the closed-off streets.
A couple of days earlier, I attended a party billed as a gay celebration of Trump, featuring stars of the alt-right—the loose agglomeration of racists and trolls that has risen to wide attention in the past year. The "Wake Up!" party was headlined by Milo Yiannopoulos, a Breitbart editor and online provocateur, who had conveniently been banned from Twitter earlier in the day for harassing one of the actresses in Ghostbusters. Outside the Cleveland State University arena, protesters chanted, "You're here! You're queer! Your politics are weird!" Security was tight, with list minders claiming all attendees had been FBI-screened.
Inside, the event was surprisingly small, with a cash bar on one end of a half-empty interior ballroom and a couple hundred people milling around. One wall was festooned with arty photographs of scantily clad young men in Make America Great Again hats—"Twinks for Trump." Yiannopoulos, when he took the stage, was a vision, with a deep-orange tan, sunglasses, and a freshly bleached and gelled brush of hair; he wore a tank top decorated with a rainbow-colored gun and the words "We Shoot Back."
"This is the hottest party of the Republican convention!" Yiannopoulos proclaimed. The stage had also featured the anti-Islam crusader Pamela Geller and the Dutch nativist politician Geert Wilders; some in attendance were actual fascists. (Two more professional provocateurs, author Ann Coulter and political consultant Roger Stone, were also on the invitation but did not appear.) "Gay people bear some responsibility" for the current state of affairs, Yiannopoulos mused, citing the role in history of fashion designers and artists. "It was us who gave the left their power." But it was time, he contended, to reject "hateful social-justice maxims" and "say, 'Your stranglehold on homosexuals is over!'"
As Yiannopoulos left the stage, thumping techno music started to play, and reporters clustered around him. I asked him how he felt when Trump, whom he calls "Daddy," secured the nomination. "Oh, I was overjoyed," he said. "He's the only person who can save gay people from what's coming!"
For the next hour, Yiannopoulos signed autographs and posed for selfies with a long line of fans, overwhelmingly young, white, and male, while an associate passed out black T-shirts advertising his "Dangerous Faggot Tour" of college campuses. Hunter Swogger, an amiable 22-year-old engineer, was wearing a pink "Make America Fabulous Again" shirt, a gift from when he brought Yiannopoulos to speak at the University of Michigan before he graduated this spring, having become a fan after a late-night YouTube binge.
The university, he said, denounced the event, and created a "safe space" for those who found it hurtful. Both Milo and Trump, he said, were about "being alive, being fearless, being an unrelenting warrior." He loved "how angry they make the right people."
Edwin Oslin, a 32-year-old from Detroit, was swigging a Coors Lite, sporting a "Punks for Trump" shirt, gingery mutton chops, and tattoos on both arms. The shirt showed a black-and-white Trump holding a guitar and flipping off the camera. "I'm a Nazi skinhead who wants to get rid of brown people," Oslin said, clarifying that he was being sarcastic—satirizing the media cliché of nonconformists like him.
"Trump is anti-establishment, just like punk rock," he said.
Cleveland had steeled itself for violence. Reporters took conflict training and brought helmets and gas-masks. The city, which is 53 percent African American, has recently been the site of racial conflict: After the police shot 12-year-old Tamir Rice, demonstrators marched, peacefully, for days. Given the racially polarized mobs that have sometimes been drawn to Trump events in urban areas, it was not unreasonable to expect conflict.
Yet the conflict, like Marco Rubio, failed to show. Each day, a few dozen to a few hundred activists converged on the Public Square, a concrete plaza surrounding the city's ornate, column-topped Civil War memorial. Sometimes things got a little hairy; at one point, the conspiracist radio host Alex Jones had to be escorted out by police. But there were few arrests, and the vibe was more festive than tense.
They were there to have their say; they were there to be seen and heard in the shadow of the greatest show on earth. On one side of the square, a group of men held giant signs with slogans like "Ever Real Muslim Is a Jihadist" while one shouted into a megaphone, "Black Lives Matter is anti-America!"
A middle-aged man yelled back, "More people have died in the name of God than anything else, you cunt!"
A multi-racial group of young people began chanting, "Stop the hate!"
The older man joined in: "Stop the hate, cunt!"
A woman with a "Free Hugs" sign meandered through the crowd crying plaintively, "God's not angry!"
"It's nice to see downtown so lively," remarked a passing local. "It's usually empty this time of day!"
Later, I watched a bored-looking woman in a black mask lean on her "No War But Class War" sign while her comrade earnestly tried to convince an equally earnest Texas delegate of the virtues of communism. I watched a woman in a spangly red-white-and-blue dress and a "Trump: Make America Hate Again" poster chitchat with a man in a T-shirt with a fetus on it. I met a 35-year-old rickshaw driver who'd come all the way from California to conscientiously object to both candidates: His sign said, "This Election Is an Inside Job."
The fountains in the middle of the square were going, and a young mother and her toddler were running through them.
A young African American woman with red-dyed curls was holding hands with a tiny blonde woman. Both their eyes were squeezed closed as the older woman murmured, "We pray, God, for a revival—that all will be respected and each and every individual be loved." "Yes," the younger woman said. They stayed there, praying, motionless, for several minutes, until tears were running down both their faces and they said in unison, "In Jesus's name, amen," and hugged.
The younger woman, Ashainique Lee, 18, was holding a "Black Lives Matter - Stop Killing Us" sign; the older one, Kathryn Sears, 61, clutched a Billy Graham pamphlet. Lee plans to vote, reluctantly, for Hillary Clinton; Sears, with misgivings, for Trump.
A few hours later, Trump would take the stage and darkly warn of urban chaos and international tumult. "In this race," he would say, "I am the law and order candidate!" The balloons would fall. And America, a country in chaos, divided, would have its Republican nominee.
---
Related Video