The Privilege of Extraordinary Police Protection
Two black community activists in Cleveland wish that their neighborhoods were as well protected as the Republican National Convention.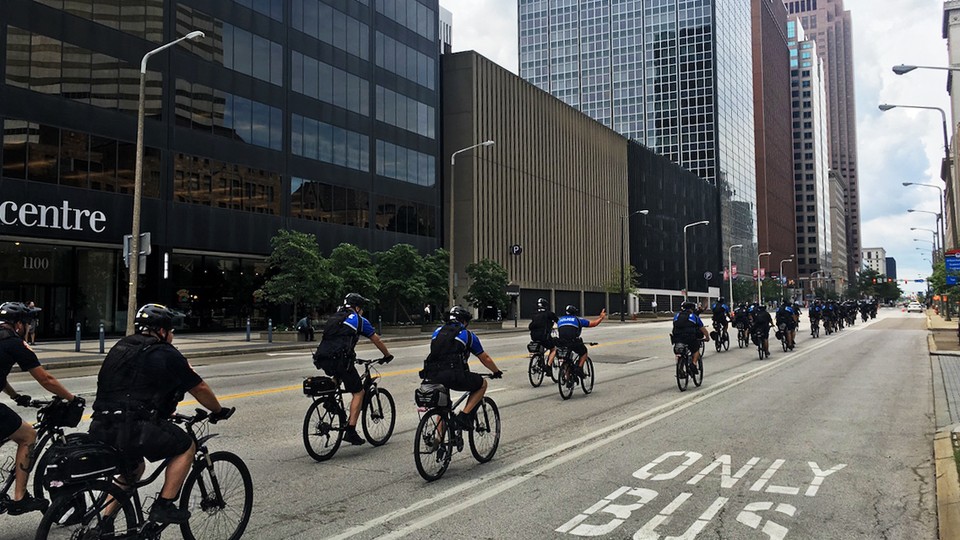 CLEVELAND––As I write Tuesday afternoon, having just departed a rally where Black Lives Matter supporters, a group of armed open-carry advocates, and uniformed members of at least a dozen different law enforcement agencies co-mingled in a public square, the Republican National Convention has been blessedly free of violence. In fact, aside from the tension of moments like the one I just witnessed, where a teenager with a firecracker could have easily unleashed panic or worse, the downtown area of this city has seemed quite safe day and night, in large part due to a local, state, and federal police presence that is overwhelming. More than 5,000 law enforcement personnel are assigned to the RNC.
For Art McKoy, the feeling of safety that resulted is bittersweet.
The older black activist, who founded Black on Black Crime Incorporated, a group dedicated to drawing attention to crime and violence in Greater Cleveland, stood on an outdoor stage around midday Tuesday, tried to get the attention of distracted bystanders, and talked about policing at the Republican National Convention.
Chief Calvin Williams of the Cleveland Police Department kept locals safe during a recent downtown parade for Lebron James, he said, and seemed to be doing the same during the RNC. "I will gladly say that he deserves the Nobel peace prize for the way he conducted downtown," McCoy said, but not for poorer areas. "In the inner city, he can't get a damn thing," he lamented. "What's happening on 116th and Harvard? What's happening on the near west side? What's happening with the women and children being murdered? It's not safe out there. But surely you can't have it all."
The president of the organization, Ernie Harris, had the same complaint. He urged Cleveland residents who fear crime in their own neighborhoods to come downtown during the convention, so that they can enjoy the lavishly financed protection of an overwhelming law-enforcement presence, including cops from as far away as California. He wished that various murdered Cleveland residents had been as well protected, and that more resources were being spent to track down their killers.
(Both men also noted their concerns about police brutality, criticizing the killing of Tamir Rice and various positions taken by the head of a local law-enforcement union.)
Listening to the men speak, I couldn't help but think of Jill Leovy, who argues in her book Ghettoside that although police officers are sometimes guilty of brutality, the state fails to act as if black lives matter most consequentially when it fails to dedicate enough resources to homicide detectives to solve the murders of young black men in high-crime neighborhoods, depriving its residents of a functioning system of formal justice and causing many to rely on alternative means of protecting themselves and seeking revenge. She imagines what a jurisdiction like Watts would be like if civic leaders there were as invested in solving every murder case as the best detectives.
There are, of course, good reasons to lavish a lot of police resources on protecting the RNC and the DNC. Both are obvious potential targets of terrorism and political violence. The inability to protect either would be a blow not just to the innocents harmed and their families, but to the democratic process in the United States. And a political assassination or mass-casualty attack could spark further violence.
What's more, there are good reasons that observers from Amnesty International are here to observe protests, how they are policed, and whether human rights are upheld.
But compare the amount of money and manpower dedicated to protecting the powerful, and those proximate to the powerful, myself included, during the three national political conventions that I have attended; and the money and manpower spent on protecting the jet set with airport security; to the comparative dearth of resources in cities like Cleveland, where there were 118 homicides reported in 2015, or Chicago, where 493 homicides were reported last year.
I cannot help but wonder if there are American communities that would be well-served by the presence of Amnesty International human-rights observers to document the human-rights abuses that happen on a weekly basis; I cannot help but wonder what would happen if the folks who govern America from the federal to the local level were as determined to significantly decrease the murder rate in poor black neighborhoods as they are to prevent all violence at the RNC and DNC with professional police officers who do not abuse the delegates or the media or party officials.
If overwhelming police resources were deployed clumsily in a high-crime neighborhood, it could cause more suffering among residents. But if it were deployed professionally, and targeted at violent criminals rather than low-level drug enforcement or cracking down on niggling violations of the municipal codes, how much good could it do? The answer is unknown in part because few if any poor American neighborhoods have benefitted from the sort of policing on offer at the RNC so far this year.