The Need for Gentle Leaders in Brutal Times
Dallas Police Chief David Brown, the trauma surgeon Brian Williams, and President Barack Obama offered much-needed encouragement in the wake of the Dallas police shootings.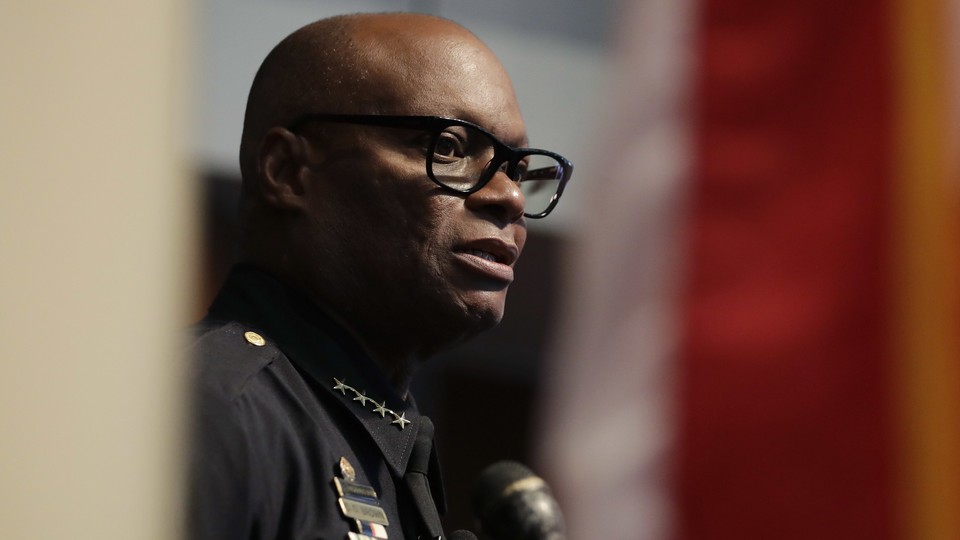 Americans crave leadership so much and see so little of it that the smallest example is celebrated. No, it's more than that—the briefest glimpse of inspiration is treated like the last drop of water on a desert march: It is cherished.
Dallas Police Chief David Brown is an accomplished crime-fighter and expert in community policing, which seeks to build trust between police and citizens through transparency and accountability. After five of his officers were slain Thursday night by a cop-hating racist, Brown displayed grace, competence, and selfless purpose.
The hashtag #DavidBrownForPresident surged across Twitter during his extraordinary news conference Monday.
"Become a part of the solution," Brown told those who protest racism in the judicial system. "We're hiring. Get off that protest line and put an application in. And we'll put you in your neighborhood, and we'll help you resolve some of the problems you're protesting about."
He challenged political leaders to start tackling social problems that lead to deadly crimes, even suggesting that gun control needs to be an option in Texas. "We're all on edge," he said. "My brain is fried. I'm running on fumes … We're asking cops to do too much in this country."
He was blunt, unscripted, and unpredictable—all adjectives assigned to Donald Trump's populist messaging. But the chief is the anti-Trump: Brown's magnetism comes with gentle humor, humility, civility, and inner strength.
"I'm a person of faith," he said. "I'm here today as a testament to God's grace and his sweet, tender mercies."
At Parkland Memorial Hospital in Dallas, where many of the victims of Thursday's rampage were treated, trauma surgeon Brian Williams channeled a nation in pain. He also showed Americans that they can support both the police and the protesters—that they can ignore the false choices offered by pundits and politicians.
"This experience has been very personal for me and a turning point in my life," Williams said at a news conference Monday. "There was the added dynamic of officers being shot—we routinely care for multiple-gunshot victims—but the preceding days of more black men dying at the hands of police officers affected me. I think the reasons are obvious. I fit that demographic of individuals."
"But I abhor what has been done to these officers, and I grieve for their families," William said, choking back tears as he spoke. "I understand the anger and the frustration and distrust of law enforcement. But they are not the problem. The problem is the lack of open discussions about the impact of race relations in this country … This killing, it has to stop."
This killing, it has to stop.
That is the message President Obama carried to Dallas on Tuesday, his presidency paused once again to help the nation grieve and make sense of another gun rampage. Like Brown and Williams, the president is a black man coming to grips both with his personal history of racial injustice and his support of the judicial system. Dan Balz, The Washington Post columnist,  explained better than I could:
President Obama was repeatedly visible, even though he was thousands of miles away in Europe. He sought to calm things down, offer perspective and ask for patience. In every forum, from the evening he landed in Poland to his departure from Spain en route back home Sunday, the president offered a message carefully balanced to apportion sympathy for all, criticism where warranted and encouragement where needed, which seemed to be everywhere.

Obama tried to tell the people of a divided nation that they are not as divided as the naysayers claim, that some of the tensions on display this past week are long-standing problems between the races and therefore are not given to easy solutions. Progress has been made but much remains to be done, he said, as he has at other moments of tension that have repeatedly punctuated his presidency. Police officers deserve the respect and support of all Americans, he said, even if uneven justice is applied to minority communities.
At a memorial service Tuesday in Dallas, Obama delivered a powerful tribute to that city's police department and to police officers in general. "Your work," he said, "is like no other." He said an "overwhelming majority" of police do their jobs honorably and shouldn't be tarred by the bad acts of a few.
And yet, he said, "centuries of racial discrimination" still linger. "We know, America, that the bias remains," Obama declared. The bias causes cops to profile blacks. The bias led a black man to shoot white cops. Pointedly, the president called Thursday's rampage "an act not just of demented violence, but of racial hatred."
I am a frequent critic of Obama's leadership, but on this subject, I trust his voice and respect his willingness to defy liberal and conservative partisans who fit every tragedy into a red or blue box.
I worry about what comes next—a President Clinton, who lacks the public's trust, or a President Trump, who exacerbates and exploits racial tensions. I am not making a false equivalence; I'm describing the public's choice between two highly unpopular candidates who, despite their proximity to the nation's biggest job, look small today compared with three men named Brown, Williams, and Obama.