The Mike Pence Hoosiers Know
As the governor steps out on the national stage, Indiana delegates recall a devoted friend, who has grown into his role as an executive.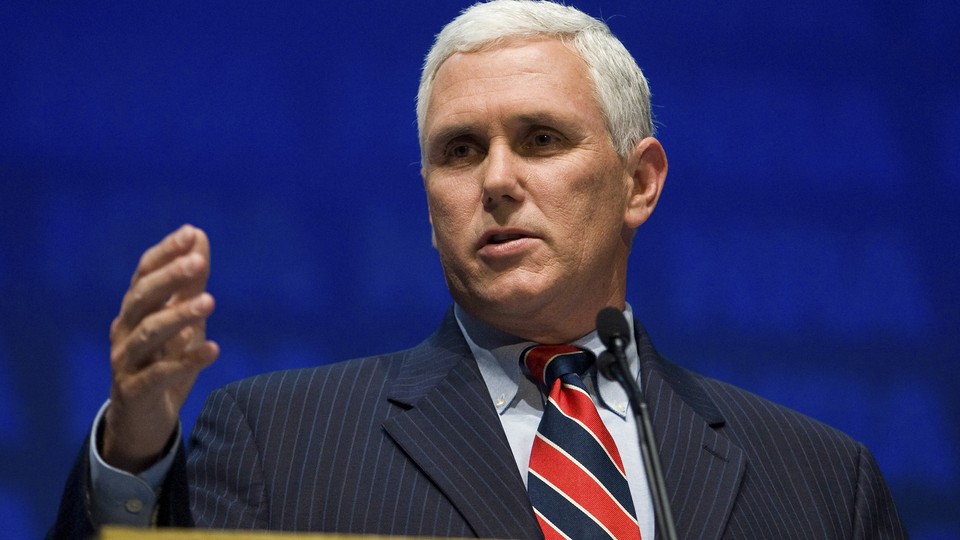 When Mike Pence was first elected to Congress in 2000, Curt Smith served as a general consultant on his campaign. The two men stayed close. So when Curt's son, Andrew, was diagnosed with non-Hodgkin lymphoma, the governor started reaching out. "He kept calling: 'What can I do?'" Smith recalled.
Andrew Smith was a standout center for Butler University, taking his team to two NCAA final fours. He was also a Star Wars fan. So his father thought of something: Could Pence secure a screener of the forthcoming film so his son could see it? Pence made the call. Disney agreed. But Andrew was already too sick to watch it. He died in January.
On Wednesday night, I found Curt Smith sitting on the convention floor, waiting for his friend to accept the Republican nomination for the vice presidency. And other delegates echoed his emphasis on character. "The single most important thing is how good a guy he is," said Eric Koch, a state representative. "He's the guy who, if you were going to go on vacation, you'd leave your keys with." Brenda Goff, who works for Senator Dan Coats, agreed. "He's an amazing man, with a true and kind heart," she said.
Pence has acquired a national reputation as a staunch conservative, unafraid to take combative stands—even when they prove unsustainable, and he's forced to back down. It's those very public stands that have led his nomination to be embraced by his fellow conservatives. But in interviews with Indiana delegates and academics, a more nuanced picture emerged.
They painted a picture of a congressman, frustrated with Washington, who'd grown into the role of governor over the past four years. "He saw that the government didn't make a budget," Michael McDaniel, a former state party chair, said, and determined to do better in Indiana. "He had to make a transition from being a legislator in Congress to being an executive," Koch said. "He's had the chance now to build executive skills."
That involved a steep learning curve. "I asked him once: What's the biggest surprise about being governor?" Smith recalled. "He said it was the intellectual challenge—there's just new stuff coming at you all the time." Pence learned the value of delegation. "One of the reasons why we have such a sound government," McDaniel said, "is because he surrounds himself with good people." Koch cited his skill as a listener, and his willingness to respect different points of view.
It's a skill set his supporters believe may be particularly useful on this year's Republican ticket. Donald Trump would be the first president never to have held governmental or military office. "I think the biggest challenge for a President Trump would be that in business, he'd let his lieutenants know what to do and they'd go do it," said Eric Turner, an investment agency CEO who spent 25 years in the state legislature. "As president, he has to ask two legislative bodies for permission."
And, as I wrote on Wednesday, Trump's advisors have signaled that he'd delegate unprecedented authority to his vice president, playing the role of chairman, with Pence as CEO. It's a role that would test his developing skills.
"This is the most important speech of his political life so far," McDaniel said. "If he brings conservatives back with the speech, then I think that Trump's chance of winning goes up."
His supporters were confident he'd rise to the challenge, even as they marveled at the speed of his ascension. "Last Monday," Koch said, "we were in a livestock barn at the Bartholomew County Fair. And now here we are, waiting for his acceptance speech."