The Grand Old Divided Party
At the Republican National Convention, reactions to Donald Trump range from lackluster enthusiasm to outright defiance.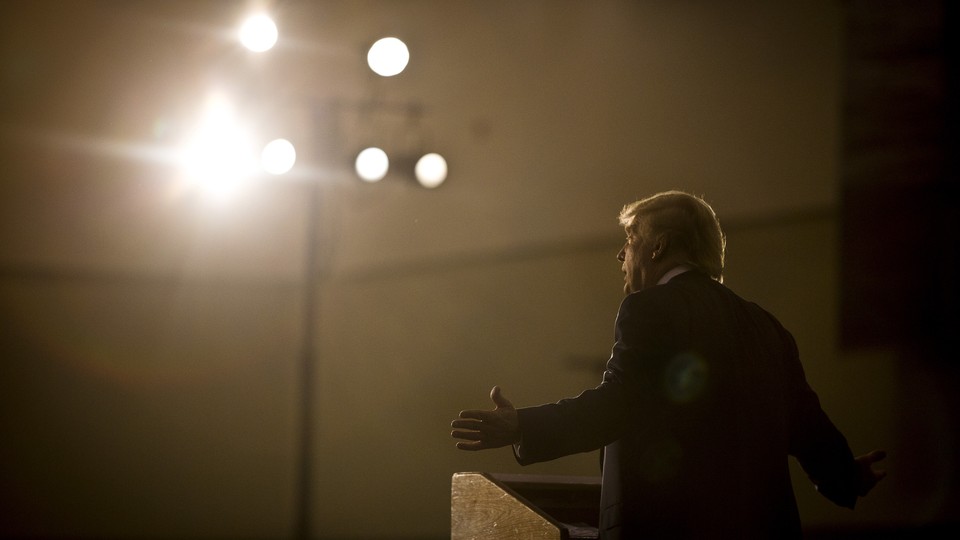 CLEVELAND—The theme for the concluding night of the Republican convention is "Make America One Again."
Most of the delegates would surely settle for making the Republican Party one again.
Apart from the GOP leaders already in Donald Trump's inner circle, the current elected official who has offered the party nominee the most extensive praise from the podium at the Republican national convention so far was Wisconsin Governor Scott Walker.
And he was done talking about Trump at the 53-second mark of his 10-and-a-half-minute address Wednesday night.
While formally endorsing Trump, neither House Speaker Paul Ryan, Senate Majority Leader Mitch McConnell, or Florida Senator Marco Rubio said a single word in their remarks in praise of Trump's character, temperament, or qualifications for the presidency. Their speeches embodied the idea of one hand clapping.
Senator Ted Cruz topped them all Wednesday night by refusing to endorse Trump. But he only put the exclamation point on the trend that had already developed before he was cascaded with boos toward the end of his speech last night.
If one of the key questions heading into Cleveland was whether the party leaders who resisted Trump during the primaries could enthusiastically rally behind him once he secured the nomination, the convention's first few nights have provided an unambiguous answer: no.
Cruz, as is often the case, pushed confrontation the furthest by refusing to provide the nominee with even a perfunctory endorsement. "The one person most able to unify the party ... not only didn't endorse but said it's OK not to vote for him, which is a pretty bold move, and that says to many conservatives, particularly Christian conservatives: It's OK for you to sit this out, it's OK for you to vote up and down the ticket and leave that space blank," Sara Fagen, the former political director in the George W. Bush White House, said at an Atlantic forum Thursday morning.
At the same forum, Mike Murphy, the long-time GOP strategist who directed the super PAC campaign supporting Jeb Bush this time, said Cruz's gambit left Trump in a "squeeze" between two distinct factions of discontented Republicans.
"There is a voter problem here," Murphy said. "Trump really needs to get to 95 or 96 percent of Republicans, let alone everybody else … to be competitive. Now he's in a bit of a dog-whistle squeeze play. On one side you've got the regular Republicans—the Jeb Bushes, the George W. Bushes, the Romneys—who in a much more polite way have taken a pass on Trump. Now you have the Christian conservatives who have the most ideological concerns about Trump … getting the dog whistle that it's OK not to be for Trump."
The vast enthusiasm gap between those who were already in Trump's inner circle before the convention, and virtually all other party leaders beyond that, had already emerged as a central theme at the convention long before Cruz's stunning gambit. One reason may be because these elected officials simply do not know Trump very well. But they have also made only the most limited efforts to disguise the ambivalence they feel about his nomination.
Both Fagen, now a partner at the public affairs firm DDC, and Murphy said at the forum that Trump could use that conspicuous coolness to burnish his outsider credentials. "The idea that the establishment has not embraced him underwrites his normal appeal: I'm the guy who is going to blow up the establishment," Murphy said.
But the lack of prominent voices validating Trump's fitness for the White House—at a time when 60 percent of Americans have consistently said in polls they don't view him as qualified for the presidency—represents a significant opportunity cost for the nominee, notes Michael DuHaime, the former campaign manger for Chris Christie.
The convention is "a week of infomercials that you could possibly have," DuHaime said at the forum. "It's just a missed opportunity to make his numbers better. His favorable numbers are so bad ... This was an opportunity for his numbers to go up a little bit more, I think it was missed. But that could all be wiped out if he kills it tonight [in his acceptance speech]."
By far, the warmest words for Trump have come from his family members and associates from his business and charitable work. Talk radio host Laura Ingraham, a long-time media booster, also roused the crowd for Trump on Wednesday night. The few current elected officials who have delivered enthusiastic speeches were all figures in the Trump camp before the convention: Governors Chris Christie of New Jersey and Rick Scott of Florida, and Alabama Senator Jeff Sessions. Newt Gingrich delivered an even more energetic case for Trump and his agenda—but Gingrich last held office 18 years ago.
The McConnell, Rubio, Ryan, Cruz and even Walker speeches were strikingly different in tone. Across those five speeches, the closest thing to personal praise for Trump came from Walker—and even that wasn't very personal. "The well-connected in Washington are standing behind Hillary Clinton because Hillary Clinton is one of them," Walker said. "They want more of the same. Donald Trump is standing with the American people. We want a leader who is not afraid to take on the mess in Washington. Donald Trump knows that there is a better way forward."
None of the others went even that far. Rubio, who didn't attend the convention and delivered his remarks by video, only praised Trump's commitment to traditional Republican priorities such as cutting taxes "rebuilding our military" and "appointing constitutionalist judges, who will respect the proper role of the judiciary." McConnell took a similar tack when he said Trump would sign legislation the Republican Senate has already passed to authorize the Keystone pipeline, repeal the Affordable Care Act, and defund Planned Parenthood. Iowa Senator Joni Ernst wasn't as diffident, but the most she managed was to promise, "Donald Trump is focused on you."
The sum of Ryan's praise for Trump was promising to look over his shoulder if he wins the election. "The next time that there's a State of the Union address, I don't know where Joe Biden or Barack Obama are going to be, but you'll find me right there on the rostrum with Vice President Mike Pence and President Donald Trump," Ryan said Tuesday night.
This wasn't as overtly confrontational as Cruz's speech—or the decisions by Jeb Bush, John Kasich, and Carly Fiorina to boycott the convention while also refusing to endorse. But the extent to which Ryan was gritting his teeth in his remarks about Trump on Tuesday became crystal clear when set against the genuine enthusiasm the speaker mustered Wednesday in his introduction of Mike Pence. "I could not be more proud of our vice-presidential nominee," he began. "I've watched this man up close; I've seen what he's made of. Let me tell you something about Mike Pence: this is a man of solid character, this is a man who sees public service as a calling not a career, he has served honorably with great dignity. You know what the results are impressive … This man is a Reagan conservative through and through … He's a man of faith, he's a man of conviction, he's a man you can trust."
With each of those words, Ryan's refusal to say anything remotely like it about the man above Pence on the ticket echoed louder. Cruz, as usual, took the route of most direct confrontation. But the message Cruz sent about Trump by commission wasn't all that different than the signal Ryan—as well as McConnell and Rubio—have sent by omission.