The Atlantic Politics & Policy Daily: Boy Band Hits Wells Fargo Center
President Obama, Vice President Joe Biden, and Hillary Clinton's VP pick Tim Kaine are all slated to speak at the DNC tonight.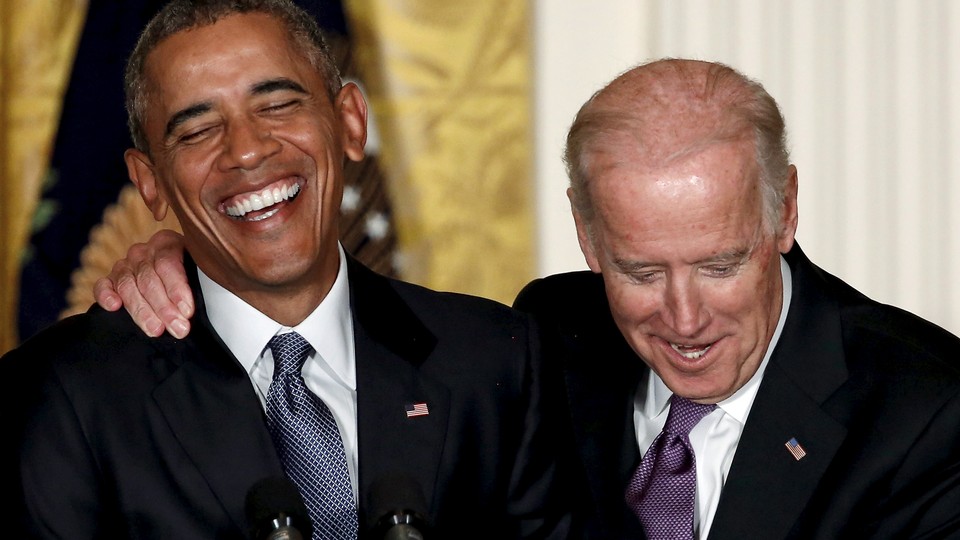 Today in 5 Lines
It's the third day of the Democratic National Convention, and the speaker lineup is stacked: Vice President Joe Biden, President Obama, and Hillary Clinton's running mate, Tim Kaine, will take the stage. We're following it live here. Donald Trump called on Russia to hack into Hillary Clinton's emails, and her campaign responded, saying his remarks were "a national security issue." Trump's campaign chairman Paul Manafort told CBS the Republican nominee will not be releasing his tax returns while they're being audited. Prosecutors dropped all charges against the three remaining Baltimore police officers in the Freddie Gray case. And a federal judge ruled that John Hinckley Jr., the man who attempted to assassinate President Ronald Reagan in 1981, will be allowed to leave a Washington mental hospital and live at home full-time.
---
Today on The Atlantic
What Happens When the Rich Get Richer?: A new report suggests that as the wealthiest people make more money, demand for workers decreases, and people aren't able to move up the career ladder. (Alana Semuels)

Hit Him Where It Counts: If Donald Trump won't release his tax returns, Ron Fournier writes, the media needs to hold him accountable. How? The major television news networks should stop interviewing him and stop paying his surrogates until he comes clean about his finances.

She Works Hard For the Money: Both sides of the gender pay-gap debate tend to oversimplify the issue without accounting for cultural biases that drive women's job choices. This is why the issue is much more complicated. (Bourree Lam)
The Atlantic is at the Democratic National Convention! You can sign up for our daily convention newsletter here, or find out about our events in Philadelphia here. And follow stories throughout the day with our Politics & Policy portal.
---
Snapshot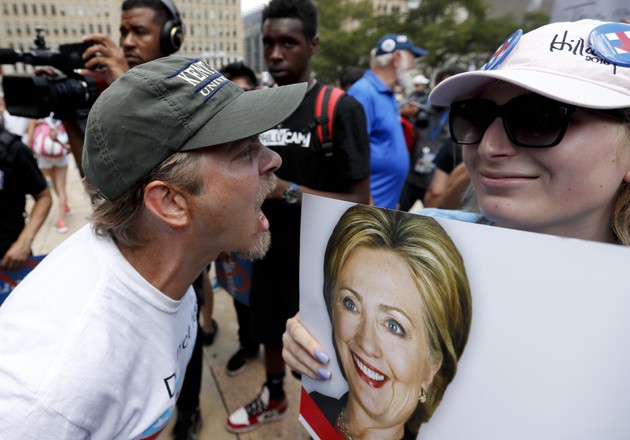 ---
What We're Reading
Love Letter to Hillary: Former President Bill Clinton's speech on Tuesday did something other speeches haven't: It finally gave Hillary Clinton the credit she deserves, reintroducing her to the American public as a human being who had a life before she decided to run for office. (Dahlia Lithwick, Slate)
How Did the Clintons Get So Rich?: In just 10 years, the Hillary and Bill Clinton went from having relatively little money to being worth an estimated $100 million, Victor Davis Hanson writes, which flies in the face of their redistributionist rhetoric. (National Review)
Where the Democratic Party At?: The first night of the DNC was reserved for populist leaders like Elizabeth Warren and Bernie Sanders to have their 15 minutes. For the rest of the time, Hillary Clinton will leave no doubt about who really runs the party. (Matt Bai, Yahoo)
Return to Sender: Last week WikiLeaks released a batch of DNC emails, Bernie Sanders got mad about the emails' contents, and the DNC chairwoman Debbie Wasserman Schultz stepped down. But was the situation really all that scandalous? Short answer: not so much. (Jeffrey Toobin, The New Yorker)
Back to Reality: The "Bernie-or-Bust" crowd is making waves this week in Philadelphia. But polls show that most Bernie Sanders supporters are actually fine with voting for Hillary Clinton, especially if it means beating Donald Trump. (Michael Grunwald, Politico Magazine)
---
Visualized
Yelping the Conventions: Take a look at these graphs to see what restaurants and businesses people searched for during this year's national conventions. Spoiler: Republicans must be really into Hawaiian food. (Ana Swanson, The Washington Post)
---
Question of the Week
Here we go again! Last week you submitted your suggestions for Donald Trump's convention song, and here were a few of our favorites. What song should Hillary Clinton come out to when she walks on stage Thursday night at the Democratic National Convention? Submit your answers by Thursday afternoon for consideration.
Send your answers to hello@theatlantic.com or tweet us @TheAtlPolitics, and our favorites will be featured in Friday's Politics & Policy Daily.
-Written by Elaine Godfrey (@elainejgodfrey) and Candice Norwood (@cjnorwoodwrites)