The Atlantic Politics & Policy Daily: Two for the Price of One
Former President Bill Clinton will speak tonight at the Democratic National Convention.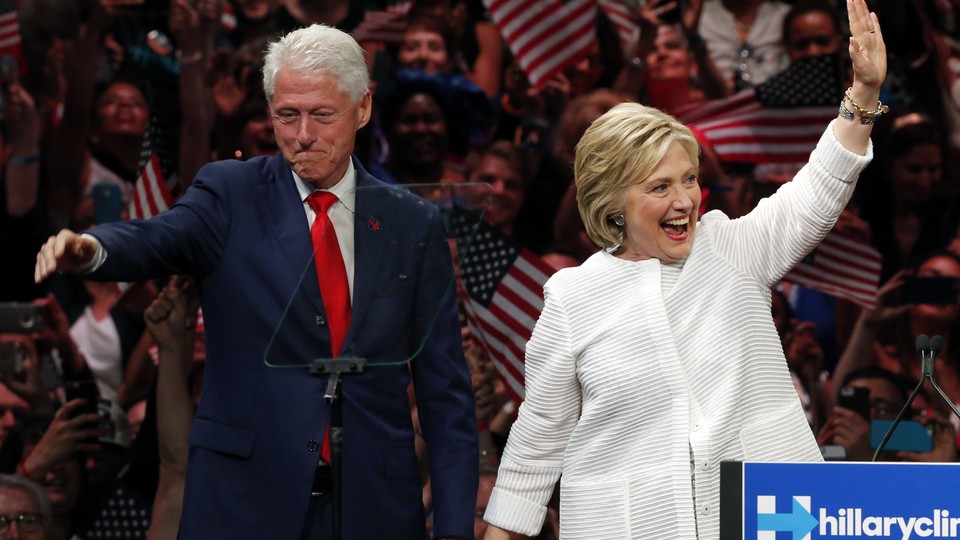 Today in 5 Lines
The second day of the Democratic National Convention has begun: Mothers of the Movement, which includes the mothers of Tamir Rice, Michael Brown, Eric Garner, and Trayvon Martin, and former President Bill Clinton are among those scheduled to deliver remarks. We're covering it live here. The Indiana GOP nominated state Lieutenant Governor Eric Holcomb to replace Mike Pence as governor. A priest was killed and another person wounded in an attack on a Catholic church in Normandy, France.
---
Today on The Atlantic
DNC You Later, Debbie: Not many Democrats were sad to see Debbie Wasserman Schultz step down as chair of the DNC. Here's why. (Molly Ball)

Why Does the World Look So Grim?: Media coverage of world events shapes public perception, leading people to believe acts of violence or extreme events are more common than they are. (Derek Thompson)

Shame, Shame, Shame: Democratic leaders are being forced to play the role of peacekeepers among the party's divided base, and nowhere was it more clear than during the opening night of the Democratic National Convention. (Alex Wagner)
The Atlantic is at the Democratic National Convention! You can sign up for our daily convention newsletter here, or find out about our events in Philadelphia here. And follow stories throughout the day with our Politics & Policy portal.
---
Snapshot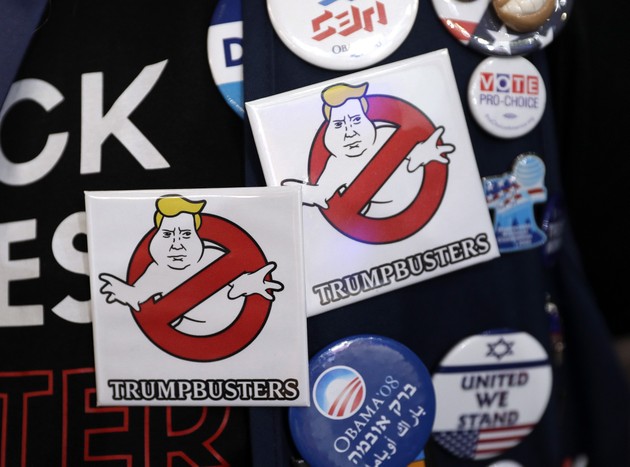 ---
What We're Reading
Trump vs. Star-Spangled Teens: Remember the trio of preteen girls who sang a Trump-themed song at a Florida rally in January? Well, now one of the girls' fathers plans to file a lawsuit against the Republican nominee's campaign. (Philip Bump, The Washington Post)
It Shouldn't Have Been Clinton: The Democratic party chose Hillary Clinton as its candidate long before the primaries had even begun, Megan McArdle argues, and if Donald Trump wins the presidency, it will be because the party chose wrong. (Bloomberg)
Haters Gonna Hate—On Hillary: After 40 years in the public eye, one thing is clear—a lot of people don't like Hillary Clinton. But when did it become cool to hate on Hillary? (S.V. Date, Huffington Post)
Trump Wants to Paint the Town Red: Over the last 25 years, Pennsylvania has voted Democrat, but current polling suggests that with a few strategy changes Donald Trump could win the state over in what would be an important victory. (Brandon Finnigan, National Review)
Can Latinos Swing Arizona?: The organization Promise Arizona is using Donald Trump's anti-immigration rhetoric to motivate Latinos to vote. But will their work be enough to register their goal of 75,000 voters before the election? (Hector Tobar, The New Yorker)
---
Visualized
How Safe Are America's Cities?: Violent crime has been falling since the 1990s, but homicides are increasing in cities across the country. Take a look at these graphs to see the trends. (Mark Berman, The Washington Post)
Bonus: Our own Vann Newkirk is in Philadelphia, asking convention attendees about the future of the Democratic party. Watch him in action. (Jeremy Raff, The Atlantic)
---
Question of the Week
Here we go again! Last week you submitted your suggestions for Donald Trump's convention song, and here were a few of our favorites. What song should Hillary Clinton come out to when she walks on stage Thursday night at the Democratic National Convention? Submit your answers by Thursday afternoon for consideration.
Send your answers to hello@theatlantic.com or tweet us @TheAtlPolitics, and our favorites will be featured in Friday's Politics & Policy Daily.
-Written by Elaine Godfrey (@elainejgodfrey) and Candice Norwood (@cjnorwoodwrites)