The Atlantic Politics & Policy Daily: Twilight Sparkle on Plagiarism Charges: Neigh
The Trump campaign denied accusations that Melania Trump lifted parts of her convention address from Michelle Obama, with one RNC strategist citing My Little Pony in her defense.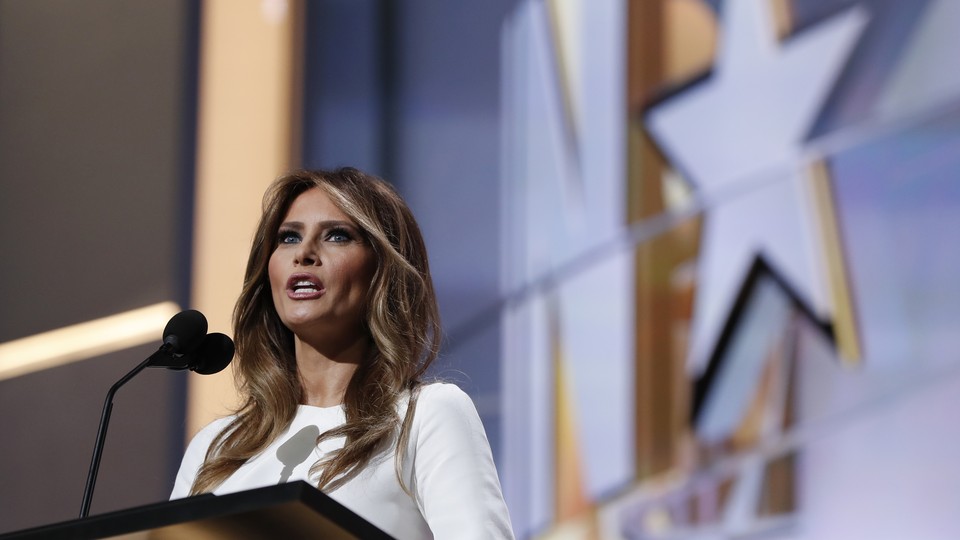 Today in 5 Lines
After a dramatic start to the Republican National Convention Monday, the second day is underway, and we're covering it live here. So far: The Trump campaign denied accusations that Melania Trump, who delivered remarks opening night, lifted passages from Michelle Obama's speech at the 2008 Democratic National Convention—one RNC strategist referenced the TV show My Little Pony in defense of Mrs. Trump; and Indiana Governor Mike Pence made a surprise appearance touting the party's presumptive nominee. President Obama wrote an open letter to law enforcement, addressing the recent fatal shootings of eight officers and expressing his support. Wright State University in Dayton, Ohio, will not host the first presidential debate in September due to security costs, the university's president, David Hopkins, announced.
---
Today on The Atlantic
Trumpism, Here and There: The nationalist, populist, anti-establishment, and anti-immigrant rhetoric of Donald Trump isn't just noticeable abroad  with the controversial Brexit referendum—it's an international trend. (Dominic Tierney)

Go Ahead, Make My Day!: Megan Garber takes a stab at what Donald Trump's speech might look like Thursday night, if he employed the same speechwriters as his wife. Here's a sneak peek: "This land is your land; this land is my land. But mostly it is my land. I'm king of the world!"

Univision's Calling: The nation's largest Spanish-language network has established itself as an influential voice in politics, but Donald Trump still hasn't made an appearance. Will refraining from doing so hurt his chances for the White House? (Priscilla Alvarez)
The Atlantic is at the conventions! You can sign up for our daily convention newsletter here, or find out about our events in Cleveland or Philadelphia. And follow stories throughout the day with our Politics & Policy portal.
---
Snapshot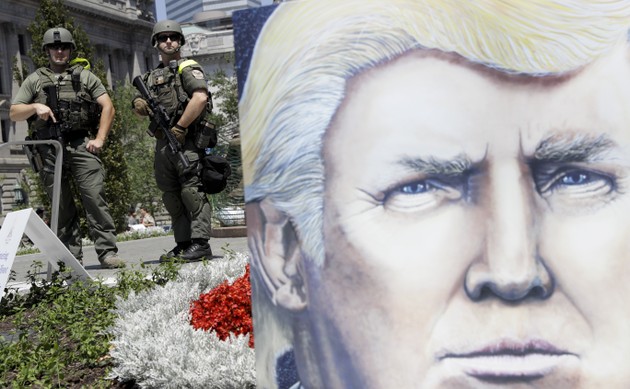 ---
What We're Reading
Hillary Clinton's Political Decline: A new poll shows a majority of Americans dislike the presumptive Democratic nominee. But despite her declining popularity, she just needs to be slightly more likable than Donald Trump in order to win the White House. (Aaron Blake, New York Times)
Plotting a Parallel Course: As Republicans gather in Cleveland, a kind of sub-convention is taking place: A group of establishment members who don't think Trump has a chance at winning the presidency are gearing up for the political battles they can win. (Shane Goldmacher, Politico)
Meet Gary Johnson: There hasn't been a serious challenge from a third-party candidate in a presidential election since 1992, but Hillary Clinton and Donald Trump's unpopularity might mean an impressive showing for the Libertarian party. (Ryan Lizza, The New Yorker)
Earth to Rudy: The former mayor of New York once claimed to be a practical and moderate Republican, but Slate's Fred Kaplan writes, his speech at the convention was bombastic, angry, and mostly nonsensical. What gives?
The Unmasking of the GOP: The Republican party has long attempted to sell itself as a party of equality and inclusivity. But Rebecca Traister argues that the fall of Fox News head Roger Ailes and the rise of Donald Trump is breaking that down. (New York Magazine)
---
Visualized
Who Are the No-Shows?: There are fewer members of the political establishment at this year's Republican National Convention, notably former President George W. Bush and former presidential Republican nominee Mitt Romney. These graphics show who's missing across four categories. (Kevin Quealy and Nick Strayer, the New York Times)
---
Question of the Week
What song should Donald Trump come out to when he walks on stage Thursday night at the Republican National Convention? Submit your answers by Thursday afternoon for consideration—no cheating!
Send your answers to hello@theatlantic.com or tweet us @TheAtlPolitics, and our favorites will be featured in Friday's Politics & Policy Daily.
-Written by Elaine Godfrey (@elainejgodfrey)