The Atlantic Politics & Policy Daily: Trump Jet Goes for a Cruz
A Ted Cruz event on the Cleveland waterfront was briefly interrupted by Donald Trump's private plane.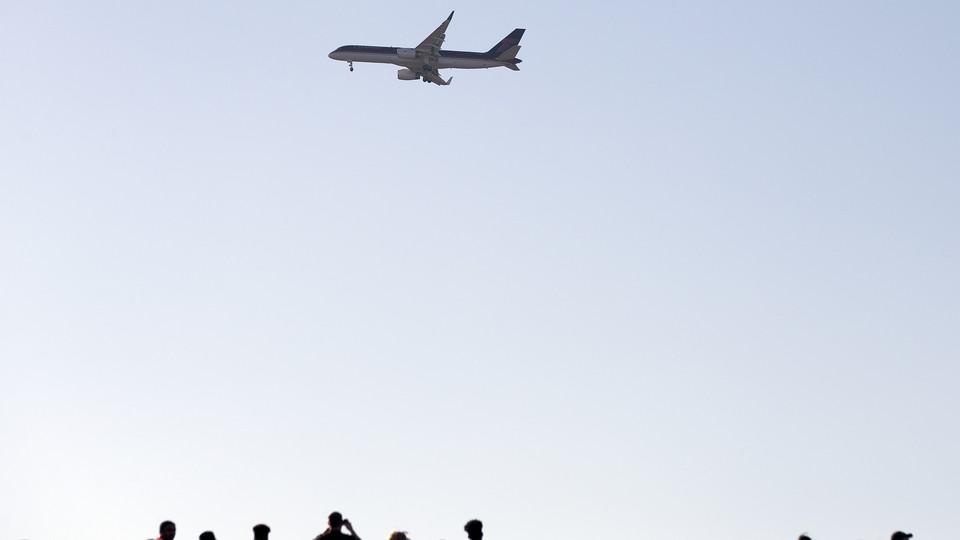 Today in 5 Lines
The third day of the Republican National Convention begins, with a stacked list of speakers, notably Donald Trump's running mate Mike Pence and Texas Senator Ted Cruz, whose event this afternoon was briefly interrupted when Trump's plane flew over. We're covering it all live here. Meredith McIver, a staff writer for the Trump Organization, issued a statement taking responsibility for apparent plagiarism in Melania Trump's convention speech. Hillary Clinton will announce her VP pick on Saturday during a campaign event in Florida, sources close to the campaign told CNN. Today is the Federal Election Commission's filing deadline; at the end of May, Trump reported $1.3 million cash on hand, and Clinton reported $42.5 million. A U.S. appeals court struck down a Texas voter-ID law, saying it had a "discriminatory effect" on minority voters. And Representative Mark Takai, of Hawaii, died at age 49.
---
Today on The Atlantic
Police Protection Is a Privilege: The Republican National Convention is a high-security event, with more than 5,000 working law enforcement personnel. But some Cleveland residents wish similar resources could be used to protect the city's neighborhoods. (Conor Friedersdorf)

The Sound of (RNC) Music: The '90s pop-rock band Third Eye Blind became the unexpected voice of artist protest at the Republican National Convention Tuesday night by performing a song with pro-gay lyrics—and none of their hits. (Spencer Kornhaber)

CEO Mike Pence?: Donald Trump has made it clear that, as president, he would delegate much of his executive power to his VP. That means his running mate, Indiana Governor Mike Pence, could very well be the man running the federal government for the next four years. (Yoni Appelbaum)
The Atlantic is at the conventions! You can sign up for our daily convention newsletter here, or find out about our events in Cleveland or Philadelphia. And follow stories throughout the day with our Politics & Policy portal.
---
Snapshot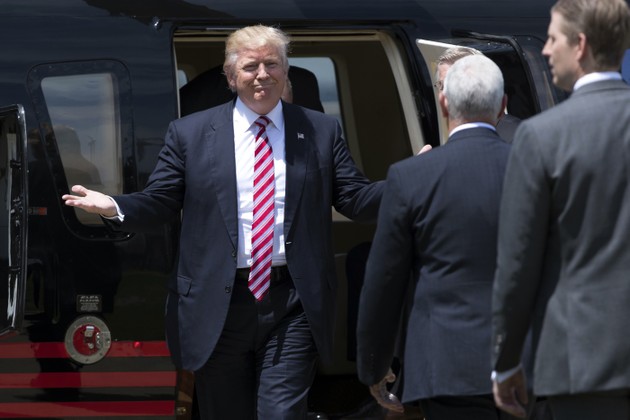 ---
What We're Reading
Trump's Race Barrier: Donald Trump's pursuit of winning over black voters continues to be hampered by a long history of questionable statements about blacks and race. Will he be able to surpass those obstacles as he pivots toward the general? (Michael Kranish, Washington Post)
#NeverTrump Lives On: The movement has failed to prevent Donald Trump from becoming the GOP nominee, but the battle isn't over: Never Trumpers will continue to fight against the ideals he represents and for the future of American conservatism. (David French, National Review)
Meet Karen Pence: She is a former Indiana art teacher and the wife of the GOP vice presidential nominee, Mike Pence. But she may be best known for the role she's played in the Indiana governor's career as "chief adviser." (Tom LoBianco, CNN)
Republicans' Wishful Thinking: Neither Donald Trump nor his backers at the Republican National Convention have offered any substantive ideas in the way of economic policy, The New Yorker's John Cassidy writes, yet somehow, his supporters still hail him as a job creator and economic problem solver.
How Trump Settled on Pence: The New York Times's Robert Draper provides an inside look of the selection process, beginning with a conversation between a senior adviser to Ohio Governor John Kasich and Donald Trump Jr. back in May. Here's a sneak peek: "Then what, the adviser asked, would Trump be in charge of? 'Making America great again' was the casual reply."
---
Visualized
From Lincoln to Trump: Track the evolution of the Republican Party in these 13 maps. (Andrew Prokop, Vox)
---
Question of the Week
What song should Donald Trump come out to when he walks on stage Thursday night at the Republican National Convention? Tonight is the last call for submissions!
Send your answers to hello@theatlantic.com or tweet us @TheAtlPolitics, and our favorites will be featured in Friday's Politics & Policy Daily.
-Written by Elaine Godfrey (@elainejgodfrey)