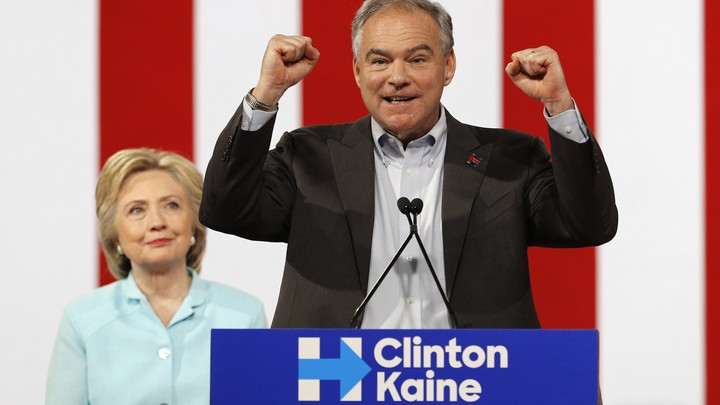 Today in 5 Lines
It's the final night of the Democratic National Convention, and Hillary Clinton will take the stage as the first female nominee of a major U.S. political party; we're covering it live here. After the convention, Clinton and her VP pick Tim Kaine will take a bus tour to two battleground states, Pennsylvania and Ohio. Donald Trump said he was "being sarcastic" on Wednesday when he suggested Russian hackers break into Hillary Clinton's emails. The U.S. Military announced that U.S. airstrikes have killed 14 civilians in Iraq and Syria within the last year. The Food and Drug Administration sent a memo asking two blood donation centers in Florida to stop blood collection over Zika concerns. And the U.S. Attorney's Office dismissed charges against the man convicted of killing Washington intern Chandra Levy in 2001.
---
Today on The Atlantic
Say Her Name: Almost 7,000 people died in police custody in Texas between 2005 and 2015. A new database called the Texas Justice Initiative has compiled information on these individuals, one of whom is Sandra Bland, the young black woman whose controversial death was ruled a suicide. (Juleyka Lantigua-Williams)

'We Are Already Great': During his speech at the Democratic National Convention, President Obama offered a different view of America than Donald Trump: He framed the country as a shining city on a hill—that still has a lot of work to do. (Ron Fournier)

Amazing Grace: Speakers at the DNC, from Michelle Obama to Meryl Streep, have used the word "grace" to describe Hillary Clinton's pursuit of the White House. This is how Clinton took a word with a long history and repurposed it for a modern audience. (Megan Garber)
The Atlantic is at the Democratic National Convention! You can sign up for our daily convention newsletter here, or find out about our events in Philadelphia here. And follow stories throughout the day with our Politics & Policy portal.
---
Snapshot
---
What We're Reading
Guess Who's Back: In the wake of criticism about Hillary Clinton's ties to Wall Street, her wealthy donors worked to keep quiet in the months leading up to the party's national convention. Now, they are back with full force in Philadelphia. (Nicholas Confessore and Amy Chozick, New York Times)
Tension in the City of Brotherly Love: Philadelphia is the poorest big city in the U.S. with one of the worst reputations for police excessive force. And Black Lives Matter protesters took note of that as they marched through the streets outside of the convention this week. (Nathalie Baptiste, The American Prospect)
Kaine's Got the Holy Spirit: During an election season when Donald Trump has neglected discussions about religion, Hillary Clinton's running mate, Tim Kaine, has reclaimed faith for the Democratic Party. (Benjamin Wallace-Wells, The New Yorker)
Q is the Loneliest Letter: At the Republican National Convention last week, Donald Trump discussed the LGBTQ community in his remarks. Meanwhile, Democrats left off the all encompassing letter "Q" for queer in their party platform, which caused a stir within the party. (Dominic Holden, Buzzfeed)
Clinton Sticks It to the Man: When the Democratic nominee graduated from Wellesley College in 1969, she was chosen to deliver the commencement address. But just as important as the speech itself were her extemporaneous remarks beforehand, taking on a U.S. senator. (Tamara Keith, NPR)
---
Visualized
Riding the Feminist Wave: Hillary Clinton made history this week as the first nominee of a major political party for the U.S. presidency. This timeline shows how her career closely followed the modern feminist movement. (Bloomberg)
---
Question of the Week
This week, we asked you to predict what song Hillary Clinton will come out to when she takes the stage at the Democratic National Convention. Stay tuned tonight for her song of choice, and we'll share some of our favorite responses tomorrow. In the meantime, our Notes editor Chris Bodenner offers a little teaser. Check it out here.
-Written by Elaine Godfrey (@elainejgodfrey) and Candice Norwood (@cjnorwoodwrites)
We want to hear what you think about this article. Submit a letter to the editor or write to letters@theatlantic.com.
Elaine Godfrey
is a staff writer at
The Atlantic
, where she covers politics.