The Atlantic Politics & Policy Daily: Thousands of Balloons Later, the U.S. Has Its First Female Major Party Nominee
And with that, the Democratic National Convention is over.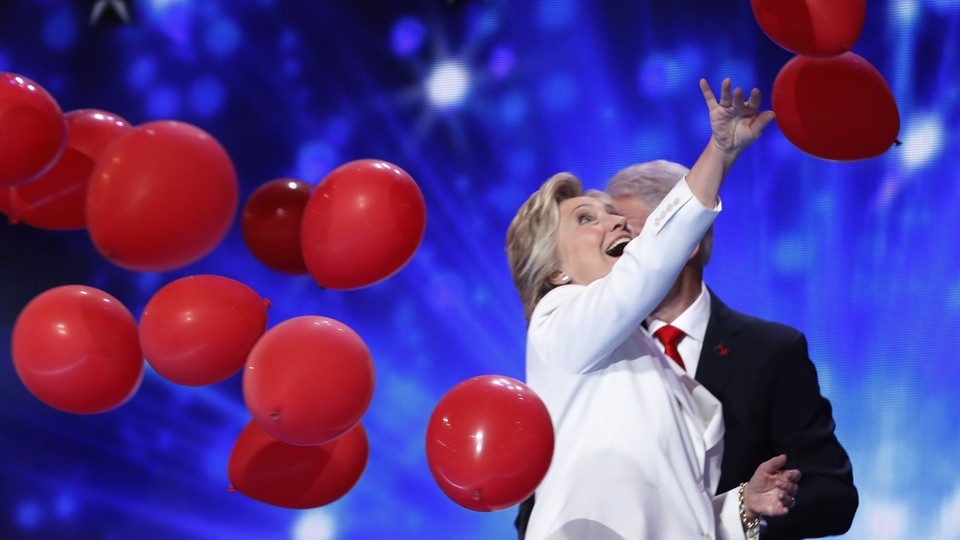 Today in 5 Lines
Florida Governor Rick Scott confirmed that there is local transmission of the Zika virus in a one-square-mile area. U.S. officials suspect the Russian government hacked into the Democratic Congressional Campaign Committee, the second party organization to be attacked within the past week. Michigan's attorney general charged six state workers in connection to the Flint water crisis. A federal appeals court struck down key portions of North Carolina's strict 2013 voting law, stating that they can only be explained by "discriminatory intent." And Sandy Hook Elementary School reopened four years after a man fatally shot 20 children and six adult staff members.
---
Today on The Atlantic
Shelter From the Storm: Hillary Clinton offered cool-headed reassurance during her speech on Thursday night—a promise to be a calm and steady leader. Will that message resonate with Americans amid the chaos of the political landscape? (Molly Ball)

Free Your Mind: How can college professors add diversity to their curriculum? That question has become a focus for universities around the country, but despite good intentions, the process of diversifying coursework proves to be complicated. (Emily Deruy)

How Chelsea Beat Ivanka: The daughters of the Democratic and Republican nominees both offered heartfelt introductions of their parents at the conventions. But the less-flashy, less-charismatic Chelsea painted a portrait of her mother as a mother. (Michelle Cottle)
The Atlantic is at the Democratic National Convention! You can sign up for our daily convention newsletter here, or find out about our events in Philadelphia here. And follow stories throughout the day with our Politics & Policy portal.
---
Snapshot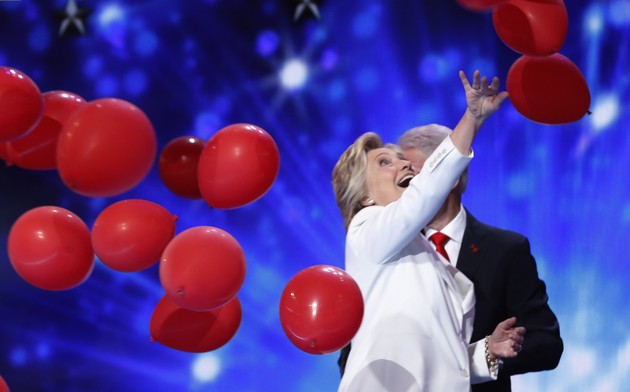 ---
What We're Reading
Trump's Russian Bromance: Donald Trump's warm feelings for Russian President Vladimir Putin are a topic of conversation lately, but Trump dismisses claims that he has ties to the country. Enter Dmitry Rybolovlev, a Russian billionaire who bought a home from Trump in 2008—for $100 million. (Michael Crowley, Politico Magazine)
'The Best of America': Out of all the speakers Thursday night in Philadelphia, one stood out: the father of a Muslim soldier killed in action who took on Donald Trump. "You have sacrificed nothing," Khizr Khan said to Trump, "And no one." (Philip Bump, The Washington Post)
The Show Must Go On: Despite a few bumps here and there, the Democratic National Convention this week went smoothly. Now that both conventions are over, what does the rest of this election look like? (Nate Silver, FiveThirtyEight)
#NotAllWomen: National Review's Christopher Cooke explains that many Republicans' hatred for Hillary Clinton is not about her gender but her destructive tendencies. Americans, he writes "should not feel obliged to feel warm and fuzzy" toward her simply because of her sex.
Cool for the Summer: The Republican and Democratic parties appeared to do a role reversal during the national conventions. Donald Trump abandoned traditional GOP values altogether, which allowed the Democrats to scoop them up and dominate the summer. (David Brooks, New York Times)
---
Visualized
Why Is Your State Great?: Republicans and Democrats at this month's national conventions were proud of their home states for different reasons. Use this tool to find out what delegates said about your state. (Zachary Crockett, Sarah Frostenson, and Javier Zarracina, Vox)
---
Question of the Week
This week, you submitted suggestions for the song Hillary Clinton should walk onstage to on the final night of the Democratic National Convention. Clinton ended up sticking with her tried-and-true campaign "Fight Song," by Rachel Platten.
But there were two reader submissions that caught my eye: Thanks to Howard Cohen, who suggested Clinton might walk onstage to Helen Reddy's "I Am Woman." That would have been great, Howard.
And this week's runner-up is Curtis LaPierre, with "All the Way Up" by Fat Joe and Remy Ma, feat. French Montana and Infared.
Check out The Atlantic's Notes section for more of our favorites.
-Written by Elaine Godfrey (@elainejgodfrey) and Candice Norwood (@cjnorwoodwrites)