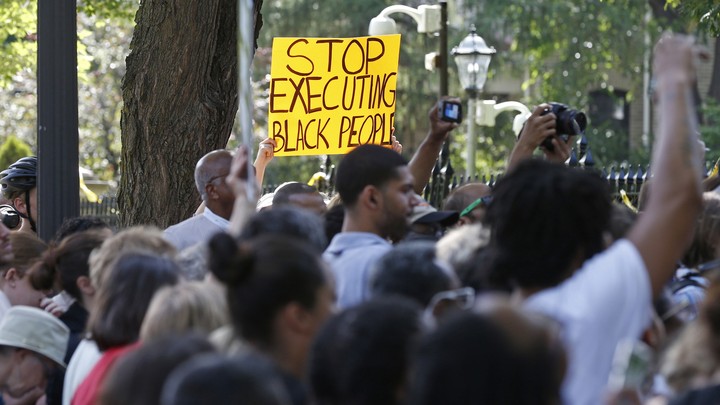 Today in 5 Lines
President Obama responded to recent officer-involved shootings of two black men in a statement on Facebook, saying the nation "can and must do better" to reduce racial bias in law enforcement. Donald Trump clashed with Republican lawmakers during a visit to Capitol Hill, and Ted Cruz told reporters he would be "happy" to speak at the Republican National Convention. Republicans grilled FBI Director James Comey in a House Oversight Committee hearing over the agency's investigation into Hillary Clinton's use of a private email server during her tenure as secretary of state, while in a House Foreign Affairs Committee hearing, lawmakers criticized Obama's plan to close the Guantanamo Bay detention center, citing a threat to American security. And House leadership indefinitely postponed a vote on an "anti-terrorism package."
---
Today on The Atlantic
What Will Make the Killings Stop?: Recent police shootings of black men are a product of the aggressive nature of law enforcement training, coupled with what seems to be common racism. And it calls for a systemic remedy—a challenge to the state's authorization of police aggression. (Vann Newkirk II)

A Tweak to Trump Trump: A convention rule change could allow delegates to vote against the GOP nominee on the ballot if he hasn't released his tax documents. Here's how. (Conor Friedersdorf)

The American Dream Is Alive in Scandinavia: In an interview with The Atlantic, Finnish author Anu Partanen explains why she believes concepts associated with the United States—like opportunity, freedom, independence—are actually thriving more in countries like Sweden, Denmark, and Finland. (Uri Friedman)
Follow stories throughout the day with our Politics & Policy portal.
---
Snapshot
---
What We're Reading
What If He Quits?: Asked whether he would accept the presidency if he wins, Donald Trump offered only a vague answer. The New York Times' Jason Horowitz explores what would happen if he decided not to take the position.
Why Clinton's VP Matters: Hillary Clinton has a choice: She can choose a running mate to appeal to progressives, or she could find a younger, more conventional pick to reel in independents and even some Republicans. Either way, her choice will show just how she plans to govern. (Matt Bai, Yahoo News)
Everyone, Meet Gary. Libertarian presidential candidate Gary Johnson has focused his entire election strategy on media, rather than in-person campaigning. And that, paired with the fact that Clinton and Trump are wildly unpopular, has earned him a high profile. (Rosie Gray, BuzzFeed)
Ivanka Trump, Vice President: The executive vice president of the Trump Organization and Donald Trump's most trusted adviser happens to be his daughter, Ivanka. Would he go so far as to make her his running mate, too? (Rebecca Nelson, GQ)
The Ubiquitous NRA: Polls show that a large majority of Americans support gun reforms, and there are hundreds of groups throughout the country advocating for these reforms. So, why does the NRA still hold much more cultural influence? (Alexis Sottile, Rolling Stone)
---
Visualized
The Age of America: The Pew Research Center graphed the U.S. population by race and age, revealing a telling shift in voter demographic: In 10 years, the average white American will be 65, and the average Hispanic American will be 18. (Philip Bump, The Washington Post)
---
Question of the Week
The New York Times reports that President Obama's late-night snack of choice is a handful of almonds—seven, to be exact. If Donald Trump or Hillary Clinton became president, what would their go-to fuels be?
Send your answers to hello@theatlantic.com or tweet us @TheAtlPolitics, and our favorites will be featured in Friday's Politics & Policy Daily.
-Written by Elaine Godfrey (@elainejgodfrey)
We want to hear what you think about this article. Submit a letter to the editor or write to letters@theatlantic.com.
Elaine Godfrey
is a staff writer at
The Atlantic
, where she covers politics.