The Atlantic Politics & Policy Daily: Hoosier VP?
Auditions to be Donald Trump's running mate are underway in Indiana.
Today in 5 Lines
Donald Trump's veep selection process is heating up: Trump, along with his family, met with Governor Mike Pence at his home in Indiana and invited Alabama Senator Jeff Sessions and former House Speaker Newt Gingrich to the state. Trump is suing Sam Nunberg, a former campaign aide, for $10 million over an alleged breach of a confidentiality agreement. Hillary Clinton attacked Trump's "divisive" campaign during remarks at the Old State Capitol in Springfield, Illinois, where Abraham Lincoln delivered his "House Divided" speech. The Senate confirmed Carla Hayden as the first woman and first African American to head the Library of Congress. And Theresa May officially replaced David Cameron as the new prime minister of the United Kingdom.
---
Today on The Atlantic
Can't Say Good-Bayh: Former Indiana Senator Evan Bayh, who quit politics in 2010, announced he's running for the open Indiana Senate seat. Michelle Cottle explains how Bayh, the "dull but sensible uncle you have always counted on," just might be the man Democrats need to retake the Senate.

What About Bill?: The Democratic party has changed since Bill Clinton's time, and his record as president is now proving inconvenient to Hillary Clinton's political goals—and often decidedly more conservative. Does the party have a place for him anymore? (Alex Wagner)

Changing Platforms: Party platforms were once seen as the voice of a campaign, but their significance has waned over the years; and as candidates deviate from traditional party stances, the process underscores intra-party conflicts. (Daniel DiSalvo and James W. Ceaser)
Follow stories throughout the day with our Politics & Policy portal.
---
Snapshot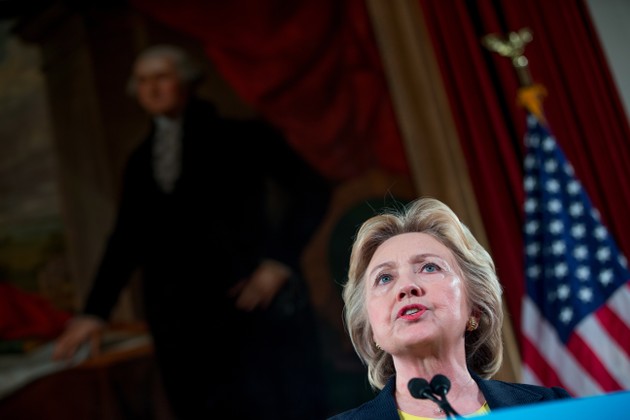 ---
What We're Reading
The OG Trump: Jeff Sessions, the Alabama senator on Donald Trump's list of prospective VPs, was challenging the Republican party on issues like immigration and trade long before the businessman even launched his presidential campaign. (Burgess Everett, Politico)
A Weekend in Baton Rouge: A Breitbart reporter and critic of the Black Lives Matter movement was arrested in Baton Rouge on July 8, while covering protests sparked by the fatal shooting of Alton Sterling. Here's what happened. (Lee Stranahan)
A Beruff Ride to the Finish Line: Meet Carlos Beruff, a wealthy, Florida home-builder-turned-politician, who's running a long-shot campaign against Marco Rubio for the state's open Senate seat. (Alexis Levinson, National Review)
The Anxiety of White Americans: The rise of Donald Trump has brought racial tensions and identity politics to the surface in the United States, and he's given a voice to white Americans who fear that the country is no longer theirs. (Nicholas Confessore, The New York Times)
'Cruel, Inhumane, and Degrading': President Obama promised to end torture during his tenure in the White House, but new documents show that the U.S. military still uses a UN-denounced interrogation tactic on detainees in Afghanistan. (Ali Watkins and Aram Roston, BuzzFeed)
---
Visualized
A Common Element: More than 33,000 people die every year from fatal shootings in the United States. View this interactive graphic for a breakdown of gun-related deaths. (Ben Casselman, Matthew Conlen, and Reuben Fischer-Baum)
---
Question of the Week
Pokémon Go, a phone app that lets users catch and battle the famous fictional creatures, has picked up steam since its launch last week. If Bernie Sanders was a Pokémon, what would he be called? In case you're not a Poké-master, check out this guide to Pokémon species, for inspiration.
Send your answers to hello@theatlantic.com or tweet us @TheAtlPolitics, and our favorites will be featured in Friday's Politics & Policy Daily.
-Written by Elaine Godfrey (@elainejgodfrey)