The Atlantic Politics & Policy Daily: Area Dad Outs Daughter as Twitter User
In his first appearance with Hillary Clinton on the campaign trail, President Obama referenced his daughter Sasha's Twitter account.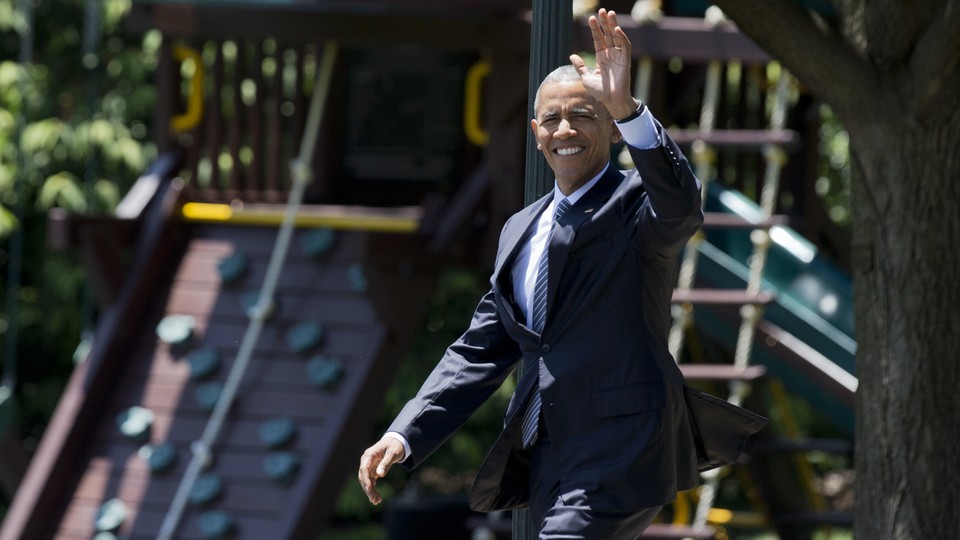 Today in 5 Lines
FBI Director James Comey said the agency is not recommending criminal charges against Hillary Clinton over her use of a private email server during her tenure as secretary of state, but added that the move was "careless." President Obama hit the campaign trail with Clinton for the first time in Charlotte, North Carolina. House Democrats delivered floor speeches pushing for tighter gun-control measures during the chamber's first day back in session since the sit-in. Members of the Gang of Eight are reportedly looking to bring the group back together in an attempt to pass immigration reform in 2017. And NASA's spacecraft Juno successfully entered Jupiter's orbit.
---
Today on The Atlantic
The Conservative, Christian Case for Working Women: An evangelical Christian and avowed feminist argues that God intends for every Christian woman to work outside the home. Here's why. (Jonathan Merritt)

Sorry Not Sorry: Donald Trump still hasn't apologized for tweeting—and then deleting—an anti-Semitic image attacking Hillary Clinton on Saturday. But maybe his unwillingness to admit error is part of the reason voters are attracted to him. (Yoni Appelbaum)

Trial and Error?: After 35 years, an experiment designed to spark integration in Indianapolis public schools by busing thousands of kids from poor neighborhoods into more affluent school districts has expired. Did it work? (Shaina Cavazos)
Follow stories throughout the day with our Politics & Policy portal.
---
Snapshot
---
What We're Reading
Donald Trump vs. 'Donald Trump': The businessman entered the presidential race as part of a larger marketing scheme to further his brand, argues The New Yorker's Mark Singer, and his words on the campaign trail are starting to signify that he's in over his head.
Drinks and Duties: Hillary Clinton's first priorities as president would be to focus on issues like infrastructure, jobs, and immigration reform. And she'd start by talking with lawmakers over adult beverages. (Patrick Healy, The New York Times)
Big Government, Big Media, and Big Influence: The more entangled members of the media and the political establishment become, the less concern or understanding they seem to have for non-coastal, non-elite Americans. (Victor Davis Hanson, National Review)
The Permanent Confidant: James Warren examines the continued friendship of Hillary Clinton and former Clinton aide Sidney Blumenthal after email exchanges between the two have become public. (Vanity Fair)
With a Little Help From My Friends: President Obama joining Hillary Clinton on the campaign trail in North Carolina is a historic event: An incumbent president hasn't advocated so strongly for his successor in at least a century. (Domenico Montanaro, NPR)
---
Visualized
You've Got Mail: Take a look at these graphics for a breakdown of Hillary Clinton's  emails and a timeline of the entire investigation. (Alicia Parlapiano, The New York Times)
---
Question of the Week
The New York Times reports that President Obama's late-night snack of choice is a handful of almonds—seven, to be exact. If Donald Trump or Hillary Clinton became president, what would their go-to fuels be?
Send your answers to hello@theatlantic.com or tweet us @TheAtlPolitics, and our favorites will be featured in Friday's Politics & Policy Daily.
-Written by Elaine Godfrey (@elainejgodfrey)