The Atlantic Politics & Policy Daily: A Political Revolution Berns Out
Bernie Sanders endorsed Hillary Clinton for president at a rally in New Hampshire Tuesday.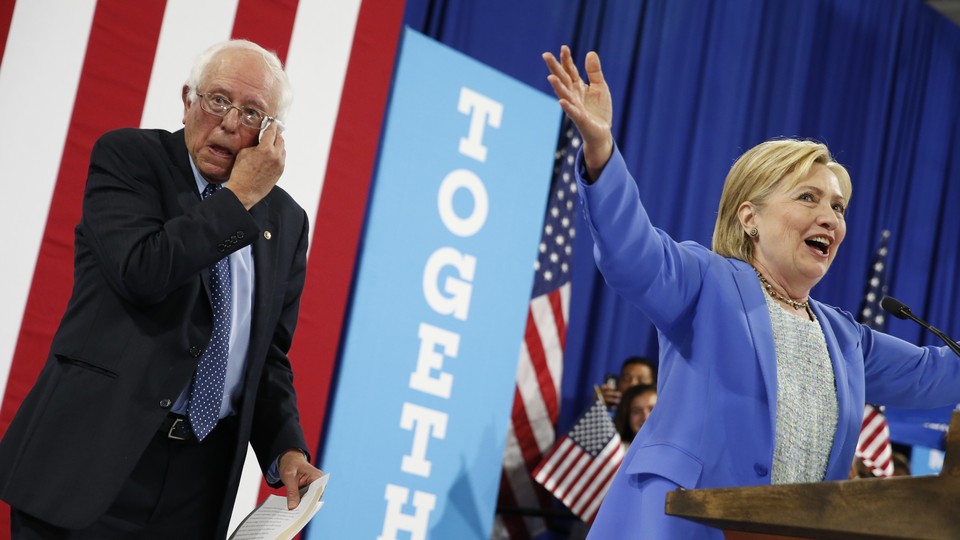 Today in 5 Lines
President Obama and former President George W. Bush paid tribute to the five police officers killed last week at a memorial service in Dallas. Bernie Sanders endorsed Hillary Clinton during a rally in New Hampshire. Republican lawmakers questioned U.S. Attorney General Loretta Lynch about the Clinton email probe during a House Judiciary Committee hearing. Hillary Clinton is reportedly vetting retired Navy Admiral James Stavridis to be her vice president, while Fox News has suspended its contract with former House Speaker Newt Gingrich, sparking conjecture that he might be Donald Trump's VP pick. And the Republican Party platform committee emphasized the need for a more traditional view of family life and called pornography a "public health crisis."
---
Today on The Atlantic
The Significance of Black Women: Amid continued discussions of American policing and violence against black bodies, three Atlantic staffers discuss the role female activists have played in Black Lives Matter and other movements throughout history. (Adrienne Green, Juleyka Lantigua-Williams, and Gillian B. White)

Argue Nationally, Act Locally: A new poll shows that Americans are more confident that local businesses, non-profits, and individuals will make significant changes to society than national leaders. (Ronald Brownstein)

Why Doesn't the U.S. Invest in Kids?: The United States ranks 35th on the list of developed countries for pre-primary school enrollment, despite findings that high-quality preschool ensures that children are able to form healthy relationships and achieve future academic success. (Lillian Mongeau)
Follow stories throughout the day with our Politics & Policy portal.
---
Snapshot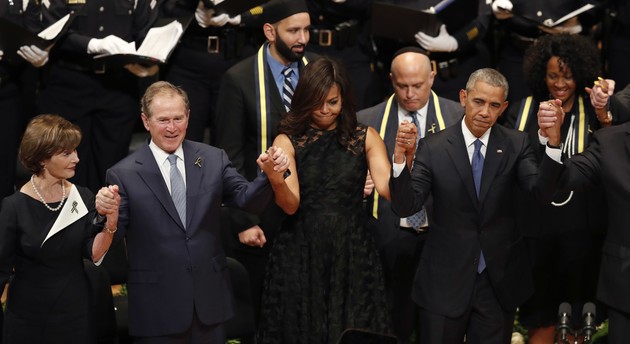 ---
What We're Reading
Democratic Women's Fight to the Top: Roughly 116 years after the first female delegate attended a Democratic national convention, the party has nominated its first female presidential candidate. Meet the women who made it possible. (Amanda Terkel and Christine Conetta, The Huffington Post)
On the Mend: Dallas's police chief, David O. Brown, was thrown into the national spotlight following the fatal shooting of five police officers last week. Despite high racial tensions and widespread criticism, Brown has remained calm during the crisis—and hopeful for the future. (Richard Fausset, Alan Blinder, Manny Fernandez, New York Times)
Grassley vs. the Judge: The popular Iowa Senator and chairman of the Senate Judiciary Committee has consistently won more than 60 percent of the vote in every reelection contest. But this time, it looks like Democrat Patty Judge will give him a run for his money. (Lisa Hagen, The Hill)
Defending Black Lives Matter: Jonah Goldberg argues that the principle behind Black Lives Matter is an inherently conservative one, writing, "Is it so unfathomable that African-American citizens should be outraged or distrustful of government when they have good reason to believe the state is murdering young black men?" (Los Angeles Times)
Bernie Has the Last Say: In endorsing Hillary Clinton, Sanders conceded defeat in the 2016 presidential election, but he was victorious in another way: He was able to shape the Democratic Party platform. (Tim Dickinson, Rolling Stone)
---
Visualized
Trump's Run-Ins With the Law: The presumptive Republican nominee has been involved in 4,055 lawsuits, from casino-related complaints to personal defamation filings. Here's a breakdown. (USA Today)
---
Question of the Week
Pokémon Go, a phone app that lets users catch and battle the famous fictional creatures, has picked up steam since its launch last week. If Bernie Sanders was a Pokémon, what would he be called? In case you're not a Poké-master, check out this guide to Pokémon species, for inspiration.
Send your answers to hello@theatlantic.com or tweet us @TheAtlPolitics, and our favorites will be featured in Friday's Politics & Policy Daily.
-Written by Elaine Godfrey (@elainejgodfrey)