The Atlantic Politics & Policy Daily: A Nation at Half-Staff
President Obama ordered all flags on federal buildings to be lowered in honor of the five police officers killed in Dallas.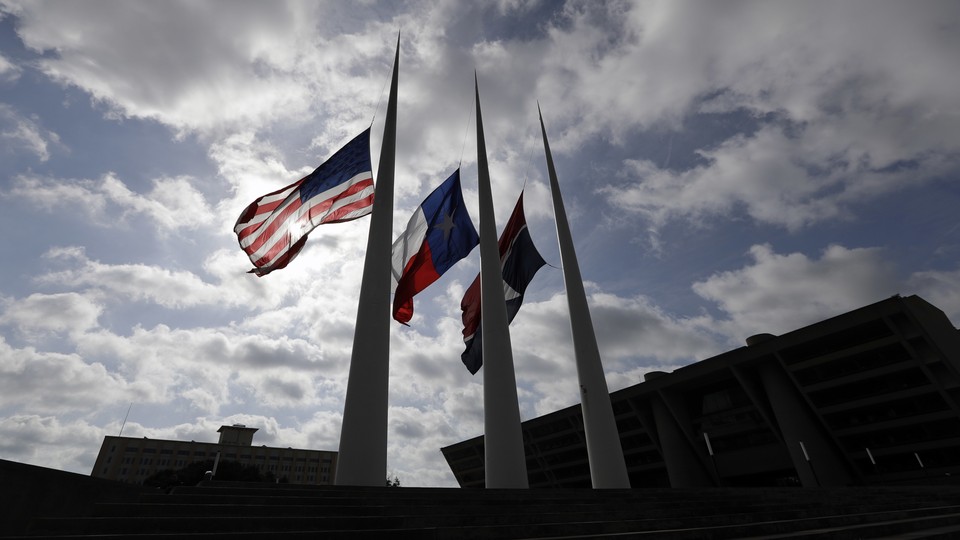 Today in 5 Lines
President Obama condemned the attack in Dallas, which left five police officers dead and several others injured, calling the killings "vicious, calculated, and despicable." He also ordered that flags on federal buildings be flown at half-staff. Hillary Clinton and Donald Trump canceled campaign events in the wake of the shootings, and lawmakers across the country offered condolences. Florida Representative Corrine Brown was indicted on federal corruption charges. A Utah woman died after contracting the Zika virus—the first confirmed death related to the virus in the continental United States. And the U.S. created 287,000 jobs in June, far exceeding projections by some economists.
---
Today on The Atlantic
It's Happened Before: In 1967, a group issued a report that called attention to police violence in the United States and explored institutional racism. But political winds changed, and the report's recommendations were not addressed. (Julian E. Zelizer)

'Hotter Than Kim Kardashian's Twitter Feed': Politics in New Hampshire, that is. Popular Republican Senator Kelly Ayotte is up for reelection against the state's Democratic governor, but she's taking hits from both sides of the aisle for her stance on gun-reform. (Michelle Cottle)

Turning Anger Into Change: The videos documenting the deaths of Alton Sterling in Louisiana and Philando Castile in Minnesota have enraged the American public, but how far they'll go to translate into sweeping reforms is still unclear. (Robinson Meyer)
Follow stories throughout the day with our Politics & Policy portal.
---
Snapshot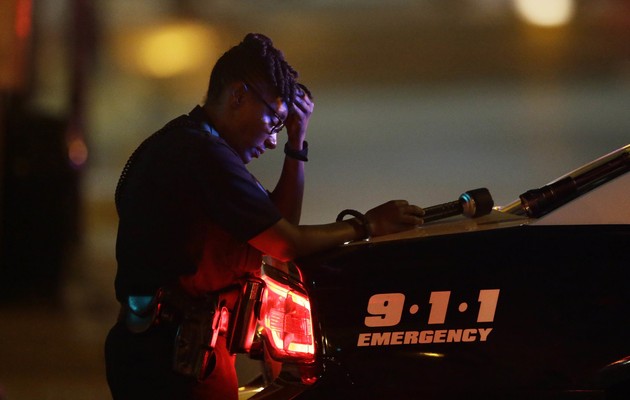 ---
What We're Reading
How Many Killer Robots Are There?: Dallas police used a robot to kill a suspect for the first time ever on Thursday night, a map shows how common explosive ordnance disposal robots are in police departments throughout the country. (Cara Giaimo and Sarah Laskow, Atlas Obscura)
It's Going to Be a Long Summer: July was supposed to be a month of convention politicking and optimism for America's future; but recent killings have emphasized the country's growing racial and political divisions likely to test all Americans. (Dan Balz, The Washington Post)
Talking Trump: At his rallies, the presumptive Republican nominee speaks mostly extemporaneously, seems to struggle to complete a thought, and often rails on the media. But his audience loves it—here's why. (Byron York, Washington Examiner)
The Resume of a Political Wunderkind: New Jersey Senator Cory Booker is one of the nation's most popular African-American politicians and his experience as mayor of Newark makes him an oft-floated potential VP pick for Hillary Clinton. But what, exactly, did he accomplish? (Amy S. Rosenberg, Politico Magazine)
Broken Promises: Donald Trump and Bernie Sanders's criticism of U.S. economic policy has appealed to a large swath of voters who suffered its consequences. But what were those promises to begin win? And where did they go wrong? (Jon Hilsenrath and Bob Davis, Wall Street Journal)
---
Visualized
Still Going Strong: The United States has been adding jobs for 69 straight months, the longest streak on record. These graphs show how, while gains in employment may be slowing, the economy continues to grow. (Ben Casselman, FiveThirtyEight)
---
Question of the Week
The winner of this week's question is Jen Schatz, who thinks the go-to late-night snack of a President Trump or Clinton would be a handful of chocolate coins. Good work, Jen.
Honorable mention: Howard Cohen says Donald Trump would drink a large Orange Julius, to match his hair.
And a shout out to my dad, Gregg Godfrey, who suggested that Hillary Clinton would eat spam.
-Written by Elaine Godfrey (@elainejgodfrey)