The Art of the Republican National Convention
Artists brought their work to the streets of Cleveland—from portraits to cosplay to sex dolls—taking advantage of the crowds.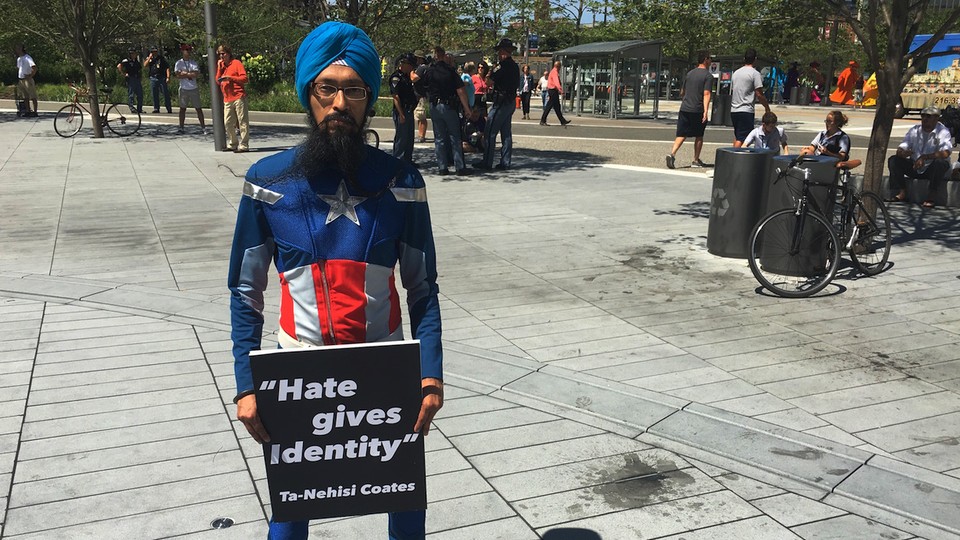 CLEVELAND––Usually, when cartoonist Vishavjit Singh stands in a public square wearing in his Sikh turban, most people walk right past him without saying hello. But midday Wednesday he was among the most sought after people in a space crowded with activists, delegates, partisans demonstrating for and against Donald Trump, and passersby who paused for a moment to take in the spectacle.
What Republican, after all, wouldn't want a picture with Captain America?
"I'm a cartoonist from New York. I also happen to be a writer and a costume player. And I use my costume play to strike conversations and overcome people's stereotypes about who I might be because people don't know who Sikhs are," Singh explained.
While preparing to travel to the Republican National Convention, he was reading Between the World and Me, my colleague Ta-Nehisi Coates's recently published bestseller.
A passage on page 60 struck him.
"It touched me when he talks about his own hate, not somebody else's hate. To me that was powerful, because one of the main messages I have is that it's easy to tell other people that they are hateful or racist, but we all are capable of hate," he said. "I wanted to bring this message in uniform: that hate gives identity, because it does. It leads us down a horrible path that it takes a long time to come back from. So I want not just Republicans, but everybody to hear it. You can hate Republicans, you can hate black people, you can hate police officers, any of them can be a problem. We have to find ways to use compassion to build bridges despite our differences. Ta-Nehisi does it through writing. I do it through cartoons and costume play."
Singh, who lives in New York City, was just one of the many people who came to Cleveland hoping to reach people through art, at a time when more conventional dialogue seems to be failing.
Another is painter Julian Raven, an alternate delegate from upstate New York. He held a large reproduction of an even larger work as fellow delegates, news crews, and other passersby stopped to take photographs. The title of his work: "Unafraid and Unashamed." It was a prophetic vision, he declared, produced long before Donald Trump was the GOP frontrunner, let alone its nominee. Behold that vision: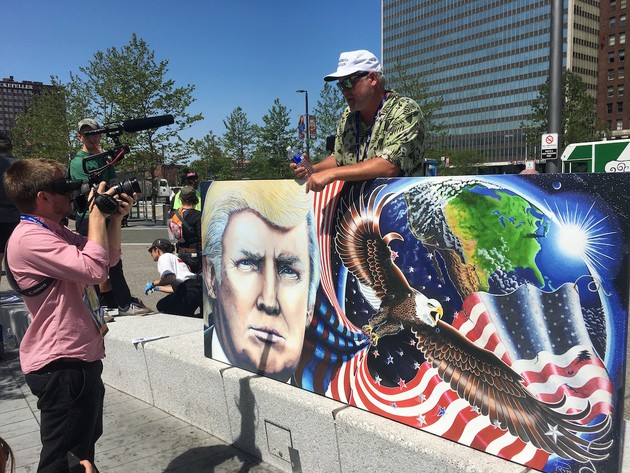 "I'm an abstract expressionist," he said. "I paint big drip and splash paintings. This is a departure––when I got inspired I just had to follow the inspiration. I was going to paint it with drops originally. I painted one portrait of a British cab driver who was slaughtered by ISIS with drips of paint out of ketchup bottles. But it was so hard to do. The more I thought about the level of detail I needed the more I knew I needed a different approach, because the original of the Trump painting is 8 by 16 feet."
Joaquin Junco, Jr. was inspired by the protests against refugee children fleeing here from Central America to create the cartoon that he held: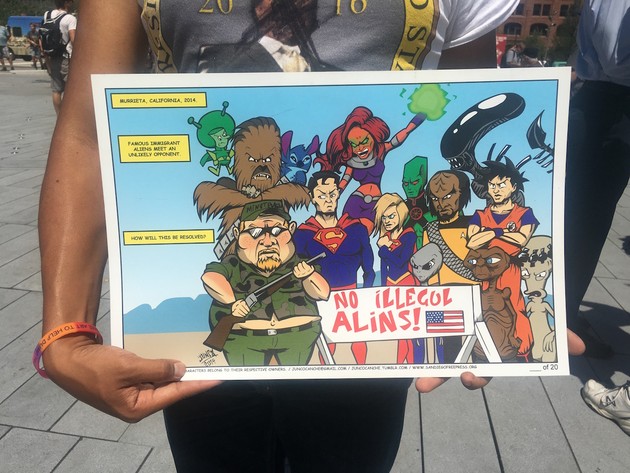 "That was a few years ago, but it's relevant today, with the anti-Latino, anti-immigrant remarks made by Trump," he said. "It is only further dividing the American people. My cartoon shows how so many of our greatest heroes have been immigrants. They're accepted and celebrated, not seen as the problem. We're working hard, sometimes below minimum wage, to provide for the American people, but we're still seen as part of the problem. I was born here, but my parents came from Mexico and everything that Trump has said hit close to home. Racism has always been here, but in the shadows, and Trump has called them out here."
Another artist, who declined to give his name, is a Game of Thrones fan. He told me about an episode––I don't watch the show, so I don't know if this is a spoiler––"where the queen was arrested and made to atone for her sins while walking naked through the streets of the capitol city." That inspiration ultimately translated into an inflatable sex doll with Hillary Clinton's face attached. Look closely at the sign on the creator's chest and you'll see that he finds Trump shameful too. He used the character of a nun who says "shame" to express his feelings: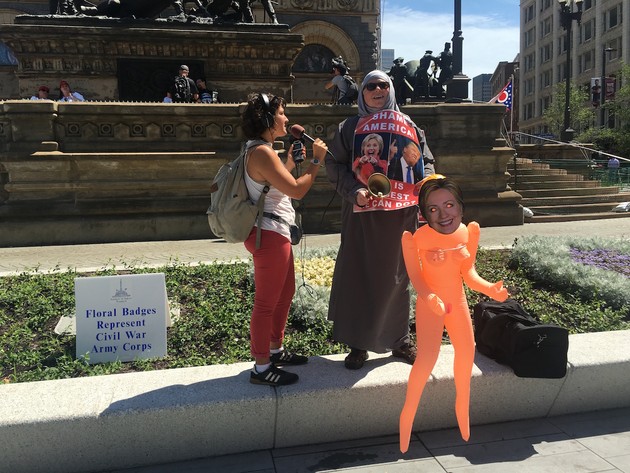 More than one passerby felt the display was sexist. But with so many signs spanning the whole political spectrum all around, no one spent much time taking offense. And not all of the displays were political. With the guarantee of an audience, some artists appeared to be downtown merely to evoke in the crowds a feeling of whimsy: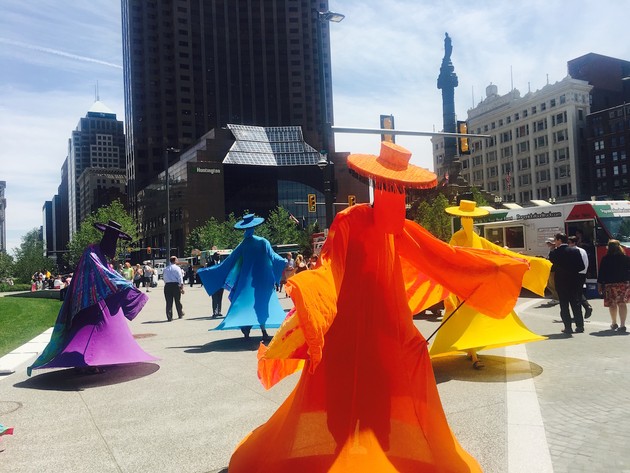 Then again, your reaction may be different than mine––art is, after all, in the eye of the beholder.