The RNC Turns Into the Start of the 2020 Campaign
The long odds facing Donald Trump have ambitious Republican politicians already jockeying for position in the next presidential race.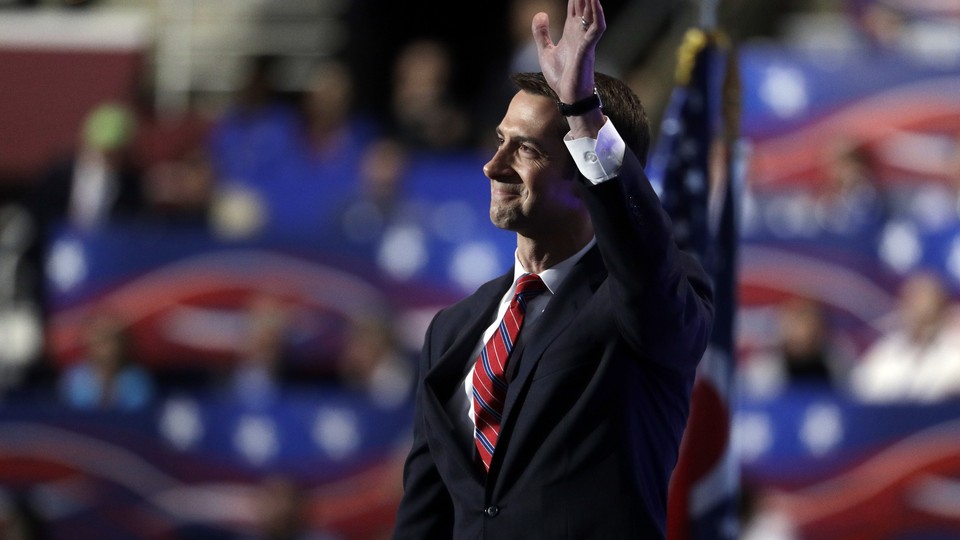 CLEVELAND—Senator Tom Cotton, the 39-year-old freshman senator from Arkansas, was explaining to me why the states of Iowa, New Hampshire, and South Carolina all happened to be on the list of Republican delegations he was speaking to this week. The reason was not, of course, that they are the famed early primary states, and the next election is always just around the corner.
"Three competitive Senate races," Cotton responded when I asked the obvious question, his ready reply popping out just a little too quickly. A minute later, he caught himself: "Ok, to be fair, probably South Carolina is pretty safe."
Cotton may be the most wanted man in Cleveland—in a good way.
If the evening convention speeches are the current Republican Party's feature film, the breakfast meetings and luncheons that state delegations schedule around the city are the trailers. And in the permanent campaign environment of modern politics, that inevitably transforms these backfields of the convention into the first hustings of 2020.
It's not a new development. Quadrennial conventions provide critical opportunities for young, ambitious politicians to build their personal brands and fund-raising networks. The biggest frenzy actually occurs at conventions nominating a sitting president for reelection, where the next generation of party leaders knows that there will be an open race the next time around.
But the GOP's divisions and the pessimism of many Republicans about Donald Trump's prospects in November have created a similar dynamic in Cleveland. And along with Senator Joni Ernst of Iowa, Cotton has emerged as the most popular attraction in town. In addition to the trio of early states, he's received invitations to address the California, Ohio, Florida, and Connecticut delegations (among others). He told me he'd be speaking "to as many Republicans as I can."
Cotton looks even younger than his not-yet-40 years, and he sometimes resembles a polite, eager student as he waits in restaurants and hotel banquets for handlers to introduce him to party activists from one state or another. But he has a résumé built for national leadership in the pre-Trump GOP: Raised on a family farm in Arkansas, he earned both bachelor's and law degrees from Harvard before joining the Army after 9/11. He served tours in both Iraq and Afghanistan, earning a Bronze Star, and defeated Democratic Senator Mark Pryor in 2014 after serving just a single term in the House. Within months of his arrival in the Senate, Cotton had made a national name for himself by aggressively opposing the Obama administration's Iran nuclear deal.
Despite his rapid rise, Cotton is already too practiced a politician to cop to ambitions for 2020, or to the possibility—likelihood?—that the Republican presidential nomination will be up for grabs in four years. "I'm not planning on that at all," he said. "But it is important that we continue to build the party, and the states you just mentioned and I just mentioned are all critical states for the election."
Charlie Bass, a former New Hampshire congressman, had the luxury of being more candid, having been retired by the voters of his district in 2012. "I think Senator Ernst and Senator Cotton are certainly interested in running in four years," Bass told me a few minutes after Ernst finished speaking to New Hampshire delegates on Tuesday morning. "If Senator [Lindsey] Graham from South Carolina were here, I'm sure he would be stopping by."
In addition to Ernst and Cotton, the New Hampshire delegation is hearing from two 2016 also-rans who could try again in four years, Governors Scott Walker of Wisconsin and John Kasich of Ohio. Might Rick Santorum be eyeing a third try at the presidency? He's speaking on Thursday morning to the delegates from Iowa, site of his 2012 caucus victory. Iowa is also hosting a boat cruise Wednesday with Newt Gingrich, who was a running mate runner-up this year but who will be 77 come 2020.
"We had a lot of folks reach out to us," said Jennifer Horn, chairwoman of the New Hampshire Republican Party, who helped choose the politicians that would be addressing the delegation. "Ultimately, we are very lucky that we had an abundance of people interested in speaking to our group."
The pitched battle for control of the Senate this fall makes life easier for Ernst and Cotton as they make their rounds—they can stump for their colleagues, build reputations as a team player, and perhaps most importantly, avoid hitching themselves too tightly onto the tattered coattails of Donald Trump. Both earned speaking slots at the convention on Monday evening, although lengthy speeches pushed Ernst's appearance back until close to midnight when Quicken Loans Arena had all but emptied out. Neither senator mentioned the nominee at all in their remarks Tuesday to the New Hampshire and Iowa delegations, an omission that delegates noticed but mostly shrugged at. "Joni's ambitious, but I don't think she's being inappropriately ambitious," said Richard Rogers, a 66-year-old delegate and airplane pilot from Iowa.
During a year in which many GOP activists believe holding the Senate is just as important as electing Trump—if not more so—Ernst drew enthusiastic praise for her speech to New Hampshire delegates. She focused exclusively on promoting the reelection bid of her fellow freshman, Kelly Ayotte, who is in a close race with Democratic Governor Maggie Hassan. What was a bit awkward was that Ernst was speaking about a candidate who wasn't there, since Ayotte skipped the convention to spend the week campaigning at home and to put about 600 miles of literal distance between herself and the GOP's unpopular standard-bearer.
At a luncheon sponsored by the Iowa Economic Forum, Cotton gave a more traditional, red-meat speech that touched on his preferred topics of crime and immigration. Although he neglected to mention Trump, he made sure to tout the leadership of Charles Grassley, the state's six-term senior senator who is facing the toughest reelection bid of his career (although he remains favored). And Cotton included a requisite bit of personal biography and a knowing nod to Iowa's self-importance. Politicians who speak before Iowans, he said, will sometimes pander a little. "I'm not going to do that," he said. "I'm just going to say that I love Iowa so much that I married a girl who born in Iowa." Cotton was quick to clarify that his wife, Anna, wasn't actually an Iowan—she was merely born in a hospital in Sioux City, which had better facilities than hospitals in neighboring Nebraska.
The crowd laughed, and when he was done with his speech about 15 minutes later, applauded warmly. Cotton had finished what might be described as the maiden speech of his presidential candidacy. "I'm sure we'll see him in Iowa before long," Rogers observed—a statement that for an Iowan is tantamount to an invitation. The outcome this November will likely determine exactly when Cotton's nascent campaign resumes.