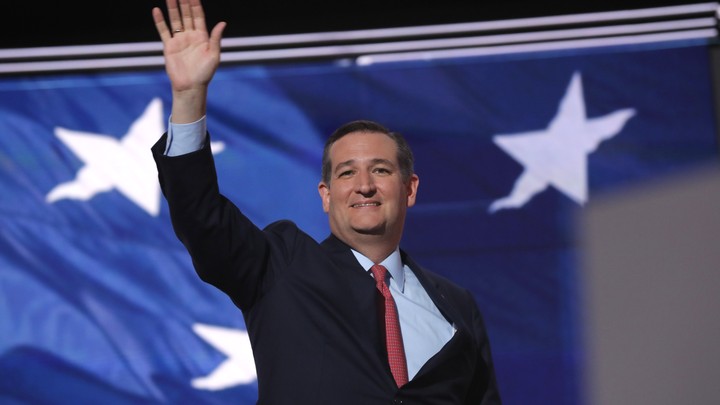 CLEVELAND—Principled stand, or career-ending mistake?
It's a question that has followed Ted Cruz throughout his relatively brief time on the national stage. And the debate erupted again on Wednesday night on the floor of the Republican National Convention after Cruz's latest brazen move to withhold an endorsement from Donald Trump and instead use his primetime address to urge Americans to "vote their conscience" in November.
Allegedly whipped up by Trump supporters, the crowd inside Quicken Loans Arena booed Cruz off the stage.
"It was a mistake," Representative Bill Huizenga of Michigan said immediately after Cruz finished speaking. Huizenga is a former Marco Rubio supporter who has also refused to endorse Trump. But he isn't addressing an audience of millions at the convention, and as he stood on the floor, he argued that if Cruz couldn't throw his support behind the nominee, he should have stayed off the stage. Cruz, the congressman said, had an opportunity to help bring the party together with a unifying speech.
"He missed. He whiffed," Huizenga said.
As Huizenga was speaking to me, a Cruz supporter from Washington State interjected. "That took a lot of cojones," Selena Coppa, an alternate delegate, told us. "He put principle over tactics, and that endeared him to me even more."
Eric Trump was speaking to the convention, but Huizenga and Coppa weren't paying attention. Instead, they began to debate, politely but firmly, the merits of Cruz's move and its implications for the Republican ticket in November. "I'm not voting for any candidate that endorsed Trump," Coppa told him. "That's my standard in 2016."
Huizenga, a 47-year-old in his third term, asked her why she chose to stay at the convention if she so viscerally opposed Trump. "Somebody needs to be here to show people that not everybody endorses this bigotry," she said.
As Merrill spoke, yet another Washington State delegate seated behind her, Fredi Simpson, jumped in to defend Trump and excoriate Cruz. Trump, she said, was magnanimous just to allow him to speak at the convention—a privilege, Simpson noted, that Mitt Romney did not afford Ron Paul in 2012. "This shows the class of Donald Trump," she said. Simpson called Cruz "disrespectful" for refusing to endorse Trump. "Donald Trump took the high road, and Ted Cruz totally lost me forever."
It was a discussion that encapsulated the divide in the GOP for the last year, and which Republican leaders had desperately hoped to close this week in Cleveland. "This is the problem," Huizenga told me afterward. "It certainly didn't get closer, and it probably got further apart."
We want to hear what you think about this article. Submit a letter to the editor or write to letters@theatlantic.com.
Russell Berman
is a staff writer at
The Atlantic
, where he covers politics.