Shaming the Democrats Back in Line
For the party elders, day one of the convention was about scolding the left back together.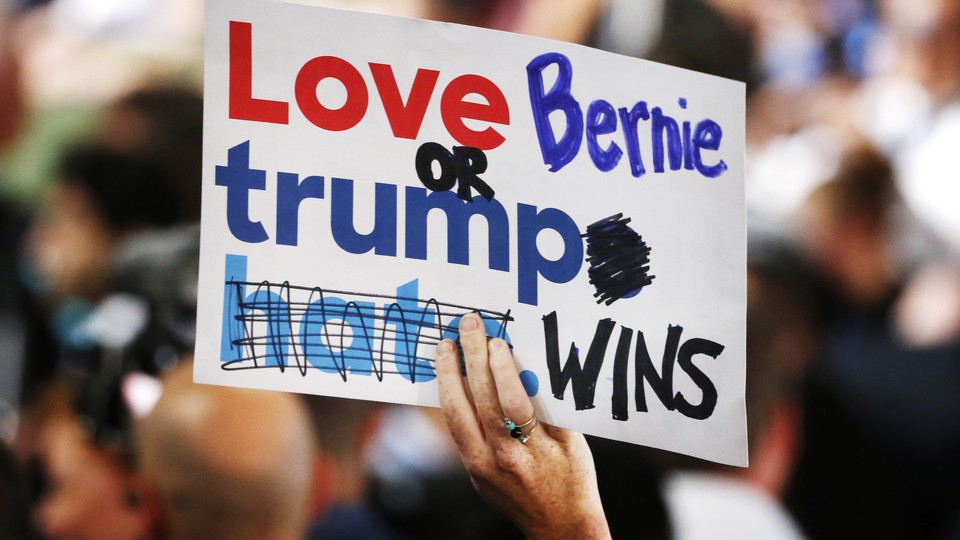 On the heels of a Republican National Convention characterized by plagiarism, treason, and chaos, one might have thought that this week would be a layup for Democrats eager to trade on competence and cohesion. So far, it hasn't been.
The first half of the first day of the Democratic convention was characterized by a nasty and very public bout of party indigestion. Amid loud booing and generally very bad vibes, soon-to-be-resigned Democratic National Committee Chairwoman Debbie Wasserman Schultz relinquished her last vestige of authority and ceded her gavel to Democratic National Convention Secretary Stephanie Rawlings-Blake to officially begin the proceedings.
Several hours earlier, Senator Bernie Sanders, (no stranger to intraparty battle), faced a rowdy crowd of Vermont delegates and preached for, of all things, a return to electoral realism—and asked his supporters to throw their weight behind Hillary Clinton. Mostly, that fell on deaf ears: Sanders protestors marched in the Philadelphia streets to voice their displeasure; some publicly suggested that a Trump administration would be better than Clinton in the White House.
Against this restive backdrop, the party's top lieutenants were forced into the role of prime-time peacemakers, tasked with encouraging Democratic unity in a party that has only lately acquiesced to tenuous detente. They did so through a combination of alarmist truth telling—born from the reality of a Trump-Clinton matchup that has lately gotten tighter—and cold-water scolding about party division, driven equally by frustration and exhaustion.
The keynote speaker of the evening, Sanders defaulted to the former, offering an exhaustive laundry list of reasons why a Trump presidency would be disastrous for both American democracy and society, ranging from climate change to the Supreme Court. Logic, not passion, was the order of the day as Sanders invoked Clinton's campaign slogan by saying, "We need leadership which brings our people together and makes us stronger." He concluded, with certain finality, "By these measures any objective observer will conclude that…Hillary Clinton must become the next president of the United States. The choice is not even close."
Senator Elizabeth Warren, meanwhile, offered an argument that was indignant yet somehow pedagogical, painting a doomsday picture of "Donald Trump's America" which she described as "an America of fear and hate—an America where we all break apart." But Warren's delivery was surprisingly low-energy. In part she may have been distracted by incessant chiding from Sanders supporters in the audience who were shouting (among other things), "We trusted you!" Or perhaps Warren was chastened by the show-stopping speech from the First Lady, who immediately preceded her.
Michelle Obama's speech, which is likely to go down the best of her (public) career, was at its core a repudiation of the negativity that has come to characterize so much of this year's race. From the start, she cautioned Democrats that theirs is the party of hope, and of optimism. She spoke of (ahem) unnamed bullies, and reminded her audience that, "When they go low, we go high."
More pointedly, Obama reminded fractious Sanders supporters of Hillary Clinton's response when she lost in 2008: "When [Hillary] didn't win the nomination, she didn't get angry or disillusioned," said Obama. "Hillary didn't pack up and go home," because she knew that the race was "so much bigger than her own desires and disappointment." It was perhaps the night's most eloquent subtweet: this was a parent speaking to an unruly child, only the parent was the First Lady of the United States.
Though they were most directly a dig at Trump and his supporters—who have been animated almost entirely by the notion of American decline—Michelle Obama's most ferocious lines of the night were equally relevant to Sanders supporters who have long bemoaned the sad state of affairs in the United States:
I wake up every morning in a house that was built by slaves, and I watch my daughters—two beautiful, intelligent, black young women—playing with their dogs on the White House lawn. And because of Hillary Clinton, my daughters—and all of our sons and daughters—now take for granted that a woman can be president of the United States. So don't ever let anyone tell you that this country isn't great—that somehow we need to make it "great" again—because this right now, is the greatest country on earth.
Here was Obama's realest of #realtalk: a black woman telling the rest of the country that things were not as bad as they seemed and indeed "change"—so often hoped for, wished for, prayed upon—was already here: A woman will be the Democratic nominee, and American history is forever changed. The audience, perhaps finally realizing this, roared with approval.
But in the end, the most pointed call for party unity came in an unscripted moment. As comedians Sarah Silverman (a one-time Sanders advocate) and Senator Al Franken (a longtime Clinton supporter) stood onstage to introduce a performance by Paul Simon—ironically or un-ironically, Bridge Over Troubled Water—a rowdy crowd began heckling Silverman's endorsement of Clinton. It was yet another messy moment on a particularly messy day. And it got messier still when Silverman and Franken were forced to "stretch"—industry parlance for ad libbing necessitated by something, somewhere getting screwed up. But out of this tap dance came a lighting bolt of clarity: Silverman leaned into the mic and told the "Bernie or Bust" crowd that they "were being ridiculous."
There were plenty of boos, of course: This was not a crowd that had been easily quieted. But Silverman, however briefly, offered insight into what many party elders are probably thinking right at this very moment. There will continue to be eloquent and fearsome speeches about the risks Trump poses, and the duties required of Democratic voters—namely, Sanders supporters—in the days and months ahead. Just how convincing these speeches are will rest largely on the degree to which party leaders can put aside their frustration that they still have to make them, and deliver a message that can unify their party.