The Republicans Who Are Staying Home From Trump's Convention
Excuses include "I've got to mow my lawn" and "I've got to really do my hair that week."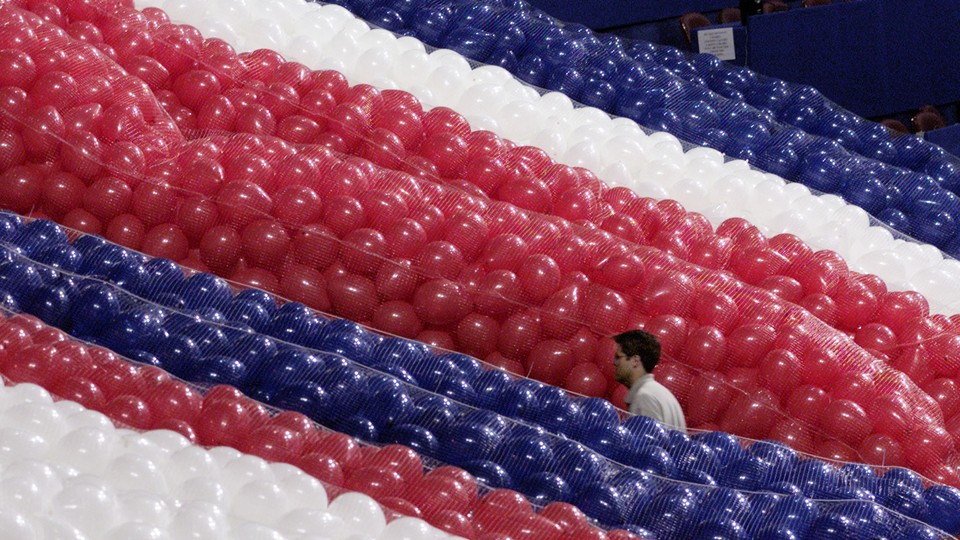 There's nothing quite like a presidential-nominating convention to turn the political establishment into a gaggle of navel-gazing, status-conscious high schoolers.  Invariably, as the quadrennial, four-day schmoozefests approach, tongues cluck and wag in judgment and anticipation: Which political up-and-comers will score prime speaking slots? Are big-name celebs scheduled to appear? Will one of the losing candidates make a stink? Which state's delegates will have the wackiest hats? Which lobbying shops are hosting the hot after-parties? To whom must one suck up for an invite? And can someone on the Republican planning team please line up a better musical headliner than Kid Rock?
In this cycle, the GOP convention is generating a whole different level of buzz. With Donald Trump scaring the knickers off the party establishment, many players are debating whether to show up in Cleveland at all. Those politicians, strategists, and fund-raisers who do skip the festivities will then have to figure out how best to spend what is typically one of the hottest weeks on the political calendar.
Put another way: What happens when an elaborate, expensive, nationally televised coronation spectacle is taken over by a nominee who gleefully trashes the establishment that created it?
Short answer: A whole lot of politicos wind up sitting home in their sweatpants binge-watching Veep.
Deciding whether or not to do Cleveland may be simplest for Republican pols on the ballot in November. If a candidate is running in a state or congressional district that trends blue or purple—or whose voters did not enjoy Season 14 of The Apprentice—he or she should stay away from Trump-a-palooza, period. Happily, the need to spend four valuable summer days wooing voters back home is the perfect excuse to avoid the presidential pageant without raising eyebrows. Already, the list of Republicans who claim to be too busy serving constituents to attend includes the rising-star congresswomen Elise Stefanik and Mia Love (who is opting for Israel over Cleveland), as well as Senators Kelly Ayotte and Mark Kirk. (Not that Kirk is shy about his anti-Trumpness. As he explained his planned non-attendance in a radio interview in April: "I've got to really do my hair that week.") While Senator Pat Toomey "has not ruled it out," his office told me, he is "not likely" to attend thanks to "his busy campaign schedule in Pennsylvania." Even the former presidential nominee John McCain, said his campaign spokesman, will be "traveling across Northern Arizona that entire week" rather than partying down in Ohio. "Most of our candidates will be doing in-state campaigning," Andrea Bozek, the communications director for the National Republican Senatorial Committee, told me. "And if they aren't, they should."
For Republicans not on the ballot, the calculation is more involved. They must decide how willing they are to risk alienating the party's easily affronted standard-bearer. For #NeverTrumpers such as Senators Lindsey Graham, Ben Sasse, and Jeff Flake, it's an easy call. Graham will be spending convention week elsewhere, stumping for fellow Republicans. Sasse isn't sure exactly yet what he will be doing, his office said, but you can bet he won't be schlepping to Ohio to kiss Trump's, um, ring. And Flake recently told reporters that he cannot possibly make the big event because, he said, "I've got to mow my lawn."
Senator Susan Collins, by contrast, will be attending, although she has yet to make up her mind about backing Trump. And at least one on-the-Trump-fence lawmaker feels obliged to go, despite being begged by a top aide not to attend. "I've been trying to get him to be anywhere other than Cleveland that week," lamented the aide, who wished to remain anonymous to spare himself and his boss abuse—"Israel, Alaska, Hawaii. I've tried everything!" But the senator is set on going, said the aide, on "the very narrow chance that something surprising does end up happening."
The trickiest juggling act may be for Ohio Senator Rob Portman. On one hand, he's running for reelection in a key swing state. On the other, how bad would it look for the Republican senator from the state where the Republican convention is being held to bail? Luckily, Portman's team has found a way to split the difference. The senator will drop in on the official convention now and again, but much of his week will be spent overseeing his own confab, organized as a thank-you to his campaign volunteers. Among other activities, some 500 summer interns will be bused into Cleveland to do a community-service project (Portman is a big Habitat for Humanity booster), as well as schmooze with other Republicans who Portman's people are hoping to lure over from the convention proper. That Tuesday, the senator will kayak down the Cuyahoga River with a group of veterans to help Team River Runner raise funds for its wounded-warriors projects. Portman's people stress that these events have been in the works since well before the nomination was sealed. Still, the fine-tuning of the Senator's schedule will continue right up until the last minute, so it's tough to say how much time he will wind up being able to spend at Trump's get-together. Clever, no?
For the consultant class, Cleveland poses a different sort of dilemma. A nominating convention is part homecoming and part networking bonanza, with a big splash of partying thrown in. (Think Mardi Gras, but with even more booze.) All of one's old friends are there, plus clients, potential clients, the media, major donors, a smattering of hot celebrities, and all kinds of other folks who might be useful down the road. (Did I mention free booze?) To miss a convention is to miss what passes for fun in political circles. And as the long-time strategist Dave Carney, who advised both Newt Gingrich's and Rick Perry's 2012 runs, pointed out to me: "Real political people don't do anything for fun."
Nonetheless, many of the usual suspects just cannot bring themselves to join this year's carnival—either out of principle, self-preservation, or an overwhelming sense of nausea. "Nothing short of a delegate revolt that ends in Trump being ridden out on a rail could tempt me to Cleveland," declared the speechwriter Mark Salter, who is also known as John McCain's alter ego. Salter plans to ride out the week at his home in Maine, far from the madness.
The strategist Todd Harris, most recently of Team Rubio, has not missed a convention since 1992. Neither has the commentator and strategist Juleanna Glover. That is, until this year. In lieu of Cleveland, Harris says he'll probably just stay home to play with his young daughter. Glover will "supervise her teenagers"—and work, of course. "There's nothing going on in D.C.," she said, "but for the rest of corporate America, it's a work week. The world turns."
Similarly, the communications consultant Mark Corallo is a frequent convention goer. Even when he didn't make it to Romney's nominating party in 2012, he sent someone from his firm to help out. This year? "I'm not doing anything." Corallo plans to hang out with his wife and four kids while catching up on his favorite BBC shows: Wallander, a crime series starring Kenneth Branagh as a Swedish cop, and The Last Kingdom. "It takes place under the reign of Alfred the Great and is about the making of Britain," he explained enthusiastically.
Meanwhile, the consultant Sara Flores, who served as the deputy campaign manager for Carly Fiorina's presidential run, quipped that convention week might be the ideal time for "a Law & Order marathon."
Carney, it seems, was not joking about the thrill-a-minute private lives of political pros. In fact, Carney goes so far as to predict that the folks not going to Cleveland will spend much of the week watching the proceedings on C-SPAN. And all those people "feigning disinterest," he chuckled, are going to be glued to their Twitter feeds.
Of course, not everyone is taking the conscientious objector route. "I hate conventions and will try to avoid if possible," the author and former Romney strategist Stuart Stevens emailed me. Even so, Stevens expects to be in Cleveland "for book stuff." (Regardless of the nominee, a mass gathering of the Republican faithful is prime territory for anyone with a new book, a consulting service, or a tacky T-shirt to sell.)
Other strategists, including Carney (of course he's going!), told me they need to be in Cleveland because clients will be there. Still others, like Sue Zoldak, are affiliated with Super PACs that are hosting events. As a Cleveland native, Zoldak has been serving as an unofficial tour guide for incoming friends, talking up her hometown's orchestra, its art museums, the historic West Side Market, and "where to get the best pierogis."
One must also factor in the anti-Trump strategists covering the show as part of TV networks' full-employment program for GOP operatives. These include the former Romneyite Kevin Madden, who will be doing commentary for CNN; the former RNC communications director Doug Heye, also on-call for CNN; and the former Jeb! guru Mike Murphy, who insisted he will be attending "only due to the largesse of my paymasters at the National Broadcasting Company." These guys don't necessarily want to go, mind you, but someone has to feed the news beast.
And then there are folks like the veteran strategist John Feehery, who appear to be going just because. "I have been to every Republican convention since 1992," Feehery told me. "It's just habit, I guess."