Meet the Speakers at the Republican National Convention
The list includes professional golfer Natalie Gulbis and UFC president Dana White, but is notably short on Republican stars.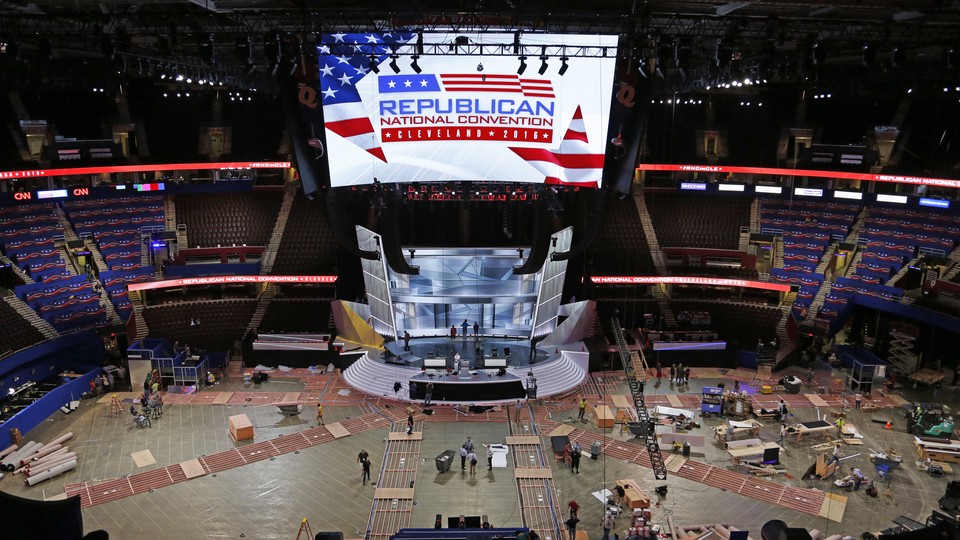 NEWS BRIEF  The most highly anticipated invite list of the year is out—and it's missing a few names.
On Thursday, the speakers list for the Republican national convention was released—and, to some extent, it promises to fulfill the "showbiz" quality Donald Trump hoped to bring to the gathering. It includes professional golfer Natalie Gulbis and Ultimate Fighting Championship president Dana White.
There was clearly considerable effort invested in ensuring that the speakers would look more like the general electorate than the party's base. The list includes a number of women—Senator Joni Ernst; Florida Attorney General Pam Bondi; Eileen Collins, the first woman to command a U.S. spacecraft; and Melania and Ivanka Trump. Then there are Jamiel Shaw Sr. and Darryl Glenn, two African Americans who will address the convention.
But the lineup is notably short on GOP star power. Only five of the 16 Republicans who ran against Trump will be speaking, including Ted Cruz, Mike Huckabee, Ben Carson, Chris Christie, and Scott Walker. Ohio Governor John Kasich, whose state is hosting the convention, and Indiana Governor Mike Pence, a possible Trump VP pick, are not listed to speak. Kasich has not endorsed Trump and conceded in a Washington Post interview that his absence from the convention will be "strange." Pence, on the other hand, met Trump and his family on Wednesday, fueling speculation that he might be his running mate—which might explain his absence from the list. Former Republican presidential nominee, Mitt Romney, Senator John McCain, and former Alaska Governor Sarah Palin are also not included in the list.
The list is a culmination of weeks of tension between Republicans and their party's presumptive nominee. In the lead up to the convention, some representatives, senators, and governors said they had no intention of attending, let alone speaking at, the convention. Not until this week did House Speaker Paul Ryan, who has distanced himself from Trump, say that he would address the national gathering. "I want to talk about our ideas, our solutions, and how our party should unite … around our common principles and how we apply those principles to problems," he told Politico's Playbook. Ryan will deliver a 10-minute speech. House Majority Leader Kevin McCarthy is also scheduled to speak, as is Senate Majority Leader Mitch McConnell.
The New York Times has more on the tentative schedule, which aims to strike a different theme each night:
Night 1: A Benghazi focus, followed by border patrol agents and Mr. Shaw, whose son was killed by an undocumented immigrant. Senator Cotton, Mr. Giuliani, Melania Trump, Ms. Ernst and others.

Night 2: A focus on the economy: Mr. White, president of the U.F.C.; Asa Hutchinson, the governor of Arkansas; Michael Mukasey, the former United States attorney general; Lt. Gen. Michael Flynn, a vice-presidential possibility; Senator Mitch McConnell of Kentucky, the majority leader; Tiffany Trump; Donald Trump Jr. and Gov. Scott Walker of Wisconsin.

Night 3: Ms. Bondi; Ms. Collins; Newt Gingrich, a former House speaker; Senator Ted Cruz of Texas; Eric Trump; Ms. Gulbis; and the nominee for vice president.

Night 4: Mr. Tebow; Representative Marsha Blackburn of Tennessee; Gov. Mary Fallin of Oklahoma; Reince Priebus, the Republican National Committee chairman; Gov. Rick Scott of Florida; Mr. Thiel; Mr. Barrack; Ivanka Trump; Donald J. Trump.
Trump is still inviting people to the convention, according to the Times. He is also expected to announce his VP pick on Friday in New York.