The Unsolved Violence of Baton Rouge
After years of racial and economic tension, the Louisiana city must wrestle with the shootings of Alton Sterling and six police officers.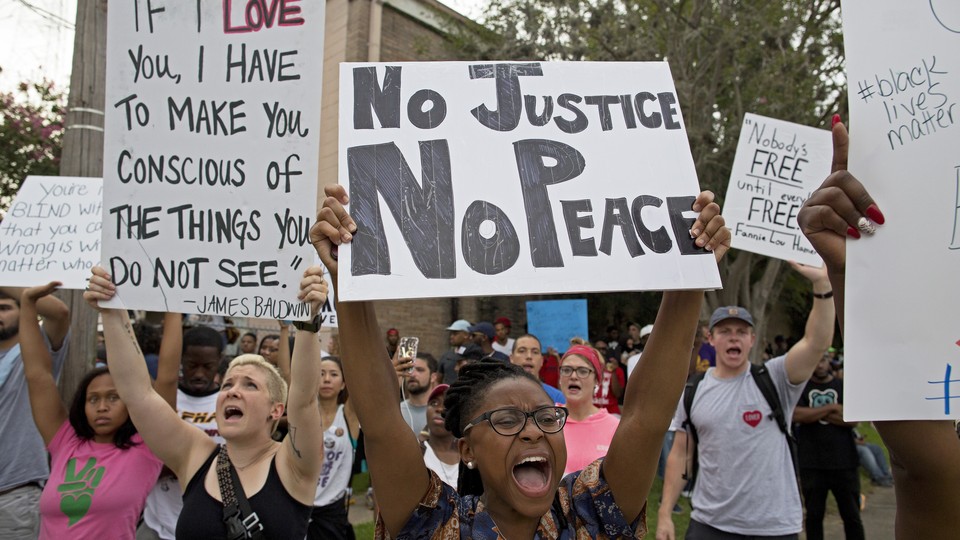 BATON ROUGE, La.—Two city police officers and one sheriff's deputy were shot dead on Sunday in broad daylight in Baton Rouge, Louisiana. Three others were injured by gunfire, one critically. The gunman, identified in reports as Gavin Long of Missouri, was killed at the scene of the crime. Police have not confirmed his identity, and are not yet prepared to say whether he acted alone. What they have confirmed is that at 8:40 a.m. on Sunday, dispatchers received word of a man in black clothing carrying a rifle outside of a convenience store adjacent to a shopping center. Police spotted him almost immediately, and a "shots fired" call went out at 8:42. At 8:44, officers were reported down. Two minutes later, the gunman had moved to a neighboring carwash, and at 8:48, he was killed.
The slaying of three police officers did not happen in a "dangerous" part of town, where cops might go in expecting trouble. The shooting occurred next to a shopping center visited regularly by many people in the city. Hammond Aire Plaza is the same kind of chain-store-dotted lot found in dozens of cities across the United States. Battered sedans and new SUVs sit side-by-side in the parking lot. There's a Michaels craft store and a family shoe store that sells cheap back-to-school sneakers. There's a grocery store and a Taco Bell. There are two car washes, both of which overdo it on the Armor All and try to upsell customers on windshield-crack repair. Nearby, a Chili's. Walgreens. Walmart.  Longtime residents will always describe the location as "where the old Blockbuster Video used to be."
This is as ordinary a stretch of road as one might ever find in a mid-sized American city. It is now also the scene of a massacre.
Baton Rouge isn't a large city, though it has a large footprint: No two buildings are within walking distance. The city largely lacks sidewalks or pedestrian crossings; to walk, here, is to place your life in the hands of texting motorists driving oversized cars and extended-cab pickup trucks. There are no bike lanes and no public transit systems, save a bus network that is unreliable, mired in scandal, and seemingly on the brink of collapse. If you live in Baton Rouge, you drive. Live here for a full year and you will spend just shy of two days—47 hours—sitting in traffic. If you can't afford a car, you can't go anywhere. This locks the poor into poverty: No job, no car; no car, no job. Perhaps more significantly, it locks them into certain geographic areas, nearby and yet far out of view.
Because the city is so spread out—even a city as small as this—when something significant happens a scant two miles away, it may seem to some to have happened in another country. The killing of Alton Sterling sparked a series of protests—documented in video footage—but in Baton Rouge, they didn't make much of a mark, despite a week of round-the-clock national coverage. The protests were largely limited to predominantly black, poor areas, which means their message was likely lost on the locals who most needed to hear it. I heard only one person bring the protests up at a coffee shop this weekend: "Are protests still going on?" she asked. "I might go to the library on Goodwood if not."
All of this has made me acknowledge how little I really understand about the lives of people in this city, even though I've lived here for most of my life. What do I know about the life of a law-enforcement officer? That week of images of Baton Rouge police in full body armor—it was so needless, the armor, so obviously wrong, and yet, I didn't really fault the police for the gear they wore. Five police officers in Dallas had been gunned down within days of Alton Sterling's death. If I were a police officer with a family at home, I would have begged for protection. And anyway, Baton Rouge isn't experienced in dealing with riots or heated protests; it isn't important enough to stoke such flames of passion on any topic. It often seems that nobody would notice if residents burned Baton Rouge to the ground.
The police didn't know what they were doing, and they were frightened. As we now know, they had a right to be. The next cop-killing bullets did, after all, have their names on them.
Before the death of Sterling and the protests that followed, there were signs that something was building in Baton Rouge. It felt as though tectonic plates were sliding against one another beneath our feet, and not smoothly. Journalists at The Advocate, the city newspaper, have reported diligently on issues of gross inequality. Consider the lack of emergency-room facilities in north Baton Rouge, a poorer part of town with a heavy black population. As a cost-saving measure in 2013, the Louisiana government closed the Earl K. Long Medical Center in that part of town. The state hospital had been treating the uninsured and the poor since 1968, often providing emergency care. The closure happened, but beyond selected press coverage, it didn't seem to get much notice.
North Baton Rouge also lacks commercial development. Despite recent years of brain drain, the city has had some economic success, spurred in part by a thriving film industry (that now seems set to pull up stakes), hotel construction, and major investments by such technology firms as IBM and EA Games. But little, if any, of that commercial success has been felt in north Baton Rouge. To the extent that lawmakers have tried to make progress in that area, it has largely been under protest, with no measurable gains to report. Even the proposed $100 million project to revitalize Baton Rouge's zoo comes with a caveat: Move the facility out of north Baton Rouge to the affluent area south of Louisiana State University.
In 2013, the unincorporated, financially thriving, southernmost part of East Baton Rouge Parish attempted to found a new city to exist alongside the city of Baton Rouge. Currently, many Baton Rouge residents don't actually live in the city proper—they live in "unincorporated areas" within the parish, basically indistinguishable from the sprawling city. Louisiana law allows these areas to organize as cities of their own, provided enough people sign a petition to get on the ballot. If this city, to be called St. George, were founded, 30 percent of the parish general fund would vanish, since wealthier citizens would now live in the new city.  It would all but but obliterate the financial well-being of the city of Baton Rouge, and north Baton Rouge in particular.
The petition failed in 2015, falling a mere 71 votes shy of the needed 17,859. Beneath the talk of better school districts and property taxes was a more provocative set of figures: At present, the city of Baton Rouge is 55 percent black and 40 percent white. The new city of St. George would have been 70 percent white, 23 percent black. Hard feelings and resentments brought out during that process have not dissipated.
It was a relief that protests following Alton Sterling's death did not devolve into riots. But they did expose seemingly intractable problems. The city is largely segregated—if not racially, then certainly economically. Poor people have certain parks. Middle-class people have other parks. Upper-class people have country clubs. When a gunman shoots to death three law-enforcement officers and wounds several others in a part of town visited by everyone, the unadorned reality of Baton Rouge is suddenly revealed for all. Here is your city. Here is the hatred. Here is the danger. Here are the problems unsolved.