Card Shark
Bikini trading-card king Brian Wallos expands his empire to politics, training his gaze on 2016's winners, losers, and rookies as well as the future stars of 2020.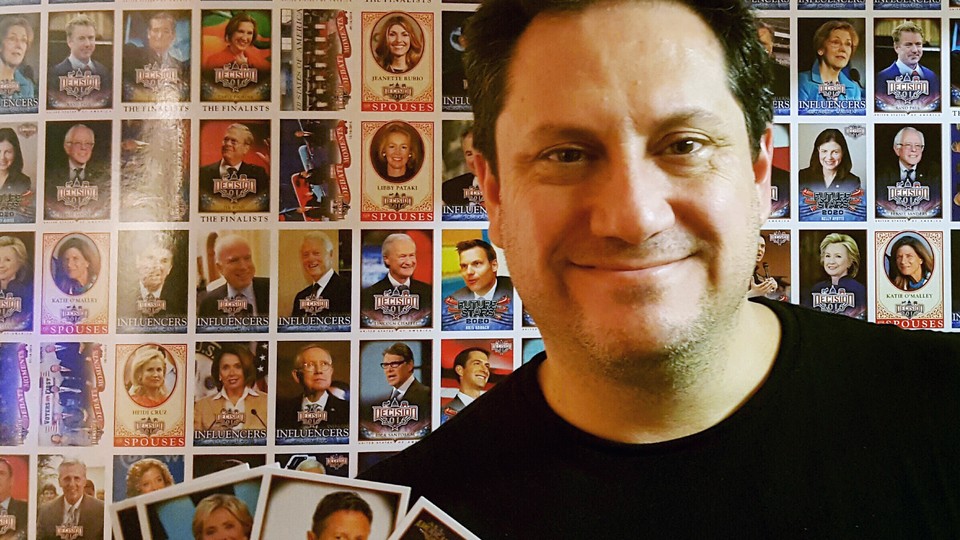 Some say that nobody remembers who came in second. But trading-card manufacturer Brian Wallos remembers not only who came in second, but who came in third, and fourth—and even 15th, 16th, and 17th.
Wallos's Decision 2016 political trading-card set, released in mid-April, is perhaps the most ambitious and comprehensive effort to date for cable-news addicts who also grew up collecting baseball cards. Instead of documenting when a player was drafted in what round, Wallos reminds collectors of the exact moment each candidate dropped out of the race. And rather than commemorating highlights, like Derek Jeter's 3,000th hit, Decision 2016 cards capture seminal moments, like Hillary Clinton facing tough questions at the Benghazi hearings and Pope Francis condemning Donald Trump's views on immigration. Borrowing another baseball-card gimmick, one out of every 288 packs contains an "authentic cut-signature" card from a presidential candidate, and one of every six packs includes a special "Trump Under Fire" insert card documenting one of the Republican nominee's many controversial moments.
But wait—there's more! A subset of "Spouse" cards puts Jane O'Meara Sanders and Melania Trump on equal ground with former President Bill Clinton.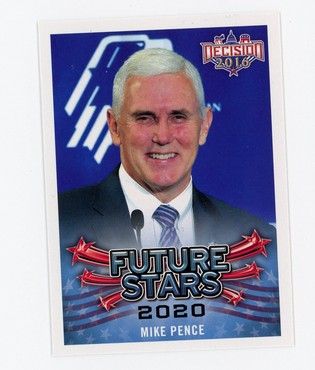 "Influencers" feature familiar talk-radio fodder like Nancy Pelosi and Mitch McConnell, while "Future Stars" are rookie cards honoring those relatively new to the national scene, such as Republican vice-presidential nominee Indiana Governor Mike Pence, North Carolina Governor Pat McCrory (defender of the anti-transgender bathroom law) and media darling Cory Booker, the freshman U.S. senator from New Jersey. Collect them all!
"Some of my regular card buyers have said, 'Oh, I hate all the candidates!' or they hate Trump or Clinton," says Wallos. "But the point is that there is no subject matter on Earth that I can put on trading cards right now that would be hotter than this."
And Wallos knows hot. He first made a name for himself in the collectibles business as a high-volume Beanie Babies dealer and then as the founder of Bench Warmer, a trading-card line featuring bikini models. Aiming to channel the "spirit of the Sports Illustrated swimsuit issue or Maxim magazine"—there's no nudity and the poses are only slightly more risqué than a typical beer ad—Bench Warmer made Wallos a small fortune. He even merited a 2011 appearance on The Millionaire Matchmaker, a Bravo reality-dating show that dubbed him a "wannabe Hugh Hefner." Bench Warmer introduced several new genres to the hobby, including Kiss Cards, which contain real lipstick prints from the models, and "Authentic Worn Zipper Memorabilia Cards," pieces from the models' "Daizy Dukez" cutoffs. (Sports cards often come with pieces of cut-up game-worn uniforms, too.)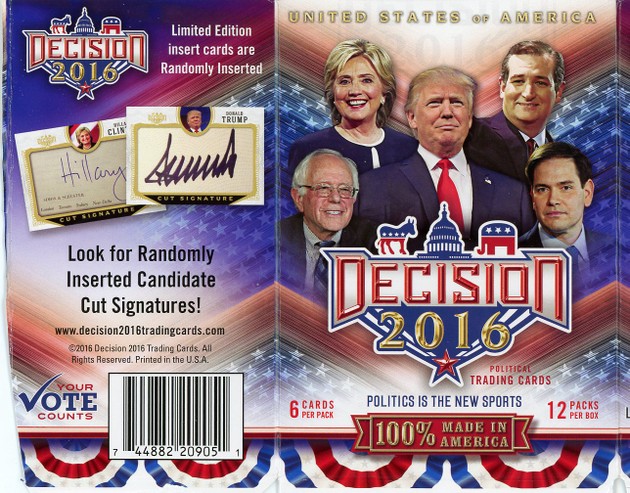 Perhaps to make the product more appealing to Walmart—where Decision 2016 cards are sold next to baseball, Star Wars, and Pokemon cards—there is no mention of the Bench Warmer brand on the Decision 2016 box. "I'm not trying to hide Bench Warmers—it's my baby," says Wallos. "But I want to diversify. This is just something fun for political junkies. Trading cards are a huge part of Americana. This is the kind of set that a grandfather could enjoy with his 8-year-old granddaughter. We tried to stay away from the real salacious aspect of politics." And indeed, though one of the special-insert cards is titled "[Trump] Says Hillary Clinton Got Schlonged," referring to Trump's comment about Clinton's 2008 primary loss to Barack Obama, the rest of the 110-card set is family friendly. And the descriptions on the back of the cards are politically neutral, giving no hints of where the otherwise-opinionated Wallos might stand.
Democrats will be delighted to find cards for Senator Elizabeth Warren and former Maryland Governor Martin O'Malley; and Bernie Sanders supporters in particular will be tickled to find a card for Representative Tulsi Gabbard, who resigned from the Democratic National Committee over perceived unfairness in the primary debate schedule. Talk about inside baseball!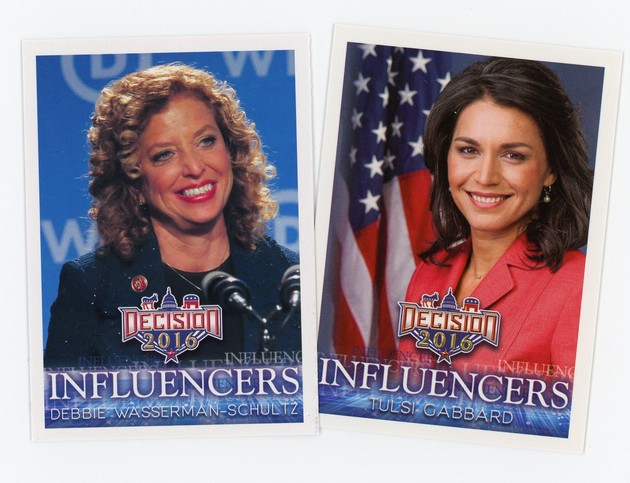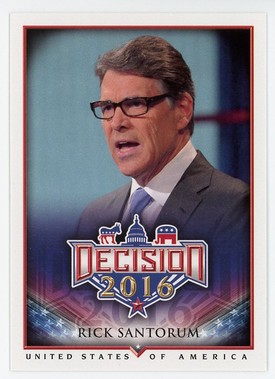 If you're a Republican who thinks that Wisconsin Governor Scott Walker and Louisiana Governor Bobby Jindal disappeared too quickly, their places in history are preserved here. However, if you're a fan of either former Governor Rick Perry or former Senator Rick Santorum, you may not be pleased by the card set's reminder of their shared low brand awareness and poor name recognition. The error card shows Perry's face with Santorum's name. Aside from hair color, the candidates really look nothing alike. Wallos says that the mistake was corrected in later printing runs. Maybe the error cards will become collectibles! (On the 1989 Upper Deck reverse-negative card of Dale Murphy, the slugger's team name—the Braves—appears backwards on his uniform; that card now has a $225 asking price on eBay.)
Decision 2016 cards do score points for inclusivity, though. In a rare gesture from a political-souvenir company, lesser-known candidates from the Green and Libertarian parties are represented, too. "They did a great job with my card. I couldn't have done it better myself," says software pioneer John McAfee, who made an unsuccessful bid for the Libertarian Party's presidential nomination. "We need more recognition of third parties. Americans need more choices and need to stop buying the Democrat-Republican line that voting third party is a wasted vote." And nothing says recognition like a trading card. "I'm going to buy out Walmart's entire stock and become the rarest trading card," McAfee joked. "I'll corner the market!"
"One of the things I am very proud of is that everybody is in the set," says Wallos. "I follow politics. I watch all the shows. But the average person probably didn't know who Elizabeth Warren was before Joe Biden said she'd make a great running mate for Hillary. The average person probably doesn't know who Reince Priebus is. All these newsmakers are in our set."
So will kids today rip open packs of Decision 2016 cards and stick Chris Christie and Marco Rubio in their bicycle spokes or offer to trade their doubles of Frank Fiorina for Melania Trump? Unlikely, says Wallos. The trading-card impresario grew up in the 1970s and 1980s ardently seeking Mets cards for pitcher Tom Seaver and slugger Dave Kingman, but today the thought makes him both wistful and pessimistic. Like the baseball-card market, the political-card market, he says, is a co-ed version of his customer base for Bench Warmer cards: people like him, in their 30s and 40s, who watch all the political talk shows and who grew up collecting cardboard—before the smartphone was invented. "Trading cards are not a kids' business anymore," says Wallos. "I say this hesitantly because I don't like it, but it's the truth. In the pop-culture world, trading cards are losing tremendous steam. They're an old-school product. Kids are only into video games and computers. Do they build tree houses anymore? Do they even go out and play anymore?"
Topps, the leading American trading-card company since the 1950s, has a slightly more captive audience to introduce kids to politics. Their popular Garbage Pail Kids parody cards recently featured "Donald Dump" using the U.S. Constitution as toilet paper, surgeon "Brainy Ben" Carson doing surgery on himself, and "Batty Bernie" Sanders strapped in a straight jacket in a padded room. Of course, these don't have the, shall I say, gravitas of the Decision 2016 cards—cards a pol can be proud of.
"It's not Major League Baseball, but I'll take it," George P. Bush told MSNBC of his "Future Star" card. The Texas land commissioner, son of Jeb Bush, and nephew of former Texas Rangers owner George W. Bush knows there is no shame in admitting: " I always dreamed of being on a trading card." In an April interview with ABC News, Ted Cruz was more circumspect; he called his rookie card "fairly amusing" and said he never thought he'd see himself on a trading card because "I can't throw a fastball and I can't throw a curveball."
However, some politicians featured in the Decision 2016 set prefer to keep their thoughts to themselves. Either the novelty of having a trading card means nothing when their faces are plastered on millions of campaign leaflets, or those who do love seeing themselves on cardboard want to play humble. Out of 10 "Future Stars" The Atlantic reached out to by email, only one chose to enthusiastically comment on his card. Consider this brusque rejection from the press office of Senator Michael Bennet:
Yes, Senator Bennet has seen the trading card, however, right now he's only focused on his work in the Senate serving Coloradans.
Or this non-sequitur brush-off from the office of Senator Kelly Ayotte:
It is my honor to serve the people of New Hampshire by representing them in the U.S. Senate, and my sole focus is working hard on their behalf. Our children are the next generation of leaders, and they can do anything they put their mind to. I encourage all students and their parents to learn about our political process, and think of ways that they can help make our nation the best place it can be.
Thank goodness for Kansas Secretary of State Kris Kobach, the sole state-government official featured in the set. No poor sport, Kobach happily embraced his card:
It's an honor to make the cut. The secretary of state is the "utility infielder" of politics, taking on a wide variety of executive responsibilities, so it's only fitting that there's at least one secretary of state in the trading cards.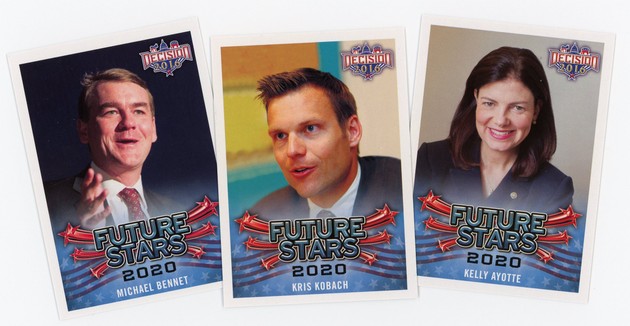 This may be Trump's first run for president, but it's not his first appearance on a trading card. As a celebrity boxing fan, his autograph was given away as a premium insert in a 2011 Muhammad Ali tribute set, and souvenir swatches of Trump-worn neckties were entombed in cardboard for The Apprentice trading cards in 2005. The Decision 2016 cards, however, do mark the first time Trump has been commemorated for making fun of a reporter's disability, mocking the war-hero credentials of Senator John McCain, insulting the physical appearance of fellow candidate Carly Fiorina, and calling for American Muslims to register in a national database. The gold-foil-embossed "Trump Under Fire" insert cards chronicle all these incidents and other controversial moments in the campaign.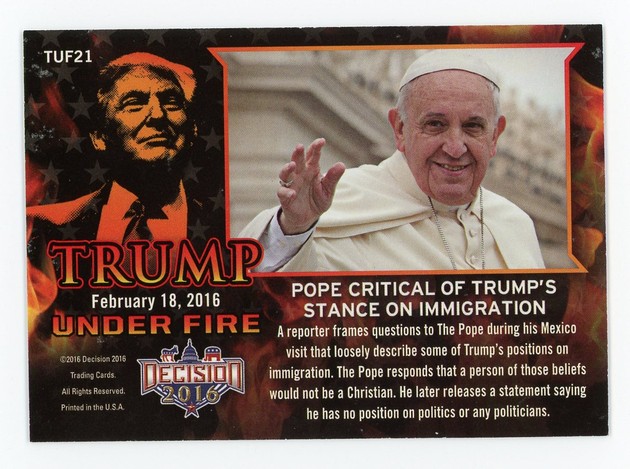 But Wallos is no Democratic shill—in fact he's a late-addition alternate delegate for Trump with the group from California, where he now makes his home. But originally, "I'm a New Yorker!" he says. "I've loved Trump since I bought [The Art of the Deal] in 1987 when I was 19. The guy is smart." In fact, Wallos says the "Trump Under Fire" cards "are meant to memorialize his defiance. He's like Teflon. Even if he says something totally stupid, something that might force other politicians to quit the race, he's a man who is comfortable with his own convictions. I'm amazed by how many times he wasn't forced to drop out."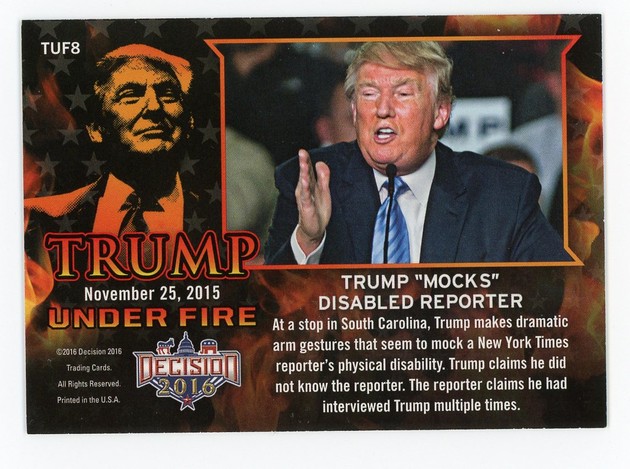 As for the candidates who have dropped out, Wallos is blowing them all cardboard kisses. "When more candidates started dropping out after the New Hampshire primary, I started to get a little nervous. But then I decided I'm not going to stress out because I have all year to sell this product. I feel like I am commemorating everyone who was in the race," he says. "And why wouldn't the dropouts have fans? Even Jeb Bush, who only got a small percentage of the vote, still has hundreds of thousands of people who like him."
"We're pioneers," adds Wallos. "We're pioneering the collectibles pop-culture market for politicians. I think I'm on the cusp of something big."