Philadelphia Has Brotherly Love for Protesters
Ahead of the Democratic National Convention, police and other officials are keeping calm and carrying on.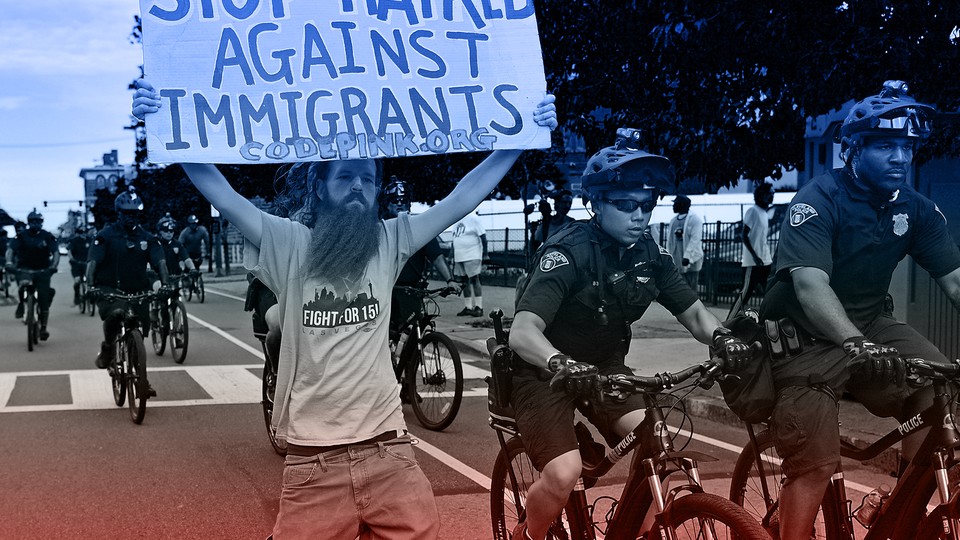 With days to go before tens of thousands of people, including many demonstrators, descend on the city for the Democratic National Convention, Philadelphia police and emergency-management leaders feel confident about being ready to welcome participants and protesters alike. "We are prepared to protect those wishing to express their opinions and exercise their rights, as we would during any event," Lieutenant John Stanford, the spokesperson for the Philadelphia Police Department, told me a few days before five police officers were killed in Dallas during an otherwise peaceful demonstration. So I called him back afterwards: I wanted to know if anything was different now.
"There are no changes in regards to policing that we would be able to discuss," he said, but he did add: "An event like this raises everyone's attention and brings a different level of concern to any city." Stanford explained, "There are discussions everyday across the country about how to police after the tragic death of five police officers, not just for the DNC." Stanford emphasized that Philadelphia police are as prepared as they usual are for demonstrators: "Our officers have to do a job outside of protests, which is to protect everyone in this city." I asked him if the prospect of copycats was a concern after the Dallas shootings. "Absolutely," he said. "Concern about copycats after this and after any major incident is normal. Any of these incidents that happen each day, you always have a concern that there will be copycat incidents or copycat individuals."
Since the attacks of September 11, 2001, both the Democratic and Republican conventions have been classified as national "special-security" events by the Department of Homeland Security, which means each event receives funds from the Department of Justice for safety and security. The designation also comes with special attention from national agencies like the FBI and the DHS. "We take their lead on all matters related to security," said Leah Daughtry, the CEO of the DNC. "We want to make sure that our guests are safe but also that the citizens of Philadelphia, who have been great hosts for us, are also safe."
Philadelphia received $43 million from the federal government for policing, fire protection, bomb squads, and a host of related expenses for the four-day event this year. An Emergency Operations Center will be activated to ease coordination between agencies that respond to emergencies. City, state, federal, nonprofit, and private-sector agencies usually staff the EOC during major incidents, which can include everything  from natural disasters to large-scale special events. Similarly, the city's Mobile Command Post can be rolled out at a moment's notice.
Location will play a big role at the DNC. As they have for more than 30 years, organizers will designate areas for marches and demonstrations. "That is a standard part of operating procedure because we want to make sure, as the Democratic Party, we have a diversity of opinion," Daughtry said. "And people want to be able to express that opinion and to share their opinions with the delegates who are coming to do the party's business. We make sure that they are able to do that in ways that are within sight and sound of the delegates."
"There's actually been an ongoing conversation with some protest groups," said Samantha Phillips, the director of the city's Office of Emergency Management, "just to better understand what they're looking to accomplish, and how we can work together to make that happen, which might seem a little strange, but it's really in the best interest of everybody if we work together on this front." Dan Bradley, the city's homeland-security program manager has been developing an algorithm that calculates the level and type of response needed based on the number of people at a certain event, its location in the city, and the multiple points of critical infrastructure and potential dignitaries involved.
Stanford mentioned that the police department is already monitoring some of the groups who have received demonstration permits, but he would not specify which ones. "I'll just simply say that we're looking at all groups, anybody that has expressed any interest in being here during the DNC, anyone that has expressed any interest in protesting," he said. The RNC in Cleveland will also act as a remote dress rehearsal for Philadelphia, as organizers can adjust their plans in light of how things went in Ohio.
The police department has also planned for the probability that protesters may show up without permits and that demonstrations may be improvised in response to a speaker or specific occurrence during the DNC. "We're going to respond the same way we would to those that have the proper permits. If they're peaceful, we're not going to silence anyone who shows up to speak their minds," Stanford said. "We ask that people do that in a responsible and respectful manner. We will make sure that people have an opportunity to express themselves, but it has to be done in a manner that's not going to be disruptive. You can't have a situation that jeopardizes the safety of anyone."
The Office of Emergency Management's Phillips agreed, saying the city would do "everything that we can do to make demonstrations happen in the safest and healthiest way." She said that included making sure there's enough water for demonstrators. "Those are things that the city doesn't normally do," said Phillips. "But given the week of activities, given that this is a very high-profile event in probably the hottest time of the year, we'll have misting tents. We'll have water. We'll have other things to just keep those who want to demonstrate on their feet and feeling healthy about it—not ending up in our emergency room."