President Obama: 'This Is an American Issue That We Should All Care About'
This week, police officers in two U.S. cities shot and killed black men. President Obama framed both incidents as part of a systemic problem.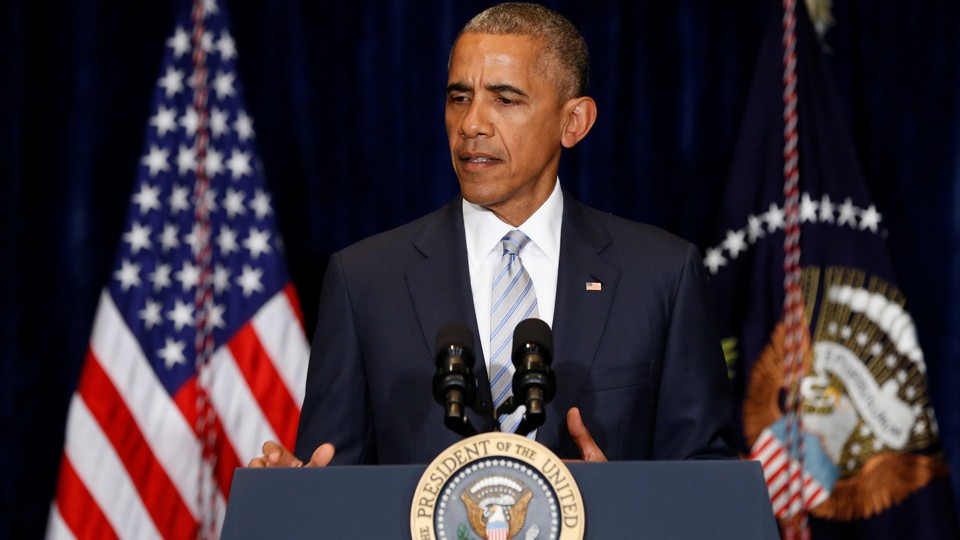 Updated at 7:26 p.m. ET
NEWS BRIEF  President Obama still had more to say.
On Thursday afternoon, the president released his first public statement on the two police-involved shootings in Louisiana and Minnesota this week. But after arriving in Warsaw for the NATO Summit Thursday night, Obama gave extended remarks that fleshed out his concerns over the shootings and what they mean to minority communities in America.
"When incidents like these occur, there's a big chunk of our fellow citizens that feels as if because of the color of their skin, they are not being treated the same—and that hurts," Obama said, at roughly 12:30 a.m. local time. "And that should trouble all of us. This is not just a black issue. It's not just a Hispanic issue. This is an American issue that we should all care about."
The public was still grappling with reports out of Baton Rouge, Louisiana—where police shot and killed 37-year-old Alton Sterling early Tuesday morning—when news broke that another, similar shooting had occurred elsewhere Wednesday night. Philando Castile was shot and killed after being pulled over in a traffic stop near St. Paul, Minnesota. He was 32. In his earlier statement, Obama noted that he and the first lady share the "anger, frustration, and grief that so many Americans are feeling."
Obama cannot comment on the particulars of each case. But he hasn't hesitated to characterize the shootings as emblematic of a systemic problem. "These fatal shootings are not isolated incidents," the president wrote in his statement. Rather:
They are symptomatic of the broader challenges within our criminal-justice system, the racial disparities that appear across the system year after year, and the resulting lack of trust that exists between law enforcement and too many of the communities they serve.

To admit we've got a serious problem in no way contradicts our respect and appreciation for the vast majority of police officers who put their lives on the line to protect us every single day. It is to say that, as a nation, we can and must do better to institute the best practices that reduce the appearance or reality of racial bias in law enforcement.
Obama has made comments like these before, as his administration has seen numerous high-profile incidents of police officers involved in the deaths of black Americans, including Tamir Rice in Ohio, Walter Scott in South Carolina, and Michael Brown in Missouri. His comment that these shootings are an "American issue" is reminiscent of his remarks two years ago on the Eric Garner case in Staten Island, New York. Back then, in 2014, he called it "an American problem when anybody in this country is not being treated equally under the law."
Obama was hardly the only elected official to express outrage in recent hours and days. Earlier Thursday, the Congressional Black Caucus insisted on scheduling a meeting with Justice Department and other law-enforcement officials to express its concerns. Calling the video showing Sterling's death "disturbing, to say the least," Louisiana Governor John Bel Edwards announced Wednesday that the Justice Department would be leading an investigation into the incident. Minnesota Governor Mark Dayton, who has called for a Justice Department investigation in his own state, questioned how police would have acted if Castile and his girlfriend, who recorded his death on video, were of another race. "Would this have happened if those passengers, the driver were white? I don't think it would have," he said.
Grieving and frustrated Americans have held protests and vigils in multiple cities since Sterling's and Castile's deaths, including one protest planned for Thursday night close to the White House. In the minutes before Obama was slated to speak, protesters in Philadelphia marched on its streets, and in New York City demonstrators brought traffic to a halt on Fifth Avenue.
In his remarks, Obama repeatedly insisted that outrage over these shootings and solidarity for those advocating for systemic change should not be viewed as attacks on law enforcement, or as an undervaluing of police officers' own lives when they themselves are killed. "This isn't a matter of us comparing the value of lives," Obama said. "This is recognition that there is a particular burden that is being placed on a group of our fellow citizens and we should care about that, and we can't dismiss it."