Obama, Caught Between Black and Blue Lives
In writing a letter to the law-enforcement community, the president showed the tensions in his position on police violence and protests.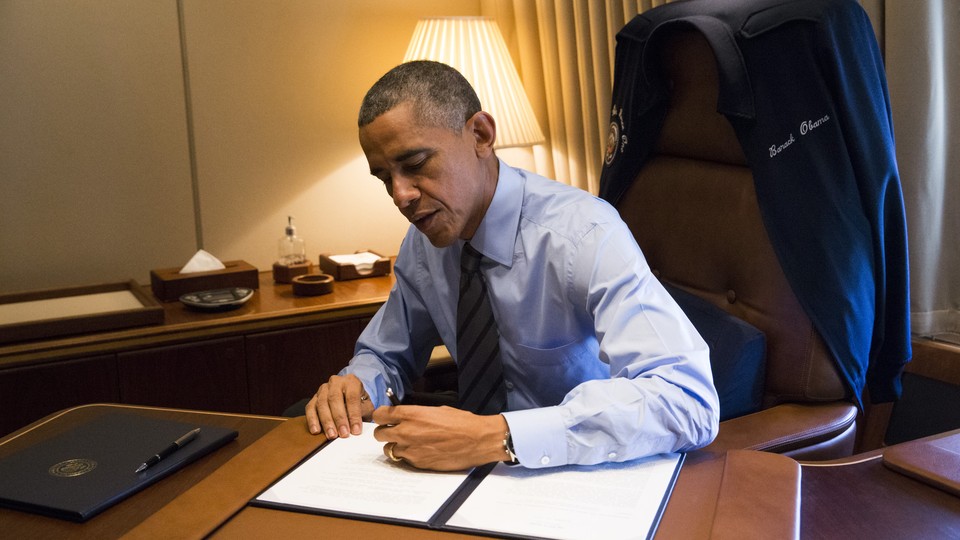 President Obama wrote an open letter to "the brave members of our nation's law-enforcement community" on Tuesday. Released without the usual publicity blitz of presidential initiatives, the letter feels like an executive hug. But it comes from a commander in chief who has recently been caught in a superficial and false dichotomy that pits black lives against blue lives, most recently in a terse exchange with Texas Lieutenant Governor Dan Patrick during ABC's televised town hall last week.
"The police officers in Texas know without question, regardless of their political party, that they have my support, and I have their back," Patrick, a Republican, said to the president. After acknowledging Obama's overall commitment to law enforcement, he asked, "Do they really, in their heart, feel like you're doing everything you can to protect their lives?" The hour-long and softly choreographed discussion covered police brutality, crime in communities, and tensions between civilians and those tasked with protecting them. The room was packed with survivors, advocates, law-enforcement officers, and families who have much to gain and lose in the process.
The subtext of Patrick's question, one that some have openly asked, is, "What side are you on, Mr. President?" The problem with this implicit binary is that Obama does not seem to see the messy, and at times deadly, conflicts among black Americans, protesters, and police as being between two sides.
"Everything you say matters," Patrick said to Obama at the town hall. "I would ask you to be careful not to be too quick to condemn the police without due process or until the facts are known." Obama gave a long and layered response in which he reiterated his pain at recent events and emphasized how much he stands behind police and all law enforcement in the United States. This president has regularly had to attend funerals, memorials, and ceremonies for fallen officers, often forced to address a country that has woken up to fresh violence.
"Some are trying to use this moment to divide police and the communities you serve," Obama wrote in the two-page document that was distributed to all law-enforcement personnel in the country. "I reject those efforts, for they do not reflect the reality of our nation." He offered "full-throated support" and assured officers that "we proclaim loudly our appreciation for the acts of service you perform."
It is possible that this kind of rebuttal might only be expected from Obama—a president who has endured race-based attacks and who, some claim, could lead the country to become "post-racial." But as Obama has often repeated, he is president of the whole country, a point he makes in his letter. "Any attack on police is an unjustified attack on all of us," he said. "You remind us that loving our country means loving one another."
The letter is a call for unity and support for law enforcement. But that a sitting president felt he needed to say this, and to defend his support for the police, is itself a suggestion that the country is deeply divided.